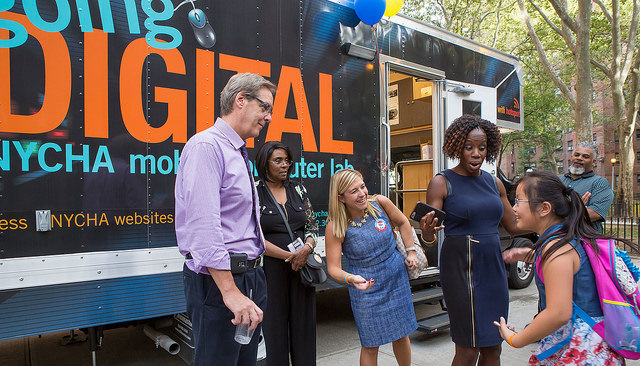 At a NYCHA development with CEO Olatoye (photo via NYCHA on flickr)
---
In an effort to digitize its workforce and operations, the New York City Housing Authority announced a new process for allocating tenant participation funds. Beginning in January, NYCHA -- whose properties are home to about a half-million New Yorkers -- will manage funds that go to resident associations through an online system, similar to an online banking account.
Through this new process, NYCHA will provide each resident association president with a credit card with a maximum spending limit that is proportional to the size of the development. In part, the move is aimed at quicker and better use of such funds, which can help improve quality of life at public housing developments.
The federal government, through the Department of Housing and Urban Development, allocates to NYCHA $25 per unit for tenant participation, 60 percent of which goes to developments, 40 percent to NYCHA central operating. Most resident associations receive between a few thousand and many tens of thousands of dollars.
There are 253 resident associates representing 270 NYCHA developments (of 328 total) citywide, and they plan various activities to engage residents and address hyperlocal concerns. Each RA's executive board is democratically elected and usually consists of a president, vice president, secretary, treasurer, and sergeant-at-arms. Tenant participation funds allow residents of housing developments to plan and hold events like family days, skill-building trainings, and after-school programs, and to get involved within their communities.
Prior to this modernized process, RA presidents submitted paper requests, which then went through more than two dozen steps, including for approval from NYCHA's procurement department. Even if the funding request was minor, the procurement department, which is responsible for major construction project and other contracts, would have to handle the tenants' requests.
Now, with a digital system, RA presidents will be able to more easily view and spend their funds, and NYCHA will be able to track spending in real-time. The move is one step in the NextGeneration NYCHA plan announced by Mayor Bill de Blasio and NYCHA CEO Shola Olatoye in May 2015. NextGen includes a wide variety of steps to improve and modernize the public housing authority while getting it onto more secure financial footing.
Sideya Sherman, NYCHA's Executive Vice President for Community Engagement & Partnerships, said this new process will generate more forward-thinking visions for communities.
"This new, modernized process will be more efficient, more effective, more transparent, and more equitable," Sherman said. "These changes will empower our residents to generate and then actualize more forward-thinking, long-term community-based visions for their developments, ensuring best use of available resources throughout the year."
NYCHA will now require resident association presidents to create both quarterly and annual spending plans that must be scrutinized and approved before funds are used. The housing authority hopes to encourage resident associations to think ahead long-term and use available funds efficiently.
RA presidents and board members will receive financial training by NYCHA to learn ways to plan for future events, report spending, and properly document finances.
Chaney Yelverton, RA president at Morrisania Air Rights in the Bronx, said this new policy recognizes that residents "have the best sense" of what their community deems important.
"These changes are necessary because NYCHA doesn't have the time or staff to accommodate all the needs of the residents," Yelverton said. "Putting these funds in the hands of the residents, who have the best sense of a development's needs, will make sure that these improvements and resident-focused activities happen in a timelier, more efficient manner. This process––now just a few steps, instead of more steps than you can count––will give residents a direct window into all available funds so resident associations can make the most efficient plans based on the resources they know are available."
All 253 resident associations in the 270 developments citywide will participate in this new digital process. Earlier this month, NYCHA outlined a plan to distribute $13 million in unspent tenant participation funds from this year proportionally to developments, and will allocate additional funds beginning in the new year.