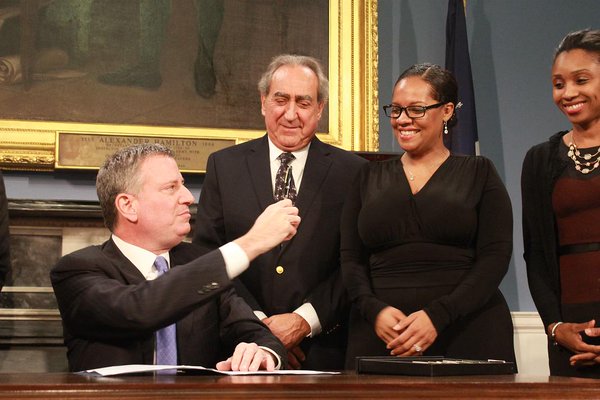 Mayor de Blasio hands a pen to CM Ferreras-Copeland (photo: @JulissaFerreras)
---
A three-month amnesty program run by the city Department of Finance cleared more than $150 million in penalties owed by New Yorkers due to fines from various city agencies. Proposed by City Council Member Julissa Ferreras-Copeland and agreed to by the City Council and Mayor Bill de Blasio, the September-to-December fine forgiveness program was aimed at addressing some of $1 billion in debt owed to the city and is being heralded as a success by officials involved.
The program, which was the first of its kind since 2009 and the city promoted through public service announcements and flyers, allowed two main types of forgiveness, both covering certain types of violations -- things like not clearing snow and doing home renovations without a permit. Most of the fines were issued by the Department of Sanitation, the Department of Buildings, and the Fire Department. The amnesty program processed 120,000 violations.

During the program, New Yorkers owing money for eligible violations who missed their related hearing and had their fines sent to the Environmental Control Board (ECB) for additional penalties could pay their original fine and be excused both interest and penalty. When an individual or business is fined and does not attend a hearing or pay within the required time period, the ECB adds a penalty and oversees interest.
Those who had not yet had their fines referred to the ECB for penalty and interest could pay 75 percent of the fine and be cleared.
"The Fine Forgiveness program was created to bring relief to struggling businesses and property owners while helping the City quickly raise its revenue and eliminate the amount owed in ECB fines," said Council Member Ferreras-Copeland, chair of the Council's finance committee, in a statement to Gotham Gazette. "The amnesty exceeded my expectation," she added. "I am very pleased with these results and the outreach conducted by the Department of Finance."
Other types of common violations included in the program were a variety of trash-related fines, such as improper disposal of garbage or use of recycling containers; illegal posting of handbills or notices; failure to conduct required inspections and tests; and more. Parking tickets were not included.
Those who have already started the process for paying amnesty-eligible penalties can continue to do so through the Department of Finance, according to its website.
"Any time we can help New Yorkers save, while simultaneously collecting owed debt, we are doing right by the city," Mayor de Blasio said in a statement. "This year's amnesty program, the first under this administration, saved New Yorkers over $150 million – money that we hope will provide a little comfort this holiday season."