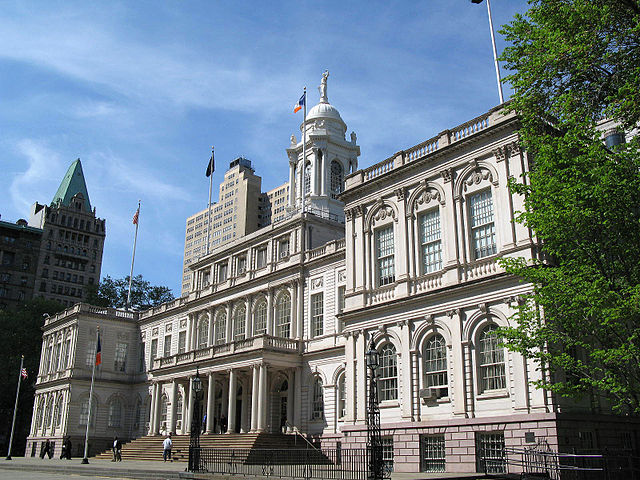 New York City Hall
---
What to watch for this week in New York politics:
The week begins with the Martin Luther King Jr. Day holiday, and many celebrations and services around the city, state, and country. Mayor Bill de Blasio will speak at three different events to mark the holiday, then appear in the evening on NY1. Later in the week, de Blasio is set to participate on Thursday in a large New York City rally aimed at sending a message to the incoming Trump administration -- see details below.
Beyond Monday, we're continuing to watch confirmation hearings out of Washington, D.C. as President-elect Donald Trump's nominees to top positions are vetted by the Senate. Trump's actions and words continue to be a focus as well, of course, as the president-elect behaves erratically and in unprecedented fashion for a president or president-elect, especially through his Twitter account. One of Trump's latest targets was civil rights icon and Congressional Rep. John Lewis, who had said he saw Trump as an "illegitimate president" because of Russian interference in the presidential election. Trump then tweeted several insults at Lewis, leading to significant backlash, including pledges by many Democrats to boycott Trump's inauguration, as Lewis had said he will do.
Donald Trump will be inaugurated as the country's 45th President on Friday.
Closer to home: After going on his three-day six-stop State of the State tour this past week, Gov. Andrew Cuomo is due to release his Executive Budget for the 2017-2018 fiscal year by Thursday of this week, January 19. This is where "the rubber meets the road," as Mayor Bill de Blasio said when he fielded press questions to react to Cuomo's New York City State of the State speech this past Monday (January 9). De Blasio and many others have complimented some of Cuomo's many policy proposals, but are eager to see what the budget numbers look like.
Cuomo is set to brief state legislators in private sessions on Tuesday in Albany. It is not yet clear how he will unveil his full budget plan to legislators and the public.
There's a great deal happening in the city and in Albany this week -- see our day-by-day rundown below.
***Do you have events or topics for us to include in an upcoming Week Ahead in New York Politics?
e-mail Gotham Gazette editor Ben Max: This email address is being protected from spambots. You need JavaScript enabled to view it.***
The run of the week in detail:
Monday
Monday is Martin Luther King Jr. Day, there are a number of celebrations and services around the city, including several hosted by elected officials.
Mayor de Blasio will make remarks at three Martin Luther King Jr. Day events on Monday:
"the 30th annual Brooklyn Tribute to Dr. Martin Luther King, Jr." at BAM at 10:30 a.m.
"the Baptist Ministries Conference MLK Day of Service" at Covent Ave. Baptist Church at 12:15 p.m.
"the National Action Network's Annual Martin Luther King Day Forum" 1 p.m.
City Council Speaker Melissa Mark-Viverito will make speaking appearances on Monday at the same three events as de Blasio.
Public Advocate Letitia James is speaking at nine Martin Luther King Jr. Day events Monday, including the same three as de Blasio and Mark-Viverito. James will speak at events in four boroughs: Brooklyn, the Bronx, Queens, and Manhattan.
City Comptroller Scott Stringer will speak at eight Martin Luther King Jr. Day events Monday, in four boroughs: Brooklyn, the Bronx, Queens, and Manhattan.
In the 7 and 10 p.m. hours Monday, Mayor de Blasio will appear on NY1's Inside City Hall.
Tuesday
The deadline for candidates for 2017 New York City municipal elections to file their latest financial disclosure reports to the city Campaign Finance Board is midnight Tuesday. There will be rolling releases of those reports by campaigns and the CFB.
Mayor de Blasio has a busy Tuesday schedule: at 10:30 a.m. at Young Women's Leadership School of Astoria, Mayor de Blasio will host a press conference to make an announcement regarding last year's Advance Placement exams. In the afternoon, the Mayor will depart New York City and travel to Washington, D.C. to participate in the U.S. Conference of Mayors. He'll stay in D.C. until Thursday. On Tuesday evening, the Mayor will attend the New Democratic Mayors Reception. He'll then deliver remarks at the Mayors Innovation Project Dinner.
At the City Council on Tuesday:
At 10 a.m., the Committees on Public Safety and Fire and Criminal Justice Services will hold a joint oversight hearing on prosecuting violence in city jails, and discussion of a proposed law on requiring certain types of bail recommendations.
At 10 a.m. the Committee on Women's Issues will hold a hearing on a bill to "require the Integrated Domestic Violence Courts in NYC to issue regular reports on batterer intervention programs."
At 11 a.m. Tuesday, the Committee on Technology will hold a hearing on "Agency disposal of electronics."
At 11:30 a.m. Tuesday, the Committee on Transportation will meet to vote on several bills related to commuter vans.
At 1 p.m., the Committee on Cultural Affairs, Libraries and International Intergroup Relations will hold an oversight hearing on the Cultural Immigrant Initiative and post-budget analysis.
The New York State Legislature will be in session on Tuesday in Albany.
At 1:30 p.m. at the Capitol, Assembly Speaker Carl Heastie will hold a "news conference regarding women's health legislation. He will be joined by members of the Assembly Majority and advocates."
The state Senate is said to be voting Tuesday on a measure to block New York City from instituting a five cents fee on plastic and paper bags The city measure is supposed to go into effect in February, after a delay agreed to at the behest of the state Legislature last year.
Governor Cuomo will host Assembly members and state Senators Tuesday to give private budget briefings at the Executive Mansion.
At 10 a.m. on Tuesday, the New York City Economic Development Corporation (NYCEDC) "will host a press conference to preview the fifth installment of NYCxDESIGN, which will run from May 3 – 24, 2017." The press conference at MoMa will feature Maria Torres-Springer, NYCEDC President and CEO; Cindy Allen, Editor in Chief of Interior Design Magazine; and Glenn Lowry, Director of the Museum of Modern Art (MoMA).
On Tuesday, the NYPD departmental trial of Officer Richard Haste, who shot and killed Ramarley Graham in 2012, will begin. There will be a press conference by Graham's family and police reform leaders during the trial lunch break, outside of 1 Police Plaza. The trial is open to the public.
At 12 p.m. on Tuesday, there will be a public hearing held by the Senate Standing Committee on Racing, Gaming and Wagering. This public hearing will consider the future of the New York Racing Association.
The City Planning Commission will hold a Review Session at 1 p.m. on Tuesday.
At 1 p.m. Tuesday, the Brennan Center for Justice will hold "Taking on Hate in NYC: Responding to Hate Crimes Targeting Muslim, Arab, Sikh, and South Asian Communities." Speakers will include Letitia James, Public Advocate for the City of New York; David Kennedy, Assistant U.S. Attorney for the Southern District of New York; Jeanne Olivo, Chief of Hate Crimes Unit at the New York County District Attorney Office; Harpreet Singh Mokha, U.S. Department of Justice, Community Relations Service; and Sania Khan, Assistant Attorney General of Civil Rights at the NYS Attorney General's Office.
Wednesday
At the City Council on Wednesday:
At 10 a.m., the Committee on Finance will meet to discuss several proposed laws.
At 1:30 p.m., the City Council will hold a stated meeting. The full-body meeting of the Council will be prefaced, as usual, by a press conference led by Speaker Melissa Mark-Viverito.
The New York State Legislature will be in session on Wednesday in Albany.
At 8 a.m. Wednesday in Albany, "United Federation of Teachers President Michael Mulgrew will host a breakfast discussion on the threat to New York's public schools posed by the Trump administration and its nomination of Michigan education activist Betsy DeVos for U.S. Secretary of Education. His guests will include two Michigan residents who will talk about the damage to their state's public schools caused by the DeVos privatization agenda – Detroit parent activist Wytrice Harris and outgoing president of the Michigan State Board of Education John Austin."
Charter school supporters led by Families for Excellent Schools will rally and lobby in Albany on Wednesday. "Elected champions for public charter schools including Assembly Member Marcos Crespo, State Senator Ruben Diaz Sr., State Senator Martin J. Golden and State Senator Kevin Parker will stand with parent activists during this Day of Action, and will speak during a program in the Well of the Legislative Office Building."
At 8 a.m. on Wednesday, the Manhattan Chamber of Commerce will hold "A Post-Election Summit: The Future of Immigration Reform and Its Impact on New York's Workforce and Economy." The panelists will "outline immigration priorities and the implications to our economy." The panelists are Ali Noorani of the National Immigration Forum, Todd Schulte of FWD.us, Julie Samuels of Tech:NYC, and Cassandre Pierre Joseph of the Cornell University & Weill Cornell Medical Center of New York. The Keynote Speaker will be Jorge Montalvo, Deputy Secretary of the State of New York for Economic Opportunity.
On Wednesday at 9 a.m. outside Gov. Cuomo's New York City office, "Homeless New Yorkers, community groups and advocates from the Campaign 4 NY/NY Housing will converge in front of Governor Andrew Cuomo's NYC office on Wednesday to demand he, Assembly Speaker Carl Heastie and Senate Majority Leader John Flanagan come together to sign an MOU to release $1.9 billion that was allocated in New York State's budget to realize the first phase of the governor's commitment to supportive and affordable housing."
The City Planning Commission will hold a Public Meeting at 10 a.m. on Wednesday.
At 10:30 a.m. Wednesday in Jackson Heights, "Department of Consumer Affairs (DCA) Commissioner Lorelei Salas and partners will kick off the tax season with the launch of the Agency's 15th annual tax credit campaign and encourage New Yorkers who made $64,000 or less to file for free using NYC Free Tax Prep. Commissioner Salas will also announce the Agency's continued expansion of NYC Free Tax Prep with added services in neighborhoods and languages previously not served, as well as an eligibility screening and texting program, and a pilot queue management system."
"On Wednesday, January 18, 2017, Public Advocate Letitia James will release recommendations to streamline ACCESS NYC, the online program used to determine eligibility and apply for some New York City, State, and Federal benefits." At 11 a.m. at the municipal building, James will be joined by the Human Services Council and Families United for Racial and Economic Equality (FUREE).
The Panel for Education Policy will meet at 6 p.m. on Wednesday.
At 6 p.m. Wednesday evening at the CUNY Graduate Center, City Limits News is hosting a discussion about President Trump and infrastructure, with "a labor activist, a transportation expert, a policy journalist and a roomful of people who are concerned about the Trump Presidency but intrigued by his pledge to invest billions in improving infrastructure."
"New York State Assembly Speaker Carl E. Heastie, in conjunction with Congress Member Eliot Engel, Sen. Jamaal Bailey and Council Member Andy King will host a MTA Open House, Wednesday, Jan. 18, 6 to 8 p.m. at Evander Childs Educational Campus, 800 East Gun Hill Road., Bronx. The MTA Open House will focus on new and existing bus schedules and routes, train station conditions, capital funding, and upcoming and existing projects. This event is free and open to the public."
City Council Member Laurie Cumbo will continue her Community Exchange Series at 6:30 p.m. on Wednesday, this event on how to apply for City Council Funding, at Medgar Evers College in Brooklyn.
Thursday
"On the evening before the Inauguration and the start of a new Administration, Mayor Bill de Blasio, Reverend Al Sharpton, Mark Ruffalo, Michael Moore, Shailene Woodley, Rosie Perez, and Alec Baldwin will be joined by elected officials, community groups and organizations and thousands of everyday New Yorkers outside of Trump International Hotel & Tower near Columbus Circle at 6:00 pm to stand united and send a message to President-elect Trump and Congress that New York City will protect the rights of residents and will continue to make real progress on important issues such as healthcare, climate change, social justice and immigrant rights. A diverse set of organizations including MoveOn.org, Families USA, Greenpeace US, New York Communities for Change, Make the Road New York, Planned Parenthood of New York City, Working Families Party, and the New York State Nurses Association, will come together on the eve of the inauguration to make clear to President-elect Trump and Congress what is at stake if they move forward with their suggested policies and remind them that New Yorkers will continue to protect our people and the environment. New York City and cities across the country will stand in solidarity with people fighting to advance the causes of racial, social, environmental and economic justice."
At the City Council on Thursday:
At 10 a.m., the Committees on General Welfare and Housing and Buildings will hold a joint oversight hearing on Supportive Housing, at The Schermerhorn in Brooklyn.
At 10 a.m., the Committees on Courts and Legal Services and Juvenile Justice will hold a joint oversight hearing on raising the age of criminal responsibility.
At 10 a.m., the Committee on Recovery and Resiliency will hold an oversight hearing on "assisting vulnerable populations in emergency evacuations," and discuss a proposed law for "maintaining a voluntary registry of people who may need evacuation assistance in the event of an emergency."
At 1 p.m., the Committee on Education will meet regarding "Expanding college savings plan materials in schools to include pre-kindergarten and to distributing college savings plan materials to parents or guardians with a child's certificate of registration of birth."
At 1 p.m., the Committee on Parks and Recreation will meet to discuss a proposed law on "notice of changes to capital projects implemented by the department of parks and recreation," and a proposed law on "work performed on parks department capital projects."
At 6:30 p.m. on Thursday, there will be a ceremonial inauguration for Yuh-Line Niou into the New York State Assembly, at the Museum of Jewish Heritage.
On Thursday evening at Fordham Law School, there will be a panel discussion on "Predictions and Expectations for the Administration of Donald Trump" featuring Manhattan Borough President Gale Brewer; City Council Member Eric Ulrich; political commentator Gerson Borrero; former Bill Clinton speechwriter Tony Edwards; and moderator Jerry Goldfeder, an election law professor.
Friday and the weekend
On Friday, Donald Trump will be inaugurated as the 45th President of the United States.
At 10 a.m. Friday, Eleanor's Legacy will hold a "Brooklyn Political Engagement & Campaign Workshop." At this event, people can "learn the fundamentals of political engagement in New York City at the anti-Inauguration Day activity for pro-choice Democratic women of New York."
At 11 a.m. on Saturday, there will be a "Women's March on NYC." This will be a parallel to the women's march in Washington, D.C. and other marches and protests around the country, in large part as a response to Donald Trump's election. The New York City march will be "to the doorsteps of [Trump's] tower to promote the advancement of equality and human rights for all diversities."
At 1 p.m. on Sunday, City Councilman Ben Kallos will deliver his 2017 "State of the District Address."
***
Have events or topics for us to include in an upcoming Week Ahead in New York Politics? E-mail Gotham Gazette executive editor Ben Max any time: This email address is being protected from spambots. You need JavaScript enabled to view it. (please use "For Week Ahead" as email subject).
***
by Brendan Birth and Ben Max
@GothamGazette