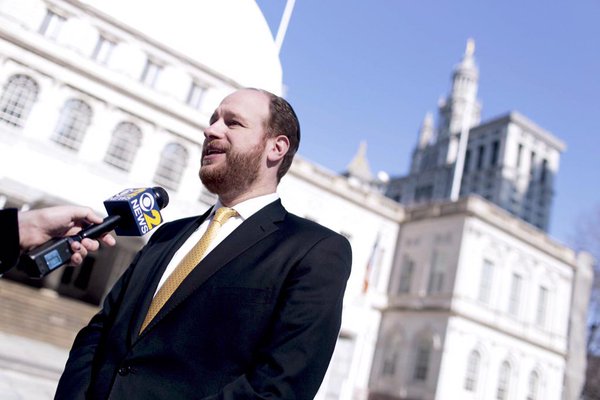 City Council Member David Greenfield (photo: William Alatriste)
---
For elected officials, there is no shortage of means to communicate with constituents and the broader public, whether through modern lines of social media or more traditional newspaper op-eds or television appearances and ads. But even now, radio is one method of communication that has endured as a choice for elected officials in New York City and beyond. One City Council member, though, has taken a novel approach to radio by hosting a weekly show paid through campaign funds.
Council Member David Greenfield, a power broker from Brooklyn who chairs the Council's land use committee, has been hosting a weekly radio show since 2013 on 620 AM. In the current election cycle, Greenfield has thus far spent $136,500 in campaign funds hosting the show, per the latest disclosures filed with the Campaign Finance Board for 2014-2017 activity.
On the show, which airs every Thursday at 7 p.m., Greenfield takes calls, interviews guests, and covers local issues germane to his constituents in Council District 44, as well as national and international politics, much of it concerning Israel and the Jewish community.
The show has touched on everything from the presidential election and terrorist attacks in Belgium to local housing policy, the 421-a real estate tax break, and even holiday cooking tips.
Greenfield, who was not made available to discuss his show and its funding, has hosted a number of prominent guests on the show, including state and local elected officials, religious leaders, and journalists and commentators. Governor Andrew Cuomo appeared on the program once, in 2014, as have other top electeds including Comptroller Scott Stringer and several of Greenfield's City Council colleagues.
In 2010, Greenfield began to appear on what was then the Nachum Segal Radio Show on 620 AM. In early 2013, he started guest hosting episodes of the show and took over the program later that year. What makes Greenfield's approach unique is both that he is a sitting elected official hosting a weekly program and that his show is paid for directly from his campaign fundraising. Greenfield, a prolific fund-raiser, especially as chair of the powerful land use committee, was elected to the Council in a special election in 2010, re-elected in 2013, and is likely to cruise to reelection for another term this year.
In the last election cycle, between April 2011 and January 2014, he spent $49,675 cumulatively on those radio appearances and radio advertisements.
The Council member, who often promotes the show on his Twitter account, does not receive any compensation for the show or allow any advertisements. His expenditure on radio airtime counts for a significant portion of his total campaign spending of $307,000 so far in the current cycle. He has raised more than $822,000 -- far above his Council colleagues -- leaving him a balance of about $502,000. Interestingly, Greenfield has yet to declare which office he will run for in 2017. Though it is likely he'll run for reelection to his City Council seat, Greenfield is among the "undeclared" Council members who may be eyeing a run for Comptroller, Public Advocate, or a Borough President position if any of the current officeholders were themselves to vacate.
What a week. From the bombings to the UN, we've got you covered. Tune in to #AM620 at 7pm for the latest political news!

— David G. Greenfield (@NYCGreenfield) September 22, 2016
"Out of an abundance of caution, the Councilman decided before launching his show not to allow advertisers to pay for the actual cost of the show to prevent even the appearance of a possible conflict of interest with potential advertisers," said Stephen Snowder, a Council staff spokesperson for Greenfield, who also tweets about the show from his private account. "Instead, the Councilman pays for the show out of his campaign and even carries a disclaimer before the show that explains that it is a paid radio show." Greenfield's payments go from his campaign account to Talkline Communications Network.
A campaign spokesperson separately said Greenfield sought out and carefully followed advice from the Conflicts of Interest Board when setting up the show. A COIB spokesperson declined to comment on the matter.
Many elected officials have relied on radio for outreach, of course, though rarely as the host of a show. In a medium famous for President Franklin D. Roosevelt's fireside chats, Mayor Bill de Blasio started appearing on WNYC for a weekly "Ask the Mayor" segment in May of last year, following in the footsteps of his predecessors, Michael Bloomberg and Rudy Giuliani, who regularly appeared on the radio airwaves.
And Greenfield is not the only sitting City Council member with a radio show, although his is the longest running. Just last Friday, Council Member Andy King, from the Bronx, launched "King Talk Radio Show," a 30-minute weekly segment broadcast Friday evenings through Blog Talk Radio, an internet radio service.
"When I first got in office, I made a commitment to my constituents that I'll keep them engaged in every way possible," King said in a brief phone interview with Gotham Gazette. "I wouldn't say this is a constituent service. It's just a way to communicate with the residents of the 12th District."
King said, in the lead up to Dr. Martin Luther King Jr. Day, he hoped to increase his outreach and to spread the word on his annual Martin Luther King Jr. Day open house, where he meets and greet constituents. As with Greenfield, King hopes to address constituent concerns and debate public policy.
King's show isn't connected to his campaign. He announced the show in an email sent out from his City Council office, which would likely preclude him from addressing campaign-related questions. "I never thought to ask [the Conflicts of Interest Board]," King said, when Gotham Gazette asked if he'd sought guidance on the radio segment. But he insisted that he would address the issue if it arises and that his intent is not to campaign but to communicate. "I really don't want anyone to take an apple and turn it into an orange," he said. "Everything doesn't have to revolve around politics in an election year."