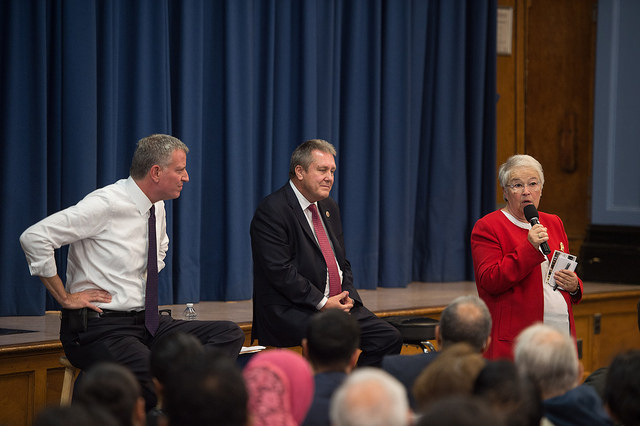 Mayor de Blasio, Council Member Dromm, Chancellor Fariña (photo: Demetrius Freeman/Mayor's Office)
---
On Tuesday, the education committee of the New York City Council will hold an oversight hearing on teacher recruitment and retention.
"One of the things I want to draw out is why do we lose 50 percent of our teachers within five years of their starting," said City Council Member Danny Dromm, chair of the education committee and a retired long-time public school teacher himself. "It's a hearing that I've wanted to do for a while," Dromm added in a recent interview.
Representatives from the city Department of Education are among those expected to testify at Tuesday's hearing, which is at 1 p.m. at City Hall. When asked, DOE spokespeople did not provide Gotham Gazette with comment ahead of time or specific data that DOE reps will present at the hearing.
New York City, like many other school systems, has struggled to recruit a diverse teacher workforce, especially men of color, and to retain its teacher -- as Dromm said, the city has an exceptionally high rate of teacher departure from the school system. It's unclear if the rate is quite as high as 50 percent, but data does show that more than one-third of new teachers leave the profession by the end of their fifth year, largely within the first three years.
"What are the contributing factors to that?" Dromm asked, explaining what he hopes to get at in the hearing, "Salary? Lack of support? The evaluation system? What are the reasons that we're losing all those teachers?"
Dromm said he's expecting to hear from the DOE, as well as representatives of the United Federation of Teachers (UFT), and other stakeholders, including advocates. Dromm hopes that several teachers, and perhaps even students and parents, will attend and testify. He said he often likes to schedule his committee hearings for 1 p.m. so that people can come after school hours.
While the UFT has had a strong relationship with Mayor Bill de Blasio and this administration, there have been areas of disagreement or conflict that do relate to teacher retention: the union has criticized the administration's moves to drastically reduce student suspensions, explaining that teachers need more support, and the work climate at the city's most-struggling schools -- those in its Renewal program -- which have continued to see especially high rates of teacher turnover.
Asked in 2015 about high turnover rates at Renewal schools, de Blasio pivoted to discuss teacher retention across the city. "I think the challenge of teacher retention is system-wide," the mayor said at a press conference. "It's very tough work...People who do it, do it because they're true believers...You're talking about, obviously, a lot of kids who come from very disadvantaged circumstances, a lot of kids whose first language is not English, and 171,000 kids who happen to have special needs...Until very recently in this city, teachers were being attacked on a regular basis by the leadership of the school system and the city. We've changed that. We support our teachers and they know it."
David Bloomfield, an education professor and also a former K-12 teacher, believes that "the retention piece really has everything to do with conditions in the schools, such as class size, such as myriad central mandates, on top of the changing Common Core requirements."
The "lack of retention" also creates a snowballing effect, Bloomfield said, where "so many teachers are new, so many of these teachers are just trying to get their feet on the ground" yet they are often employed in the most challenging schools, receive the most challenging course schedules, and do not receive the support they need to feel successful.
"The greatest vacancies are in the most difficult schools," Bloomfield said, "the better schools don't have the vacancies." Additionally, he said, "there are accountability measures in place that make it an unattractive profession."
Research on teacher retention is somewhat mixed, though studies do point to the importance of strong administrators (principals, vice principals) and the value of mentors in reducing teacher departures.
"To improve retention, the organization of teaching would require a sea change in how teachers are employed," Bloomfield said. "The best thing they can do is to improve the school environment. A school is a teacher's workplace: improve facilities, improve classroom conditions, including class size. Even parking," he said with a laugh, but stressed that it can be one of many parts of the job environment that matter to people.
"The other issues are salary and benefits, which have improved under de Blasio, but don't compare to the suburbs," Bloomfield said.
Indeed, referring to both professional development investment in teachers and their high rates of departure, Dromm said, "Our teachers get recruited out to Long Island. We train them and they go out to the Island."
Professional development for teachers is expected to be a key theme of the hearing. Enhancing teacher PD has been a major focus of city schools Chancellor Carmen Fariña, who was appointed to the role by Mayor Bill de Blasio at the start of his term and has been involved in the city school system for five decades, including as a teacher. Fariña's focus on more PD for teachers includes opportunities to teach new courses as the city has expanded its computer science and Advanced Placement offerings under the mayor's Equity and Excellence agenda.
Mentioning the new weekly professional development block that Fariña instituted for all teachers, Dromm said, "I want to know some of what is going on, how that professional development piece is going...If we hear that the support is not there for new teachers, advocating for that support will be an outcome of this."
De Blasio has stressed the importance of professional development and his administration's focus on supporting teachers, saying at the 2015 press conference, "Until recently, teachers were not getting the kind of support for teacher training...if you're a professional you want to keep getting better – that training makes a world of difference – we've double down on teacher training."
"I think we're seriously addressing teacher retention by trying to build the foundation for a rewarding work dynamic," de Blasio said. "But there's a lot more we're going to have to do beyond that."
Agreeing that teachers clearly feel "less under attack" than when Michael Bloomberg was Mayor, Professor Bloomfield said the de Blasio-Fariña regime has "certainly improved the tone so that teachers feel more valued now" and that when it comes to teacher retention, "their positive relationship with the union is probably helpful." To truly improve teacher retention, Bloomfield said, would require major "structural" changes to the profession that simply haven't happened yet.
Aside from shifts in how teachers are treated and their work environments, there are other issues related to retention, but also the recruitment piece, which will also be part of Tuesday's hearing. This is likely to center around how the city is both attracting top teaching talent generally, but especially men of color.
Just 8 percent of the city's nearly 80,000 teachers are men of color, a statistic that led the de Blasio administration to in 2015 launch NYC Men Teach, which seeks to add 1,000 male teachers of color to the city's classrooms by the 2018-2019 school year.
Tuesday's hearing is likely to include an update from the DOE on NYC Men Teach, as well as other recruitment efforts.
In terms of retention and the city's teaching workforce, there are also calls for tougher weeding out of weak teachers in their early years while increasing efforts to hold on to strong teachers well into their careers. This is where debates over "teacher accountability" and tenure come in -- some believe that it is both too easy to gain tenure and too easy to keep your job as a teacher. Questions also persist about a career ladder for teachers so that they can move into mentoring, coaching, and department head type roles without leaving the classroom to become administrators or leaving education altogether.
"It's a very difficult job," Dromm said of teaching, "and I don't think people fully understand or appreciate what teachers have to do. There's a glamorized idea of working 8 to 3:30 and having summers off. But [retention] numbers help show: this is a tough job."