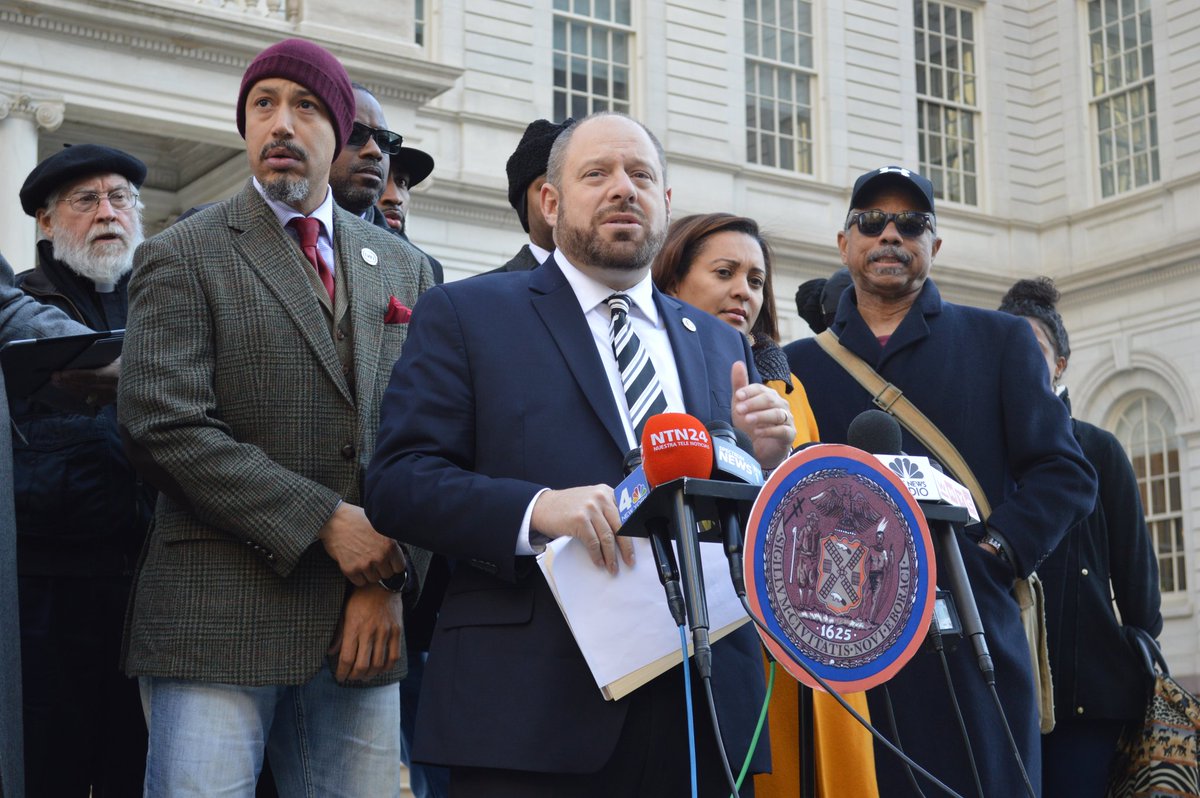 City Council Member Rory Lancman (photo: Micah Institute)
---
In 2016, 159 people were exonerated in the United States after being wrongfully convicted for a crime they did not commit, according to the National Registry of Exonerations. Fourteen of those wrongful convictions took place in New York, the third-highest number of wrongful convictions by state in 2016, including several in New York City: five in Brooklyn, two in Manhattan, and one in the Bronx. Those who were exonerated in New York spent more than 17 years in prison on average, with one wrongfully convicted individual serving 52 years behind bars.
When the wrong person is convicted, the actual perpetrator remains free to commit more crimes, while an innocent person is robbed of years, often decades, of their life. Wrongful convictions can undermine public confidence in the justice system, and cost New York tens of millions of dollars in settlements. Upon taking office in 2014 as Brooklyn District Attorney, the late Ken Thompson made creation of a conviction review unit a top priority, and he quickly overturned several wrongful convictions from his predecessor's era.
False confessions are one of the leading causes of wrongful convictions. Of the 149 exonerations that occurred in 2015, 18 percent were based on false confessions. Evidence-based policy solutions to minimize the occurrence of false confessions exist, and in 2012 the New York State Justice Task Force recommended reforms.
The task force, established by then Chief Judge Jonathan Lippman and comprised of judges, prosecutors, defense attorneys, police chiefs, and other criminal justice experts, recommended that police departments record interrogations in their entirety, rather than just confessions. This helps to protect from false accusations not only the individual being questioned, but also the officers involved.
Videotaping full interrogations makes it easier for prosecutors, judges, and juries to weigh evidence by providing an account of the circumstances that led to a confession. There is widespread support for the practice: in 2013, the New York State Municipal Police Training Council also recommended that law enforcement record interrogations.
In New York City, the NYPD recorded 146 interrogations in 2011. That number jumped to 847 in 2014 as more rooms were equipped with recording software and the focus on recording interrogations increased. But as those numbers continue to climb through 2016, it is unclear whether the NYPD has fully implemented the recording of criminal interrogations, and the department is withholding information about its practices.
Though the NYPD says it is departmental policy to record all interrogations for certain crimes, it is under no obligation to do so by law, and it is unclear whether, and unlikely that, the NYPD has fully implemented the recording of all interrogations for those most serious crimes included in its policy. However, legislation is being drafted in the City Council that would indeed mandate the practice.
Since 2011, the department has recorded approximately 5,000 interrogations, according to the NYPD. However, the department's unwillingness to share more information regarding its recording practices has made the implementation of the policy difficult to assess. The NYPD refused to appear at a September 23 City Council hearing examining its safeguards against wrongful convictions. The hearing was held jointly by the committee on Courts and Legal Services and the Public Safety committee, chaired by Council Members Rory Lancman and Vanessa Gibson, respectively.
The NYPD began a pilot program to record interrogations in 2011, after former Police Commissioner Ray Kelly said advances in digital recording technology had made it possible for the department to afford it. Two precincts participated and a total of 146 interrogations were recorded that year, with only interrogations for felony assaults in the two participating precincts subject to recording. Three additional precincts began recording interrogations for felony assaults in 2012, and 183 interrogations were recorded, according to the Mayor's Office of Criminal Justice (MOCJ), which did testify at the September Council hearing.
The program has since been expanded citywide, according to the NYPD. "Currently, the New York City Police Department has 82 rooms equipped with video recording software. Each detective squad that is assigned to a precinct has a room equipped with this software. All Special Victim Squads are equipped as well," said Chief of Detectives Robert Boyce, in written testimony submitted to the City Council for the September hearing.
Crimes for which interrogations are subject to recording have also expanded since 2011. Since 2015, it has been NYPD policy that "all arrests effected by NYPD detective squads for index felony offenses and attempts...are subject to video recorded interrogations," according to Boyce's testimony. Index felony offenses include murder, rape, robbery, burglary, assault, grand larceny, and grand larceny auto. Certain arrests for gun offenses are also recorded, as well as "certain misdemeanor arrests...most often with misdemeanor sex crimes."
Nothing beyond internal policy is guiding NYPD interrogation recording practice, and the wording of the policy itself, as described by Boyce, seems to give police officers some latitude when it comes to implementation.
One issue in ascertaining up-to-date data is that the NYPD is not providing a full accounting of annual numbers even in the 2011-2016 timeframe. The department provided yearly interrogation recording data for 2011 through 2014, then grouped 2015 with 2016 through October.
For January 2015 through October 2016, the NYPD reports recording roughly 3,200 interrogations, according to data shared by MOCJ. It is a number that appears to be far short of the total number of interrogations that occurred.
"What I understand is that right now, the detective squads videotape interviews with people who have been arrested in the seven majors...that's been the process since I think around mid-2015," said MOCJ Director Liz Glazer during the September 23 City Council hearing.
Yet, 84,988 arrests were made for the seven major felonies during 2015 and 2016, according to the NYPD's director of public information, which means a large number of felony arrests did not result in recorded interrogations.
Just this month, Governor Andrew Cuomo voiced his support for mandating the recording of interrogations, among other criminal justice reforms. During his 2017 State of the State speech in New York City, Cuomo said he was there to "propose groundbreaking reforms: we will videotape interrogations, improve fairness in lineups, and raise the age of [adult] criminal liability from 16 to 18."
Manhattan District Attorney Cy Vance released a statement in support of Cuomo's proposed reforms, noting that his office had partnered with the governor in 2016 "to fund the recording of police interrogations across the state." The initiative made $500,000 in funding available to local law enforcement agencies outside of New York City to expand their ability to record interrogations.
As Cuomo's proposal and NYPD reporting make clear, there is no state or city law to require the recording of criminal interrogations, major felony crimes or otherwise.
Due to the NYPD absence from the September 23 City Council hearing, there has been limited public discussion of the department's efforts to prevent wrongful convictions. Most of that conversation has happened through individual district attorney offices, which vary in their efforts to overturn wrongful convictions, action that is corrective rather than preventative.
Experts who testified at the Council hearing, including judges, representatives of the city's district attorneys, and a police chief from Massachusetts, say recording interrogations is helpful for everyone involved.
Glazer appeared at the hearing in place of the NYPD as the representative of the de Blasio administration.
In the written words of Chief of Detectives Boyce, "It has been our experience that recording not only aids those who are innocent, but also bolsters the work performed by our officers by preventing disputes about how an officer conducted him/herself while also increasing transparency as to what was said and done during an interrogation."
Glazer explained that the "NYPD videotapes the interviews of every defendant arrested for index felony offenses and attempts, commonly referred to as the 'seven major felonies.'"
As Boyce wrote, "NYPD policy mandates that the recording system is activated before the subject enters the interrogation room" and "that the interrogation is recorded in its entirety."
While Glazer and Boyce say the NYPD records the interviews of every defendant arrested for the seven major felonies, the numbers for January 2015-October 2016 leave roughly 80,000 arrests for the seven major felonies that did not result in recorded interrogations. (It is likely that more interrogations were recorded in the final three months of 2016, but multiple requests for updated information on the number of recordings made by the NYPD went unanswered).
There are some exceptions to the NYPD's recording policy, such as when the individual being interrogated requests an attorney, invokes their right to silence, requests not to be recorded, or when recording equipment malfunctions. When asked for clarification on the difference between the number of arrests and recordings in a phone interview with Gotham Gazette, NYPD Lieutenant John Grimpel said, "Not everyone arrested for a felony crime has to be interrogated or is interrogated by detectives."
"Interrogations are recorded," Grimpel said, "but I don't have to interrogate everyone I arrest. I have 52 witnesses of a murder, right, I might not even need to talk to [the suspect] in regard to it. If there's no witnesses, then I'll interrogate him about a crime."
Yet, judges who testified at the City Council hearing called the NYPD's implementation of the policy into question. When Council Member Lancman, chair of the Committee on Courts and Legal Services, asked Judge Daniel Conviser if he was seeing evidence that the NYPD universally records interrogations or confessions, Conviser replied, "I'm seeing it rarely by the NYPD."
"I have to say, I haven't seen too many recorded police interrogations," said Judge Mark Dwyer, a member of the Justice Task Force.
Still, both judges cautioned that what they are seeing from the NYPD might be slightly dated, as it can take anywhere from six months to two years for cases to come to trial.
At the hearing, Marika Meis, legal director at Bronx Defenders, said her office isn't seeing many cases where the interrogation was recorded. "Right now, my office has 800 felony cases that have been pending for over a year," Meis said. "We have 15 cases in which the interrogation was recorded, and those are largely in homicide and sex cases, and a couple other violent felonies. And in the years preceding the recent past three or four years, we had a total of I think six or seven."
Twenty-two states and Washington, D.C. mandate the recording of interrogations, and many police departments across the country do so voluntarily. Lancman has put in a request for legislation to be drafted that would do the same in New York City.
A hearing on such legislation to mandate the recording of interrogations could prompt the NYPD to share more information regarding the current state of its recording practices. Though both Glazer and Boyce stated in their testimonies that every detective squad in the city is now equipped to record interrogations, a Patrol Guide issued Feb. 4, 2015 identified only five detective squads participating in the recording of interrogations. When Lancman asked Glazer why this was the case, she could not provide an answer.
"There's a vast discrepancy between qualifying crimes and the interrogations being recorded that the NYPD has been unable to explain," Lancman said in a statement to Gotham Gazette.