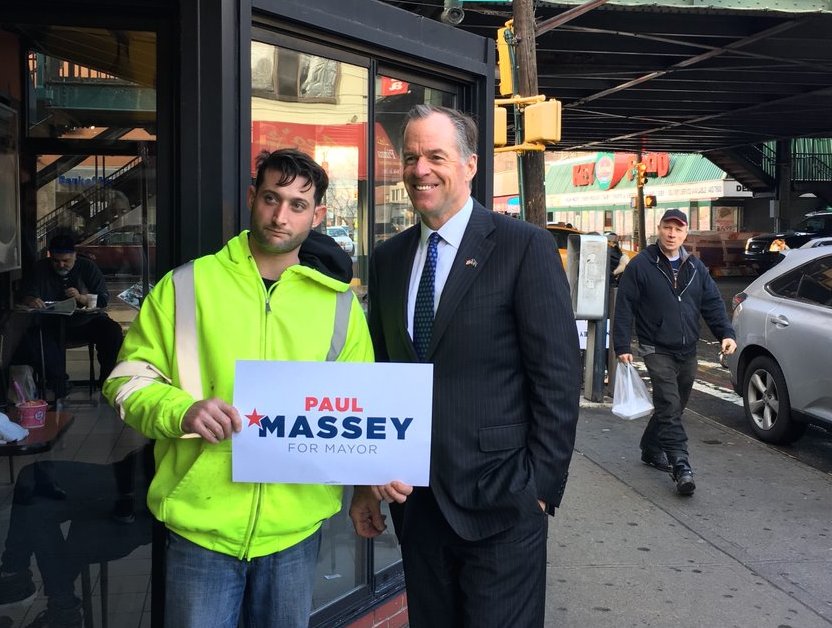 GOP mayoral candidate Paul Massey, right (photo: @MasseyforMayor)
---
In hopes of denying Mayor Bill de Blasio a second term, some New York City Republican leaders intend to rally around a single candidate to avoid a contentious primary and present a stronger challenge in the general election.
Starting this week, Republican Party leaders and members will begin the process of vetting candidates who have declared their intention to run for mayor or are exploring a mayoral bid. Party organizations will host public meetings where each candidate will have the opportunity to present their ideas to party voters and functionaries. When it fielded Joe Lhota in 2013 after a primary battle, the GOP lost in a landslide to de Blasio, but with the mayor's poll numbers showing some vulnerability ahead of this fall's vote, Republicans hope to identify one candidate to throw their weight behind.
One issue with the strategy at this point, though, is that at least two potential Republican mayoral candidates have not decided whether they will run or not: Queens City Council Member Eric Ulrich and businessman John Catsimatidis, who lost in the 2013 primary to Lhota.
So far, two Republicans have officially filed papers to run: real estate developer Paul Massey and Harlem pastor Michel Faulkner. Massey, who has raised and spent well over a million dollars in his campaign so far and is contributing some of his own vast wealth to the effort, is seen as the frontrunner at this point. He's also been endorsed by the state Independence Party, which backed Mayor Michael Bloomberg twice for reelection.
Massey is scheduled to speak on Monday evening at the Manhattan Republican Party headquarters, a building which holds about 200 people. An e-blast advertising the event told Manhattan GOP subscribers, "We need to unite this year in the mission of making Bill de Blasio a one term Mayor...We plan to endorse a candidate around April 1 and we hope to prevent a primary by working with the other Republican county chairs in that effort."
Also scheduled to speak at Manhattan GOP headquarters next week, on Thursday, is Council Member Ulrich, one of three Republicans on the Council, who has been exploring a mayoral run but has yet to officially declare his candidacy.
Republican county leaders say they will weigh each candidate's platform and the strength of their campaign before they make their decision in the next few months. "We're going to screen all the candidates," said Adele Malpass, chair of the Manhattan Republican Party. "We'd like to hear everyone's vision for New York."
Malpass said the general intent is to back a single candidate after an open and transparent process that involves all stakeholders -- voters, district leaders, county committee members. "It's evolving, but I think all five [county chairs] are in agreement that if we can avoid a primary, we'll go into the general much stronger," she told Gotham Gazette.
In the 2013 mayoral election, Lhota, former chair of the Metropolitan Transportation Authority and a deputy mayor under Rudolph Giuliani, lost to then-Public Advocate de Blasio, receiving just 24.3 percent of vote to de Blasio's 73.3 percent. Lhota, currently senior vice president and chief of staff at NYU Langone Medical Center, declined to comment for this article through a spokesperson.
Lhota's grasp of the 2013 Republican nomination did come at a price. This, with the electoral deck already stacked against him due to New York City's heavy Democratic enrollment. Lhota was pitted against Catsimatidis, a billionaire who spent heavily in mounting his campaign, leading to an at-times acrimonious primary battle accented by attack ads. After he won the nomination, Lhota promised, "It is time to unify our party, strengthen it and prepare it for victory in November."
The September to November general election campaign never really took off for Lhota and the GOP, with polls quickly showing de Blasio at a significant advantage, lackluster debates, and no significant outside spending to damage de Blasio and promote Lhota.
This time around, the party may be taking Lhota's 2013 call for unity to heart. "After seeing the results in 2013, most Republicans realized that a joint effort would lead to more favorable results," said City Council Member Joe Borelli, the newest Republican to join the Council. "But it's easier said than done."
Borelli, who represents part of Staten Island -- the lone borough that went for Lhota -- and was a prominent Donald Trump supporter in the presidential race, hasn't yet endorsed a candidate, but looks forward to doing so when the party rallies around one.
So far, Borelli said, the only candidates that could prove to be effective are Massey and Ulrich. "I think Paul Massey's substantial haul of $1.6 million sent the right kind of message to the GOP leaders and potential candidates that it's time to start campaigning and raising money or time to get out of the race," Borelli said, referring to Massey's campaign fundraising from the last six months that he declared this month. "With the exception of a sitting elected official like Eric Ulrich, it would be difficult for another candidate to enter the race...Eric has a much better built media platform and ability to generate anti-de Blasio press. I can't see other candidates generating much buzz."
And although Borelli said Faulkner is "such a genuine guy," he added, "I just think it's such an uphill fight for him, lacking the infrastructure and funding."
Ulrich has started speaking out against de Blasio more, has held meetings with key political figures, and has done some fundraising on the message of taking on the incumbent, but his exploration of a run has remained fairly quiet. Lhota, though not seemingly active in party politics, has encouraged Ulrich to run. The Council member has also started filming a possible reality show following his mayoral campaign.
In part by default, Massey is currently the frontrunner in the race, having raised the $1.6 million and having also personally loaned his campaign another $1.2 million, per the latest disclosures filed with the Campaign Finance Board. His expenditures of $1.8 million through early January and a few outstanding liabilities leave him with a current balance of about $937,000. Among several consultancies, Massey has retained the November Team, a firm that handled Lhota's 2013 campaign communications and also represents the State Republican Party.
Faulkner and Ulrich are far behind in money. Faulkner had contributions of $206,000, including about $152,000 in loans, for his campaign. But his expenditures of $213,000 surpassed that, leaving him with a negative balance of $6,900. Ulrich has raised $48,396 and spent $15,027, leaving $33,369 in his campaign account. He is eligible to run for another term on the Council, and may do so -- he said he'll only run for mayor if he can run a viable campaign, which in large part starts with fundraising.
As Borelli said, the choice may not be as simple as picking the candidate with the most funds, though. Meanwhile, the Republican primary is more complex than relying on the choices of county leaders. Each borough of the city represents a different county and each county committee has dozens of members. Then there are district leaders whose opinions must be sought, and any candidate who can get the petition signatures to appear on the ballot can run.
"I think we're all going in the same direction but we haven't put all the pieces together yet," said Robert Turner, former U.S. Representative and chair of the Queens County Republican Party. "The plan would be to look at the candidates and their positions and if someone has a clear lead, we would like to coalesce around that candidate," he added.
Although he admitted that a primary "is not a disaster" and may help with drumming up recognition for unknown candidates, in general, he said, "Life would be easier without a primary." Lamenting the lack of organization in 2013, he hopes this cycle will be different. "We had a very capable candidate," Turner said of Lhota. "The organization was not as cohesive and thought-out as it needed to be and I'm hoping it can be a lot better."
There's wide agreement that primary infighting among Republicans would serve to strengthen de Blasio, who Republicans believe is beatable with the right combination of candidate, message, spending, and strategy. The oft-repeated stand taken by the party and candidates is that quality of life in the city has declined, especially with regard to the city's homelessness crisis; income inequality has remained relatively unchanged; and crime is on the rise (though statistics show that, overall, crime has declined under de Blasio).
There are also the state and federal investigations into the mayor, his administration and allies, which have given fodder to his opponents, even in his own party. De Blasio is facing a few primary challengers himself, though none appears to be mounting a formidable campaign at this point. Other potential Democratic challengers, like Scott Stringer and Ruben Diaz Jr., are waiting to see the results of the investigations. De Blasio maintains that he and his associates did nothing wrong, and no one has been charged with a crime.
"We want to rally around a candidate and take on Bill de Blasio, and Paul Massey is that candidate," said Evan Siegfried, a Republican consultant who is unaffiliated with Massey's campaign. "What we have to avoid is a long drawn-out primary process, which only helps Bill de Blasio's reelection chances."
Brooklyn Republican Chair Ted Ghorra told Politico New York, "If there is a primary, I don't think it would be in anyone's interest to have the kind of primary that was conducted in 2013." Ulrich told Politico that there are strong potential candidates and, in apparent acknowledgement that h expects a tough GOP nominating contest, "I'm confident the party will unite behind our candidate after the primary."
Siegfried said that Massey's lack of name recognition would not be an issue, and that he could do better if he actually avoided a primary battle and instead focused on reaching out to voters. "And when he does that in conjunction with highlighting de Blasio's utter inability to manage the city -- his presiding over the reduction in quality of life and explosion in homelessness, which [de Blasio] ignores -- then New Yorkers of all stripes will be willing to meet Massey and give him a fair hearing," Siegfried said. "Many New Yorkers including liberal Democrats are very upset that Bill de Blasio did not continue the 20 years of progress that preceded his taking office."
De Blasio is the first Democratic mayor of New York City to face a reelection since David Dinkins, who lost to Rudy Giuliani in 1993. But de Blasio doesn't face the same obstacles. Under Dinkins, unemployment was skyrocketing and people felt unsafe. Under de Blasio, crime has largely decreased and employment has grown for the last three years. It's a refrain of his campaign, one that spokesperson Dan Levitan repeated when asked about the Republican Party's effort to avoid a primary. "Under Mayor de Blasio, crime just hit another all-time low, jobs are at record highs, the city is building and preserving affordable housing at a record pace, while graduation rates and test scores continue to improve," Levitan wrote in an email. "We are happy to match that record against anyone."
The most recent Quinnipiac University public opinion poll, from January 18, shows support for the mayor almost split down the middle. Overall, 45 percent of respondents said they approve of the way de Blasio is handling his job while 46 percent disapproved. As can be expected, his support comes overwhelmingly from Democrats, 59 percent of whom gave him a thumbs up while only 17 percent of Republicans felt the same. His reelection numbers are marginally lower than his approval ratings, however. Only 42 percent said he deserves to be reelected while 48 percent said he doesn't. Thirteen percent of Republicans want to see him get a second term compared to 52 percent of Democrats.
At this point, de Blasio is quite likely to win in the Democratic primary and would go into the general election a heavy favorite, especially due to New York City's significant Democratic voter enrollment advantage. But, anything can happen, and the primary is still more than seven months away.
Not all the potential or declared Republican candidates have said whether they'll support the party's final decision and avoid a primary. Requests for comment to Ulrich and to Massey's campaign went unanswered. Faulkner, however, believes "it's a great idea." "I understand that it's in the best interest of the party," he said. When Gotham Gazette asked what he would do if the chosen candidate isn't him, he said, "I have supported every Republican candidate that has run in New York City. I've been loyal to the Republican Party for nearly 30 years and I don't think that will change."