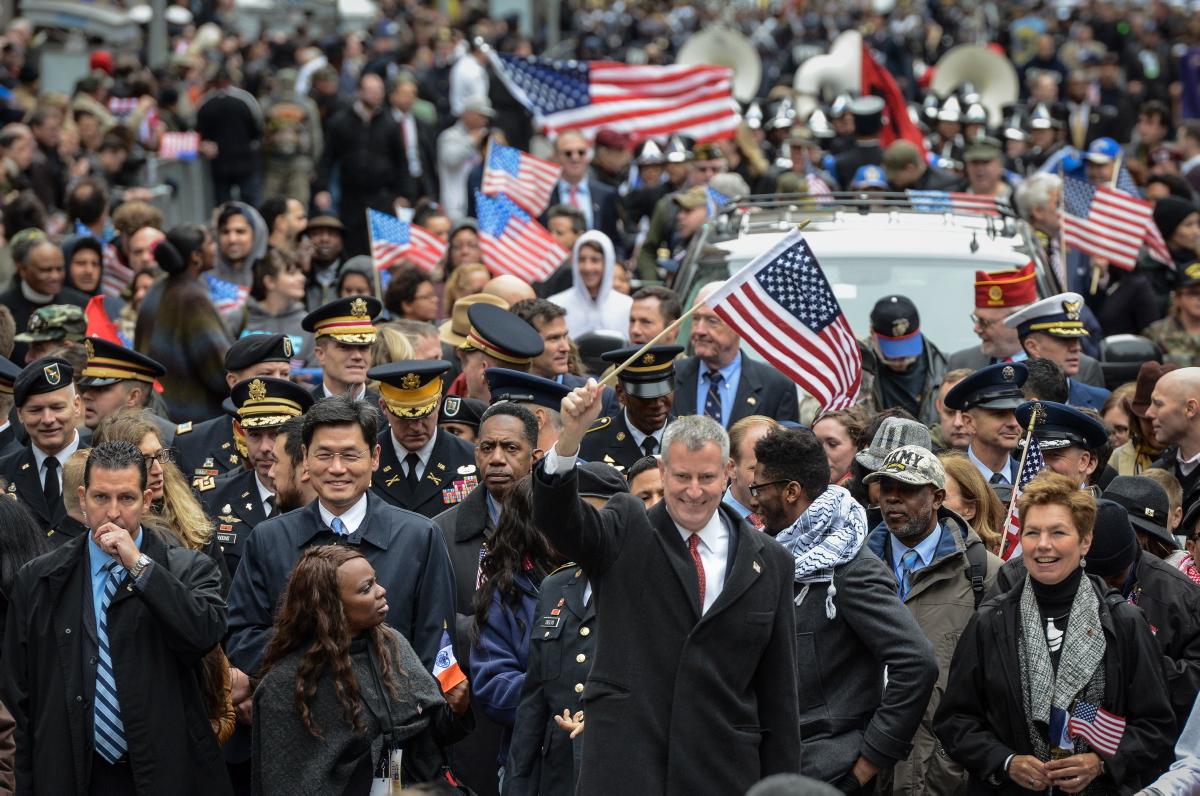 photo: @nycveterans
---
Mayor Bill de Blasio's preliminary budget, released January 24, proposes nearly $1 billion in increased spending for the next fiscal year, which begins July 1. But a conspicuous, albeit infinitesimal, reduction for one agency has irked elected officials and advocates.
The mayor's spending plan, which will be evaluated by and negotiated with the City Council, includes a $318,000 decrease in the budget for the newly-minted Department of Veterans Services, which was created last year as an agency outside of the Mayor's Office and given a significant budget boost. The DVS budget for the current fiscal year is $3.95 million, but de Blasio has $3.63 million budgeted for fiscal year 2018.
While it is a tiny fraction of the $84.7 billion preliminary budget plan, stakeholders argue that it is a step back for an administration that just last year made the major commitment to expanding veteran services by establishing a stand-alone agency after much lobbying by City Council members and advocates. The city, however, explains that the budget reduction is because one-time department start-up costs are coming off the books.
"It's pretty sad that the Mayor of the city of New York decided to cut the department's budget," said state Senator Marty Golden, a Republican who represents Bay Ridge and sits on the Senate's Committee on Veterans, Homeland Security and Military Affairs. "It's cutting case management for veterans, it's cutting healthcare for veterans, it's cutting homelessness services for veterans."
Golden has organized a rally outside City Hall on Wednesday afternoon to protest the budget change as well as call for additional tax relief for veterans. He'll be joined by the City Council's three Republican members -- Steven Matteo, Joe Borelli and Eric Ulrich, who chairs the council's veterans committee -- as well as mayoral candidates Michel Faulkner, Paul Massey, and Richard "Bo" Dietl, and veterans advocates. Council Member Ulrich, the leading governmental force behind the creation of the Department of Veterans Services, did not respond to requests for comment.
"This is a bad signal to send to veterans and to the homeless," Golden said of the budget change. "I'm hoping [Mayor de Blasio] reevaluates and he redirects that money."
Mayoral spokesperson Freddi Goldstein explained in an email that the funding decrease is primarily due to one-time costs incurred in setting up the new agency last year, including fees paid to a consultant, costs for office equipment, and the non-renewal of a one-year position funded by a private grant. That funding runs through the end of the 2017 calendar year and is not reflected in the fiscal 2018 budget, according to a DVS spokesperson. A spokesperson for the mayor said that like other funding elements, the position could be negotiated back in over the course of the coming months.
In an office of about 30, the loss of that one position, related to homelessness prevention, would be "significant," said Kristen Rouse, an Army veteran and president and founding director of NYC Veterans Alliance, an advocacy organization. The group will hold its own rally on February 14. "I completely understand that there were one-time costs, but they should be expanding regardless," she said. "The trajectory needs to be an upward motion, not a downward one. Funding directly reflects that."
Rouse pointed out that homelessness prevention is the biggest challenge for the department and said it should be part of a broader strategy of ensuring access to affordable housing for veterans. "There's hundreds of veterans in shelter," she said. "That's important progress but that's not a victory."
The city ended chronic veteran homelessness by the end of 2015 and has set up an effective pipeline for getting veterans off the street. According to DVS spokesperson Alexis Wichowski, the latest count from January showed about 35 military veterans remain homeless and not in shelter. She also pointed out that the median stay for veterans in homeless shelters is about 79 days, compared to 355 for single adults, per the Mayor's Management Report.
Wichowski said the budget changes were not a matter of concern and were always part of the plan in setting up the agency. "We are almost at full capacity, that's a huge milestone," she said. The agency has hired 33 of its 35-person budgeted staff and is set to embark on a number of projects and programs. "Getting people on board and getting them trained has been the focus for the last few months," Wichowski said.
Under the direction of Commissioner Loree Sutton, the department now also has satellite offices in the Bronx and Queens and two on Staten Island, and is in the process of establishing agreements for offices in Manhattan and Brooklyn. DVS primarily offers help so that the 210,000 military veterans living in New York City can access services and benefits available to them.
City Council Member Borelli, a member of the veterans committee, was surprised and disappointed by the budget reduction. "It's a question of the mayor's long-term commitment to supporting the veterans agency," he said. He critiqued the mayor for funding other items at comparable levels of the cuts, particularly $500,000 for speed cameras. "We can't be blinded by the desire to see certain policy goals met while we abandon commitments we've already made," he said.
At Wednesday's rally, Borelli said the budget shift wouldn't be the only item they will push. A key proposal, one promoted by veteran advocacy organizations for years, is the expansion of an alternative property tax exemption for veterans, which the NYC Veterans Alliance estimates would cost the city about $40 million at a time when the city's assessed property tax value increased by $17.6 billion. It is a measure of much-needed housing affordability, several advocates and elected officials agree.
"The budget is about outlining priorities through a document," Borelli said. "This is just saying that [DVS is] less pressing than other priorities."
Next month, the City Council will begin to examine the mayor's budget and issue its formal response, after which the mayor will release his executive budget, a revised spending plan. Following another round of Council hearings, the Council and mayor will move to closed-door negotiations before agreeing to a final budget for the next fiscal year by the June 30 deadline.