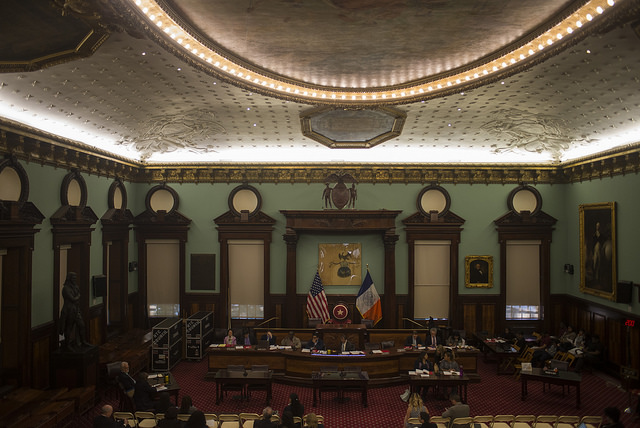 City Council chambers (photo: Sofie Hecht/Gotham Gazette)
---
With seven sitting New York City Council members facing term limits and one having left the Council to join the state Assembly, this year's municipal elections will feature a number of competitive open races and will bring fresh blood into the city's legislative body.
While the vast majority of those in the Council's 51 seats can run for another term this year, and most are, the open seats will see the bulk of the electoral competition for the City Council.
Come January, the Council will have at least eight new members. Through the September primaries and November general election, seven term-limited members will be replaced: Rosie Mendez (District 2), Dan Garodnick (District 4), Council Speaker Melissa Mark-Viverito (District 8), James Vacca (District 13), Annabel Palma (District 18), Darlene Mealy (District 41) and Vincent Gentile (District 43).
Another Council seat is currently vacant following Council Member Inez Dickens' election to the Assembly. A nonpartisan special election is scheduled for February 14 for her seat in District 9 in Harlem. There are 11 candidates vying for the seat and the winner will serve through the rest of Dickens' term, meaning its final year, and will have to run for reelection later this year. Two candidates, Todd Stevens and Larry Blackmon, are leading the race in fundraising, having qualified for public funds under the campaign finance system's matching funds program. Stevens has $46,871 in his account and Blackmon has $44,954. The closest other candidate is Marvin Holland with $26,325. Holland raised the most private contributions but, along with most other candidates in the race, did not meet the thresholds for public matching funds by a January 17 deadline for campaign finance disclosure. The rest of the candidates' accounts range from a few hundred to a few thousand dollars, with the most being Athena Moore's $5,005 and the least being Caprice Alves' $86. The next disclosures are due by Friday, February 3, based on which additional candidates may qualify for public funds.
Open seats invite numerous candidates for each race and the campaign finance system's public matching funds program tends to help level the playing field for participants. Across all eight "open seat" races, candidates have been furiously reaching out to constituents and community groups, and, in the case of many first-timers, building their profiles and name recognition.
In some races, community activists are hoping to defeat political veterans from Albany -- state lawmakers representing New York City often look to switch to the City Council, where the pay is better and the trips to Albany fewer. Several state legislators are still exploring whether to pursue Council seats, with decisions imminent as the September primary is just over six months away.
In multiple races, female candidates are striving to strengthen the gender balance on the Council, a male-dominated body.
All of the eight "open seats" were most recently or are currently held by Democrats, and are likely to stay in Democratic hands. The Council currently has 47 Democrats and three Republicans, with the one empty seat (Dickens'). The Democratic primary is often determinative of the final outcome in City Council races.
In most of the "open seat" contests this year, there are candidates who have already posted significant fundraising numbers according to the latest campaign finance disclosures filed before a key January deadline with the New York City Campaign Finance Board. Fundraising can make or break a campaign, and early numbers are often predictive of what kind of campaign a candidate can run and how a candidate will do. Thanks to the city's public matching system, City Council candidates can often raise relatively modest amounts of money, qualify for matching funds, and run serious campaigns.
In Manhattan's District 2, which stretches from Murray Hill down to the Lower East Side, Carlina Rivera leads the race, having raised $77,125 and spent $19,408, leaving her a balance of $57,717 in her campaign account as of mid-January. Rivera is a district leader and currently serves as legislative director for Council Member Rosie Mendez, a position she's held since August 2015. Mendez has endorsed Rivera to be her successor in the seat. According to a campaign spokesperson, Rivera is a participant in the public matching funds program.
Running against Rivera is Mary Silver, a local attorney, education advocate and member of Community Board 6. Silver has a campaign balance of $30,523, having raised $38,725 and spent $8,202. A third candidate, Jasmin Sanchez, has posted no campaign contributions or expenditures.
District 4, which covers much of the east side of Manhattan, has six contenders for Council Member Garodnick's seat. Two of them, Maria Castro and Diane Grayson, have empty campaign accounts. The early fundraising leader is Marti Speranza, a Democratic State Committeewoman and member of Community Board 5. Speranza is the former director of Women Entrepreneurs NYC, a city initiative, and has served as director of strategic initiatives for the Department of Consumer Affairs. She has just over $126,000 in her campaign account, having raised nearly $176,000 and spent about $50,000.
One of the benefits of running for an open seat, Speranza said in an interview, is that the city's public matching funds program "has really levelled the playing field" and ensured that voters will have multiple choices. "It means we're competing on our ideas and our platforms," she said.
Keith Powers is also expected to run a strong campaign to replace Garodnick, and has raised $81,485 and spent $24,771, leaving him $56,714 as of mid-January. Powers, currently at Constantinople & Vallone LLC, a consulting firm, worked as chief of staff for former state Assembly Member Jonathan Bing for four years.
Powers pointed out that most of his campaign contributions are in small dollar amounts and came from district residents. "At the end of the day, fundraising matters, but the most important thing is having a motivated base of supporters in the district and having a record of accomplishment," he told Gotham Gazette.
Also in the race are Jeffrey Mailman, who has a campaign balance of $32,916; Bessie Schachter with $19,732; and Melissa Jane Kronfeld with $4,138.
In East Harlem's District 8, Speaker Melissa Mark-Viverito has endorsed her deputy chief of staff Diana Ayala for her seat. Ayala has campaign contributions of $26,173, of which she has spent $1,733. Other candidates in the race have barely scratched the fundraising surface as of mid-January. Edward Gibbs has a balance of $5,884 while Edward Santos has $1,803. A fourth candidate, Tamika Mapp, has $25.
That race appears to be Ayala's to lose, but it is still somewhat early.
Bronx Council Member James Vacca's District 13 will likely be home to a competitive race, with six candidates running relatively close in fundraising. State Assembly Member Mark Gjonaj is in front, having raised $103,730. With expenditures of $19,276, he has a balance of $84,454. He also has the name recognition and political relationships that come with already being an elected official.
Second in the money race is Marjorie Velazquez, a Democratic district leader who Vacca has endorsed for the seat. Velazquez raised $64,715 and has spent $9,055, leaving her $55,660 as of mid-January. She sees this election as an important milestone to push for women's representation in the Council, she said. "For a newcomer like myself, it's been really empowering," Velazquez said, adding that her initial fundraising haul "really solidified things for me."
Local Bronx organizer John Doyle, who served for five years as community affairs director for state Senator Jeff Klein, is third in money with $42,987 left after raising $59,135 and spending $16,148.
District 18 in the South Bronx, currently represented by Council Member Annabel Palma, has only two candidates officially running, and neither has shown significant fundraising. Elvin Garcia, former Bronx borough director for Mayor Bill de Blasio's community affairs unit, has $29,279 in his account. Amanda Farias has about half that, with $15,102. Farias has years of experience with the City Council, having managed the Council's Women's Caucus and served as the director for participatory budgeting for Council District 30.
Many, including Garcia and Farias, are eager to see if State Senator Ruben Diaz Sr. jumps into the race to succeed Palma, which is he rumored to be considering.
The race for Darlene Mealy's seat in District 41 in Brooklyn seems low-key at the moment. Five candidates have declared their intentions to run but none have raised funds for a formidable campaign. The biggest haul belongs to Deidre Olivera, who brought in $4,902 and spent $3,776, leaving her $1,126. Moreen King raised $2,000and spent $380, for a balance of $1,620.
In Bay Ridge, the District 43 race may be one of the few City Council elections with a competitive Republican versus Democrat general election. The only two candidates who have raised money in the race are Justin Brannan, a Democrat who used to work for current and term-limited Council Member Gentile, and Robert Capano, a Republican who has served under top elected officials from both parties. Brannan has received $57,385 in contributions and has $2,306 in expenditures, through mid-January. His $55,079 balance far outpaces Capano, who has $5,688 remaining after spending $5,679 from his $11,367 in campaign funds.
This is another race where the possible entrance of a state legislator could shift dynamics greatly: Democratic Assembly Member Peter Abbate is said to be considering a run. Even if he was to enter the race, he would face tough competition in Brannan, who is president of a local Democratic club and a long-time community activist in the area, as well as a former Gentile aide.
For his part, Capano said that he has been raising seed money thus far and that his fundraising operation will officially launch soon. "I think this is going to be one of the most competitive races in this election," he said. "This is one seat that Republicans can win."
Note: This article has been updated to include fundraising numbers from the Council District 9 special election and to clarify that Marti Speranza is a Democratic State Committeewoman, not a district leader.