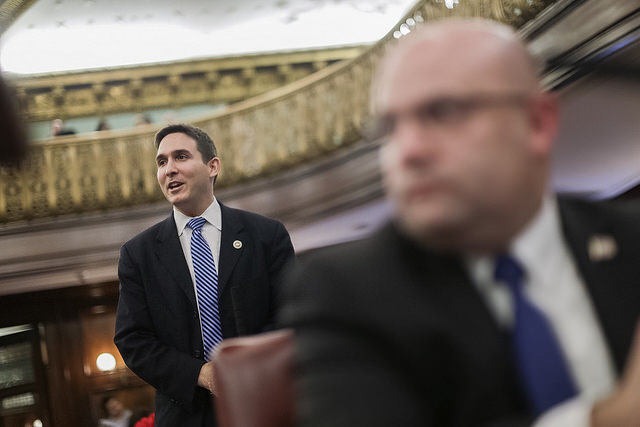 Council Member Ben Kallos (Photo: William Alatriste/New York City Council)
---
A critical study by a fiscal watchdog on the city's annual performance report has led to renewed calls for city agencies to base their budgets on the efficiency of services.
The Citizens Budget Commission, an independent nonprofit, released an analysis earlier this month of the Mayor's Management Report (MMR), a detailed survey of city agencies and their functioning which the Mayor's Office of Operations puts out twice a year. The preliminary version of the report, the PMMR, covering the first four months of the 2017 fiscal year, was released last Monday and will be followed by the full MMR in September.
The MMR contains performance evaluations of 44 city agencies, helping the city improve the efficiency and delivery of services and helping the public keep the administration accountable. Elected officials rely on the reports to conduct oversight of agencies, citing them in annual budget hearings.
CBC's report notes, however, that while the MMR has thousands of indicators related to the "volume or quality" of services, there is little examination of efficiency through unit-cost measures, which gauge the city's spending on each unit of service. "Unit cost indicators enhance accountability, inform operational changes, and highlight ways to increase efficiency," the report reads.
The city's already limited use of unit cost indicators has declined, according to the CBC's analysis, and in last year's MMR for fiscal year 2016, only 10 agencies reported a total of 35 unit cost indicators out of more than 2,000 metrics tracked by the city. These include, for instance, the cost to the Fire Department per ambulance tour per day, which grew from $1,799 in fiscal year 2012 to $1,937 in 2016, a 7.7 percent increase. In the same period, the average cost for the Department of Citywide Services to train a city employee fell 56 percent from $253 to $112. The report points out that the city can easily create more such unit cost indicators with current data and recommends steps to implement those measures across city agencies, including aligning units of appropriation with specific services and linking service quality with cost and efficiency.
"While the MMR provides thousands of indicators, the report is short on indicators that assess the efficiency of city government operations," said Ana Champeny, director of city studies, CBC, in an email. "The City should develop more unit-cost measures that could support agencies in making their operations more cost-efficient."
Elected officials and good government advocates have long been pushing for an improved MMR, calling for increasing the number of indicators and clarifying how agencies measure their performance. Last year, at an April oversight hearing on the MMR held by the City Council's Committee on Governmental Operations, many of those concerns were raised, including the need to link agency funding with performance.
Council Member Ben Kallos, chair of the governmental operations committee, has been pushing the city to do better for years and, at his request, the latest reports now show spending information by general categories of appropriation. But, he points out, the report still fails to connect budgeting with agency goals, despite being mandated by the city charter. "The MMR should be treated as an investment document," Kallos said in a phone interview, "and spending should be tied to specific programmatic performance goals so New York City residents know how their tax dollars are being spent and can advocate for them to be increased or decreased."
He noted, for instance, that the PMMR shows more homeless families and individuals entering the system than in previous years, as reflective of the city's homelessness crisis. At the same time, it also shows fewer adults exiting permanent supportive housing than before. "If we have performance budgeting, the mayor would have to say he's spending certain amounts of money to improve that number," Kallos said. "We would be able to tie the amount of spending to that number and we'd be able to understand what the barrier is and possibly solve it with more funding."
Government reform groups have argued that the city has improved the MMR but has been slow to institute certain common sense changes that have been recommended for years. "[The MMR] was a huge leap forward when it was first introduced forty years ago," said John Kaehny, executive director of Reinvent Albany, and co-chair and founder of the New York City Transparency Working Group. "It is basically obsolete. It needs to evolve so the public, the City Council and the mayor himself can tell how city agencies are doing."
Pushing for a more comprehensive MMR, Kaehny said, would be consistent with the city's reputation as a national leader in areas of open governance and transparency. He also believes that the charter's mandate, to make MMR goals linked to the budget, is more realistic now than it has ever been, with the ubiquity of data and the means to compute it in the digital age. "This is a logical evolution of the MMR," he said, although pointing out that city agencies and public sector unions may be wary of such scrutiny. "This would really put them under a microscope, it would show trends citywide and show how efficient the city can provide services over private entities."
Mindy Tarlow, director of the Mayor's Office of Operations, said in a statement to Gotham Gazette that the city's public reporting of data on delivery of services has been more comprehensive and transparent "than any other major urban jurisdiction in the country" for the last forty years. "We continue to work closely with our colleagues at the Office of Management and Budget to further align performance and spending," she said.
With reporting by Ben Max.