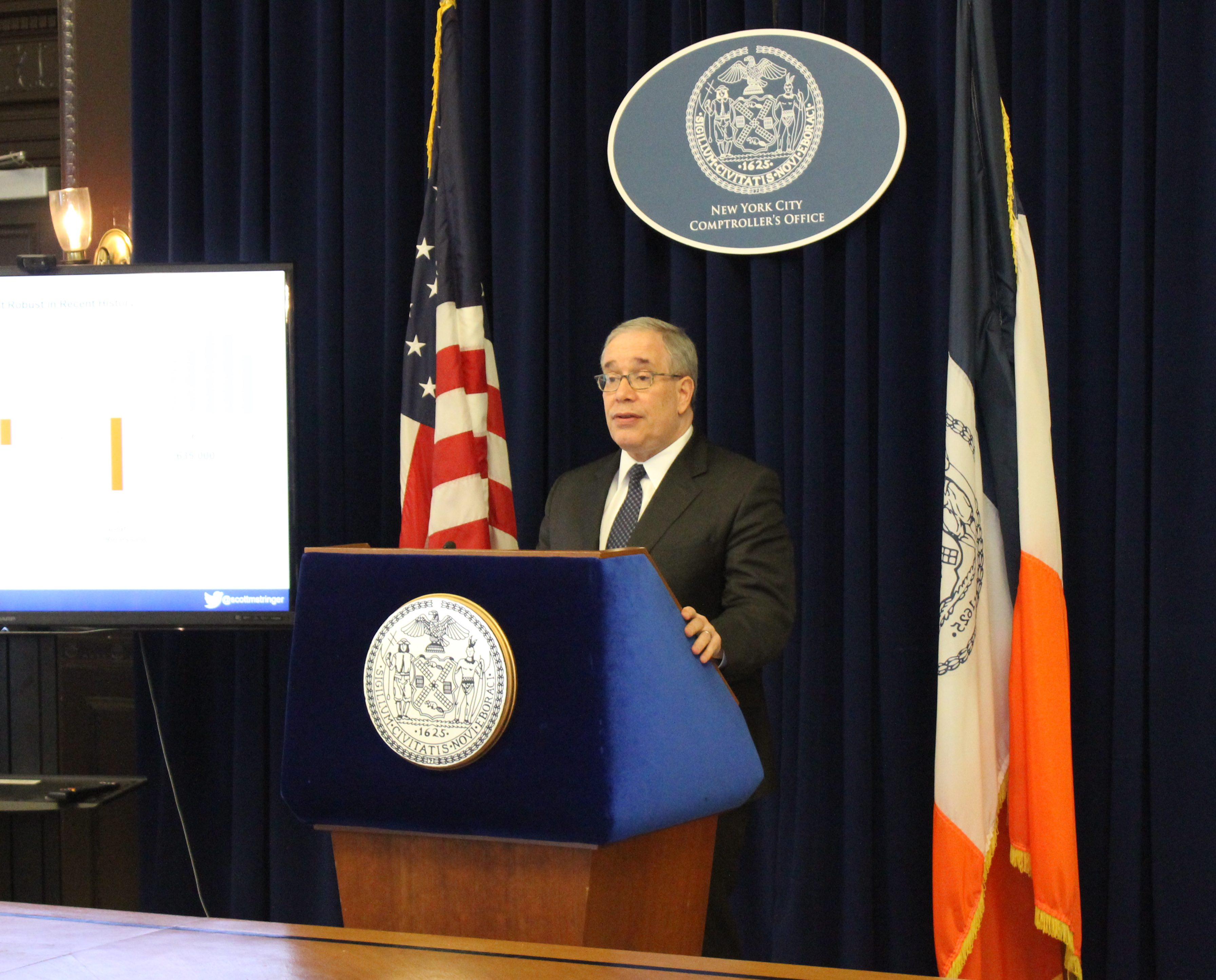 Comptroller Scott Stringer presents his budget analysis (photo: Samar Khurshid/Gotham Gazette)
---
Comptroller Scott Stringer blasted aspects of Mayor Bill de Blasio's preliminary budget for fiscal year 2018 on Wednesday, taking issue with the mayor's homelessness strategy and what Stringer described as a dearth of savings for city agencies.
Speaking to reporters at his offices on 1 Center Street, the comptroller said the city's economy continues to be strong but warned of the challenges from an economic slowdown after years of sustained growth, the effects of which are already being felt. The risks are especially high, he said, with President Donald Trump's threats of funding cuts to the city and the inadequate cushion of city reserves.
The comptroller, a frequent critic of the mayor who may challenge de Blasio on the ballot, was most critical of the administration's spending on homelessness with little to show in the way of results. "The lack of progress for our homeless families and failure to change the status quo is deeply concerning to me and to all New Yorkers," he said. "The crisis is growing, it is not receding."
The city has seen an explosion in homelessness over the last three years, with the number of homeless people in the shelter system crossing 60,000 late last year. In the 2017 fiscal year, ending June 30, the city will have spent $2.3 billion on tackling the issue, up from $1.17 billion in fiscal year 2014, the comptroller estimated. The revised budget for the Department of Homeless Services alone is $1.7 billion in fiscal year 2017, an increase of more than 390 million since the budget was originally adopted. Mayor de Blasio, in his State of the City speech on Monday, briefly acknowledged that his administration has more to do on tackling homelessness, but provided no details, promising to address it in the coming days.
The comptroller, in his presentation, questioned that lack of a cohesive policy, stressing that City Hall has not been forthcoming with data or progress reports. He noted that the Department of Homeless Services online dashboard has not been updated in over a year. In particular, he faulted the administration's "out of control" spending on emergency shelters at commercial hotels, which reached $102 million in the 2016 calendar year. "We need transparency people, we need to understand this so we can actually get to the root of the crisis because we can't spend blindly without seeing results," he said.
Stringer also emphasized that the city needs to increase its savings and reserves by identifying greater efficiencies in city agencies. Under de Blasio, agencies have voluntarily identified savings each year through the Citywide Savings Program. Stringer supports the program, which saved $2.1 billion this year, but said the scope of savings is insufficient. "City agencies must do more to scrub their budgets and operations to identify more savings and efficiencies to help address our risks," he said, pointing out that prior to 2014, agencies contributed 2.7 percent on average to the city's savings in a year, compared to 1 percent under Mayor de Blasio. "The more they scrub, the more they'll save," he said.
These reserves will be particularly crucial if the Trump administration should follow through on its proposed cuts to sanctuary city funding, the comptroller pointed out. New York City could lose as much as $7 billion, which would "rip up our social safety net," Stringer said. Overall, he insists that the city's budget cushion -- the reserves and surplus funds at the beginning of the fiscal year -- should be between 12 and 18 percent of city expenditures. Currently, the city has a cushion of only $8.5 billion or 10 percent for fiscal year 2018.
Stringer did praise the mayor for initiatives in the budget that he has supported, including funding for 300 new school crossing guards, providing bullet-resistant windows for all NYPD patrol cars and committing $1 billion for roof repairs at 729 NYCHA buildings.
Stringer's criticism wasn't just limited to the mayor's preliminary budget. Asked about de Blasio's State of the City commitment to create 100,000 jobs over the next ten years, Stringer said, "I don't think people truly understood what he was talking about," noting that the city had created 90,000 jobs a year on average since 2009.
"We do that yearly," he said. "To talk about a plan over ten years to create 100,000 jobs, to do that over 10 years is just an empty promise and it's certainly not enough...It makes no sense in my view." He recommended a "holistic" approach to job creation, by addressing homelessness, building affordable housing and pushing economic development through investments in women- and minority-owned businesses.
Mayoral spokesperson Eric Phillips sharply rebuked the comptroller's broad critique. "The comptroller has criticized universal pre-K, equipping officers with body cameras, unprecedented highs in affordable housing and job creation, a balanced budget with record savings, and sweeping investments in homelessness prevention," Phillips said, in a statement. "City Hall shares the public's wonderment at what exactly the Comptroller's fighting for."