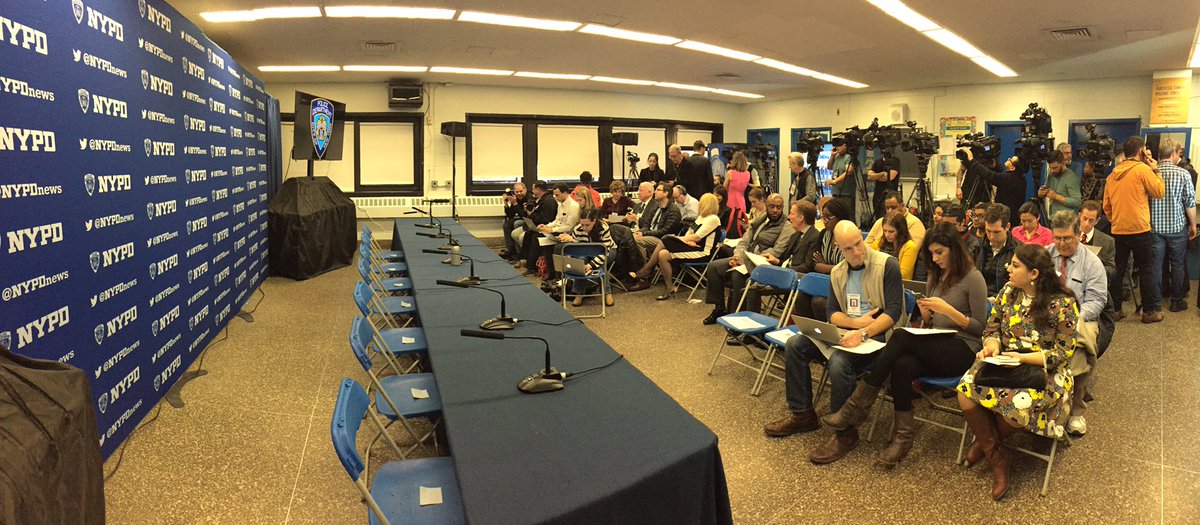 The media at an NYPD press conference (photo: @NYPDNews)
---
Members of the news media wanting to get a new NYPD press badge will have to make do without until further notice.
The department's Office of the Deputy Commissioner, Public Information (DCPI), which handles the issuance of the credentials, has not been accepting applications for new cards for weeks, and has not definitively said when it will begin taking appointments again. The passes are designed to allow reporters to cross police lines and enter certain police-protected events and buildings. These regularly include events at which the Mayor is appearing, as well as City Hall, where the City Council regularly holds hearings.
For journalists covering breaking news and government in the city, the cards facilitate their jobs to the point that not having one can be a serious impediment. New reporters and those returning to the trade or switching beats who do not currently hold credentials could find themselves unable to access news events.
Reached by phone at the DCPI office, Detective Michael DeBonis, who handles applications for department-issued press passes, said that the delay was due to renovations at DCPI's offices in One Police Plaza, and that he expected to start issuing new credentials "around mid-March."
Asked why credentialing operations had halted during the renovations, Det. DeBonis said that they couldn't "start handing out cards in the street."
Following a 2009 legal victory by three bloggers who had filed suit against the NYPD after they were denied credentials, all cards issued have expiration dates for the next 15th of January, making them generally valid for one year at most. Cards that were set to expire January 15, 2017 have been extended "until further notice," according to the NYPD's press relations website. "The 2017 press card application process has ended. Please re-visit our website for the announcement of the 2019 press card application process," that site says, with no mention of 2018.
Two years ago, cards expiring in January 2015 were similarly extended, until April 30 of that year. According to Officer Sophia Mason of DCPI, this was due to equipment renovations.
Press cards have been issued by the NYPD in some form or another since at least the early 1900s, according to New York Press Photographers, a book by Marc Hermann. The badge-shaped paper cards introduced then were used until 2003, when they were replaced with the modern large rectangular plastic cards.
These modern credentials display a unique "card number," the journalist's name, publication, and photograph, an expiration date, and the word "PRESS" four times in large black print. They say "PRESS IDENTIFICATION" above "City of New York" at the very top.
Applications require a journalist to provide published or broadcast proof that in the 24 months preceding the application they covered "in person" breaking news where police or other city agencies established barriers or crowd control, or city-sponsored events open to the press.
The discretionary nature of the process -- which seems to require that journalists cover the sorts of events they'd need press credentials for so they can obtain press credentials -- has led to a considerable amount of controversy.
Officers have confiscated credentials when coming into conflict with journalists in the field, although usually cards are returned. DCPI has also struggled to keep up with changing technologies, and been slow to accept the credentialing of reporters for online or unconventional outlets.
Reporters for Gothamist tried for eight years to get the credentials, finally receiving them in 2012 after three rejections. The NYPD does not make available statistics on application or rejection numbers.
The 2008 lawsuit by the three bloggers, who were rejected with no explanation in 2007, argued that system was "inconsistent and constitutionally flawed."
This week, a federal judge denied a motion to dismiss a lawsuit arguing NYPD procedures to revoke credentials are unconstitutional. The suit was filed by freelance journalist J.B. Nicholas after officers took his card while he tried to photograph a partial building collapse in 2015.
Nick Paolucci, a spokesperson for the city's Law Department, said in an emailed statement that they had reviewed the ruling and would "continue to defend the case."
A spokesperson for the mayor did not respond to written questions asking if the mayor's office had been informed of the application suspension or issued any guidelines, and its assessment of Mr. Nicholas' lawsuit.