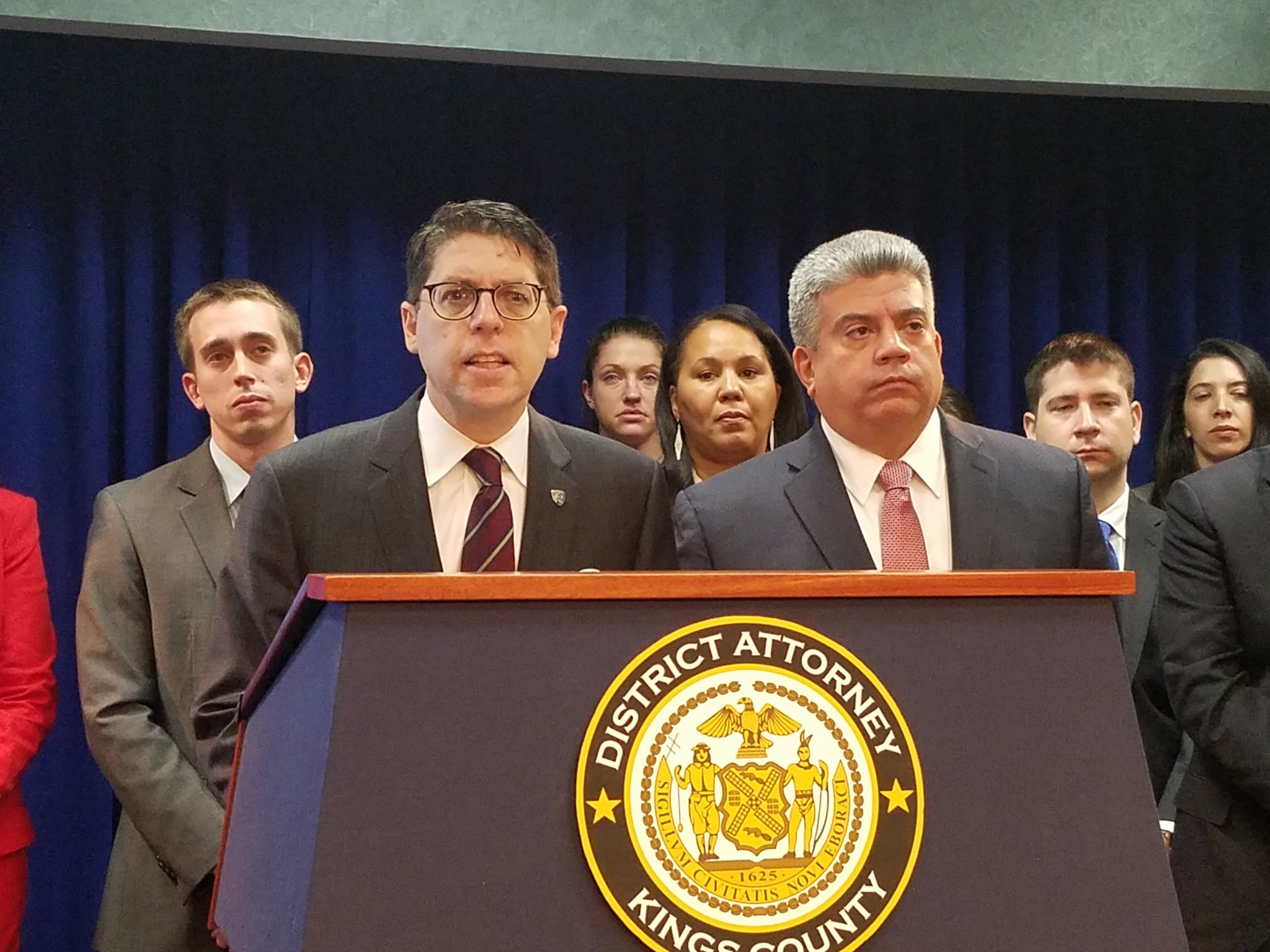 DOI Commissioner Mark Peters (photo: @DOInews)
---
At a City Council preliminary budget hearing on Thursday, Department of Investigation Commissioner Mark Peters laid out new funding and staffing needs for his agency, which is facing a $5 million proposed reduction in its fiscal year 2018 allocation by Mayor Bill de Blasio.
The proposed preliminary budget for the Department of Investigation (DOI), the watchdog body that monitors and probes public corruption and other wrongdoing at 45 city agencies, is $41.7 million, down from $46.7 million in last year's adopted budget. (That number does not include another $13 million in federal forfeiture funds that is available for the agency to spend through fiscal year 2018. Peters also noted that these funds are not affected by federal budget fluctuations.)
Testifying at the hearing, held by the Council's oversight and investigations committee, Peters stressed the need for adequate funding as the agency's work has grown in key areas, including monitoring construction safety, NYPD surveillance practices, the Administration of Children's Services, and the Department of Corrections. The agency has over 700 personnel, Peters said in his opening statement, working towards a "comprehensive strategy of systemic investigations, high impact arrests, preventative controls and operational reforms, in a manner designed to ensure we leverage our resources effectively."
Although Peters didn't provide an exact budget ask, he said after the hearing, "There's work we're doing both around the Department of Corrections and ACS where we believe that we could make very good use of some additional staff so we're talking with OMB [the Office of Management and Budget] about it."
Peters also spoke of the need for additional staff to cover a massive backlog in background checks for city employees, an issue raised by Council Member Vincent Gentile, chair of the committee, during the hearing. The city currently has a backlog of 4,000 needed background checks, and Peters projected that number would grow by another 1,600 over the next fiscal year.
Gentile expressed a range of concerns about the DOI's responsibilities and how DOI measures success. Pointing to the Preliminary Mayor's Management Report, which gauges performance indicators for all city agencies, Gentile wondered why the report did not include data for individual Inspectors General at different city agencies. Peters, who had earlier in his testimony warned against a heavy dependence on statistics, instead emphasized the agency's focus on citywide systemic change. Reporting on 45 city agencies, he said, would be "cumbersome" and "not necessarily helpful" to gauge effectiveness as DOI works to root out waste, fraud, and abuse.
At Gentile's insistence, Peters also explained his reticence in relying on the length of an investigation as a performance metric. Quicker investigations, he said, could be less effective. "The biggest cases where we have the most impact are the ones where we don't jump too quickly," he said.
He added, "I think the best metric, that's hard to put a number about is, 'Is there a greater sense in these city agencies that there's a cop on the beat watching and are we seeing significant institutional change?'"
Peters did provide numbers to illustrate the agency's work, however. In the 2016 calendar year, DOI made 694 arrests, a 22% increase over 2015, stemming from more than 1,800 investigations. The agency also referred over 800 cases for criminal prosecution, a 14% increase.
The hearing also touched on agency financial savings, a particularly pertinent subject this year round with major risks in the city budget, including potential federal funding cuts, proposed state funding cuts, and slowing city economic growth. DOI identified a one percent reduction in its Other Than Personal Spending (OTPS) costs, amounting to about $22,000. "Have you considered other areas that might yield some cost savings," Gentile asked.
Peters said the agency had little room for creating savings through efficiencies. "The real savings come from things like doing the monitoring of monies spent," he said, referring to DOI's role as a watchdog of others and citing the $40 million saved by the agency's arrest of four people involved in defrauding the "Build It Back" Superstorm Sandy relief program.
Gentile, in closing out the hearing, said he anticipates an executive budget hearing for the agency, unlike last year when DOI saw a substantial 43 percent increase in its budget. The executive budget will follow on the heels of the Council's official response to the mayor's preliminary budget, after weeks of hearings like the one held Thursday. The next fiscal year starts July 1.
[Related: Under the Hood at Agencies, Investigation Department Increases Policy Focus]