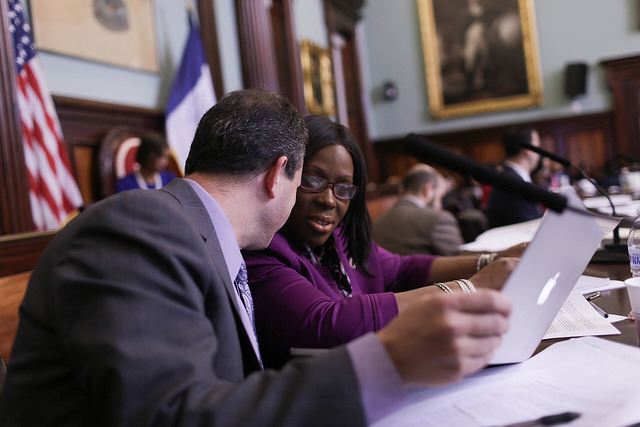 Coucil Member Vanessa Gibson, right (photo: William Alatriste)
---
New York City's civil legal services went under the microscope Tuesday at a hearing held by the City Council's Courts and Legal Services Committee. One in a series of City Council hearings on Mayor Bill de Blasio's $84.67 preliminary budget, the committee heard from representatives of the Department for Social Services about its programs and budget needs.
Testifying before the committee, DSS Commissioner Steve Banks delineated his department's spending, focusing specifically on the programs rolled out by the Office of Civil Justice. Established in June of 2015, the Office of Civil Justice was created to "oversee, manage, and monitor the City's programs to provide civil legal assistance to New Yorkers in need," Banks stated in his testimony. These programs include anti-eviction, immigrant protection, domestic violence, and federal benefits assistance services, helping low and middle-income New Yorkers to access affordable legal assistance.
These services have been a focus of the City Council under its Speaker, Melissa Mark-Viverito, and of de Blasio, who recently agreed to a standing Council proposal to fund more lawyers for people in housing court. The city has significantly increased its spending on anti-eviction legal services under de Blasio, and seen success, as well as in immigration legal services.
Though questioning from the committee members present for Wednesday's hearing touched on a number of areas, the Council members were most interested in two topics: DSS's new right-to-counsel program, which provides universal access for low-income tenants facing eviction, and immigrant protection services such as the Immigrant Opportunity Initiative.
While Banks emphasized the progress of anti-eviction initiatives even before the recent right to counsel announcement, citing a 24 percent drop in residential evictions since 2013, there were concerns from committee members about the five-year implementation timeline of the right to counsel program.
"We have to be smart as we phase in universal right to counsel," Council Member Vanessa Gibson, who represents part of the Bronx and is a co-sponsor of the right to counsel bill, told Banks. "The only family intake is in the Bronx, so every homeless family in this city goes through the Bronx before they're dispersed to other places...We have a saturation already." Gibson said capacity must increase for access to counsel to also increase.
On immigration, Council Member Carlos Menchaca, who chairs the Council's immigration committee, pressed Banks to address the need for greater flexibility around immigration services, especially considering the uncertain future of federal immigration policies and the expected rise in the quantity and complexity of immigration cases under President Donald Trump. "We need to be mobile enough, responsive enough to the times that we find ourselves in and I hope this executive budget reflects that," Menchaca told Banks, referring to the next iteration of the mayor's spending plan, which is due in early spring after City Council hearings and formal response.
The mayor's fiscal year 2018 preliminary budget is slated to provide the Office of Criminal Justice with $11.2 million for immigration legal assistance, as well as $62.2 million for legal services for tenants facing eviction, harassment, or displacement. OCJ's proposed 2018 allocation totals $111 million.
Reiterating Menchaca's sentiment that the budget should reflect the changing immigration landscape, Council Member Gibson advocated for strategies to be put in place to ensure that those with uncertain immigration status can access the legal services they are entitled to. "I want to be preventative more than reactive...we know that there are a lot of families that are living in darkness and in asylum right now that want to come forward, but their immigration status may be the issue that's holding them back," she said. "We have to reach families and touch them where they are, they're not all going to housing court, their children aren't always in schools, so we have to be a little bit more creative."
There was not much contention or disagreement between Council members and Banks on these issues, as the Council and de Blasio administration have been largely in lock-step on housing and immigration aid.
While immigration and anti-eviction dominated the early proceedings, the issue of non-profit funding garnered significant attention in the latter half of the hearing. In what is a major sticking point of budget negotiations and an early theme in budget hearings, Council Member Helen Rosenthal, who chairs the Committee on Contracts, was particularly concerned that DSS' current non-profit funding approach is unsustainable. As it stands, DSS allocates money based on the number of cases that an organization handles.
"Why are we paying on a per-case basis?" Rosenthal asked. "Shouldn't we just fund to keep the doors open, so that administrative overhead is contemplated, the cost of legal fees is contemplated."
After Banks' testimony, a panel of lawyers and paralegals from the Legal Aid Society, The Bronx Defenders, and Brooklyn Defender Services articulated their plight to the committee, arguing that if DSS is to rely on their services, their contracts must be structured to ensure they are funded adequately.
Lisa Schreibersdorf, the executive director of Brooklyn Defender Services described how, prior to the Bloomberg administration, legal aid organizations were funded much differently. "They were cost-reimbursement contracts, we showed what we spent...it was seen as obvious that they needed to fund the project itself so that it could run." Schreibersdorf went on explain that while the cost per case has not risen for these organizations, overall costs associated with operating in New York City have, and that funding should reflect the increase in rent and living wage.
"All of us who have done this work have struggled with trying to make it work, watching our staff stretch to the limits either because of cases or lack of resources," Justine Olderman, the managing director of Bronx Defenders said. Olderman recounted how her staff had to go "door-to-door" to raise money to meet rent on their office space.
Capping off the hearing, Rosenthal attempted to drive home the inadequacy at play by equating non-profit funding to construction, saying that the current system is "not funding the cost of the service...We would never say to a construction firm 'OK, you're telling us it costs $100 million, we'll give you $80 million, and you just cross-subsidize with the private sector'...We wouldn't do that."