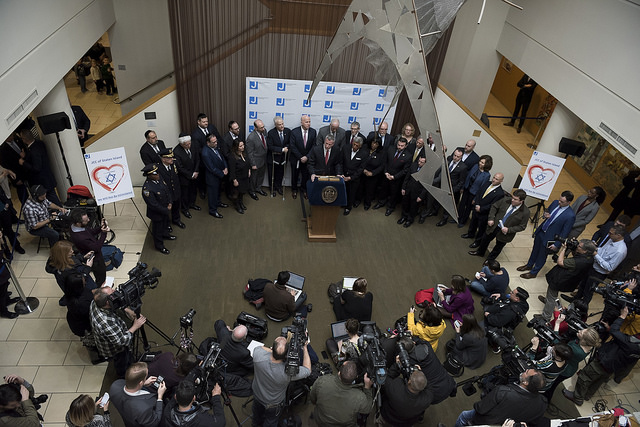 Mayor de Blasio speaks to the media (photo: Ed Reed/Mayor's Office)
---
Mayor Bill de Blasio regularly expresses frustration with the ways New York media covers him and his administration. He believes that his accomplishments are not given enough ink and airtime, and that journalists focus too much on any sign of mistake or conflict, trivial matters, and the "personalities" as he feuds with Governor Andrew Cuomo and Comptroller Scott Stringer.
De Blasio believes that reporters and editors do not reflect in their coverage what New Yorkers really care about and regularly challenges his "friends in the media" to report things "accurately." While he has most famously and sharply attacked The New York Post as a "right-wing rag," de Blasio regularly shows more mild disapproval of other publications and those who work at them.
On Friday, de Blasio issued another insult to members of the city press corps when, on WNYC's The Brian Lehrer Show, he said New Yorkers should not trust journalists to report on the city budget.
"I would really strongly advise, Brian, anyone listening who wants to actually understand the budget to look at the budget and not go through a journalistic outlet to understand the budget," de Blasio said. The mayor had been asked about a report by City Limits that stated the mayor had, in his preliminary budget, proposed a cut in funding for emergency food assistance. "The budget's online. Anyone can look at it," de Blasio added. He explained that his preliminary budget numbers are less important than his track record on an issue, citing 15 years working on food programs.
"There are times when something shows in the budget initially as a certain level of funding," de Blasio said, "but then it's still going to go through the executive budget process...and then a process with the City Council...It's not a cut until the process is over and we say we want to cut something...We do have to go through a negotiation process."
While the mayor may prefer to call it 'a reassessment process' or 'an initial reduction in proposed funding to start the negotiation process,' his preliminary budget for next fiscal year does indeed show funding for the emergency food program at about $5 million less than the adopted budget for the current fiscal year. In a follow-up article, City Limits ran through the numbers and the statements after being attacked by the mayor on WNYC.
The mayor and his aides point out that the city budget process includes hundreds of examples of reassessing funding needs, and that in many areas, the city often starts the multi-step budget process with lower funding than what is included in the adopted budget (due by July 1). In a statement to City Limits, a mayoral spokesperson said that de Blasio "suggests that everyone look at the budget over the course of the year" and that it might be better to compare one preliminary budget to the prior preliminary budget. "Ultimately," the spokesperson said, "the point is that we are constantly assessing need."
The budget process is, as the mayor says, about priorities and negotiation, and because a specific program has received certain funding levels in the past doesn't mean that money will be there again -- nor does it mean that funding should remain the same or increase every year.
But, instead of simply explaining the budget process, his approach to it, and how it applies to the specific issue at hand, on WNYC de Blasio issued a broadside against the media writ large, calling into question all reporting on the city budget.
At a press conference on Monday, Gotham Gazette asked the mayor if he stood by his Friday statement that New Yorkers shouldn't trust media outlets to report on the budget. De Blasio disputed the characterization of his comments, saying, "I was referring to a specific article that I think failed, clearly, to look at the adopted budget of the last three years, which I thought was an omission that went beyond ignorance."
After the mayor defended his record on emergency food programs, Gotham Gazette pointed out that the mayor had not focused his comment on one media outlet. "I, no no, I don't think that's an accurate statement, I'll gladly get the transcript," de Blasio said. "I encourage people to look at direct sources. All due respect to the media, you are the middle people. We actually put the budgets online."
The mayor went on to say, "So, my concern was actually, with deepest respect for Brian Lehrer, that Brian Lehrer was not working from original source materials, he was working from someone else's interpretation, which I believe was an inaccurate interpretation. So I appreciate the breadth of your attempt to interpret, but I believe this was very straightforward."
Gotham Gazette then read the mayor his quote aloud: "I would really strongly advise, Brian, anyone listening who wants to actually understand the budget to look at the budget and not go through a journalistic outlet to understand the budget."
At that point, de Blasio simply replied, "I think encouraging people to look at the budget directly is really smart." He then called on a reporter from another outlet.