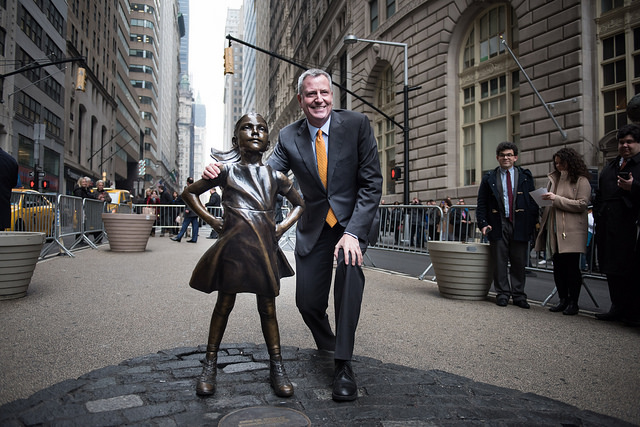 De Blasio & "Fearless Girl" (photos: Michael Appleton/Mayor's Office)
---
Mayor Bill de Blasio walked swiftly down Broadway Monday afternoon with a big smile on his face. The mayor approached the entrance to a barricaded area in which he was about to address gathered members of the media and was stopped for a photo by a group of Girl Scouts. He gladly obliged, then proceeded, approaching the Wall Street Bull, but stopping a few yards short at his destination, the "Fearless Girl" statue.
De Blasio knelt beside the small statue that has become a symbol of female power and empowerment, and put an arm around the bronzed girl, posing for photos and smiling widely. Cameras shuttered from within the cordoned off triangle, which was filled with journalists and tourists, while other onlookers from surrounding sidewalks took in the scene and car traffic slowly proceeded toward Bowling Green.
The mayor then gave brief remarks at a makeshift podium featuring a bouquet of microphones, where he explained that the Fearless Girl would be permitted to remain installed and staring down the bull through next International Women's Day, in March 2018. It was the mayor's first remarks to gathered members of the media since an ill-fated Thursday press conference that the mayor ended abruptly when he did not like the questions he was asked.
"[T]his statue, the Fearless Girl, means so much to the people of New York City – and I'm saying all the people of New York City," said de Blasio, who was accompanied by Manhattan Borough President Gale Brewer. "I've been profoundly struck by what this statue means in particular to women, and to girls in this city, and this whole country. But I think there's an even broader symbolism of standing up to fear, standing up to power, being able to find in yourself the strength to do what's right."
Just a few weeks ago, on this year's International Women's Day, March 8, when the Fearless Girl had seemingly appeared out of nowhere and became a social media sensation, de Blasio was caught unaware when asked about the statue at an unrelated press conference. The mayor promised a WNYC radio reporter that his office would soon provide a reaction, once he was briefed. Later that day, the mayor's Twitter account announced "our future rests in the hands of fearless girls," with a photo of the statue and a group of admirers. The tweet also said that the statue would be "standing tall in Lower Manhattan through April 2nd," a timeline that has now been extended after public outcry, including from Public Advocate Letitia James.
James and de Blasio appeared together at a March 21 press conference on street safety. When the mayor was asked about the statue and James' advocacy for its permanence, de Blasio half-jokingly called James "a fearless girl" in reference to work they had done together opposing former Mayor Michael Bloomberg's term-limits extension. The mayor then said he was considering "prolonging" the statue's "presence."
"You know, some people have called for permanent action," the mayor continued, "we're hesitant to do anything permanent because, you know, that has ramifications for the whole city. But in terms of a longer presence, I'm open to that and we're going to be looking at that."
On Monday, James reacted to the city extending the statue's presence, saying in a statement she is "pleased that the Mayor is extending her permit. However, the importance of empowering women is not temporary, and Fearless Girl must become a permanent fixture in our City as a reminder to all women that no dream is too big and no ceiling is too high."
De Blasio's visit to the statue was a late addition to his schedule. In his remarks, the mayor connected the statue to the women's marches of January 21, which came the day after President Donald Trump's inauguration, with "women and their male allies all over this country – hundreds of cities and towns – coming out to say that regardless of the results of an election, no one was going to affront women and the rights of women."
"And right after that, this miraculous girl appears and created such a powerful sensation because she spoke to the moment," de Blasio continued, "that sense that women were not going to live in fear, that women were going to teach their daughters and all the girls in their life to believe in themselves."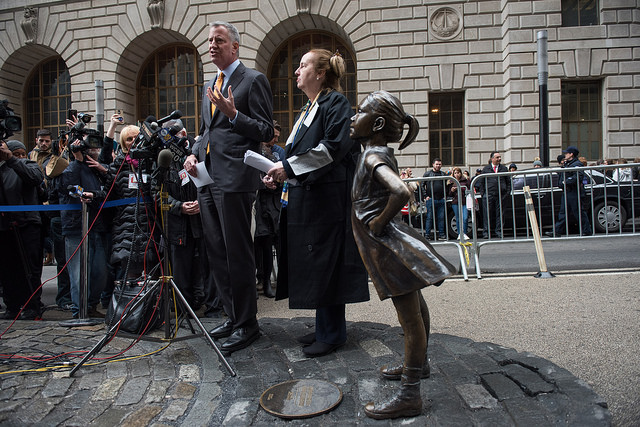 The Fearless Girl statue is a creation of Kristen Visbal, commissioned by State Street Global Advisors. Visbal has said in recent interviews that the statue shows a "brave, proud, and strong" person, not "defiant" or "belligerent," but a symbol that women are unapologetically part of the "traditionally male environment" on Wall Street. A representative of State Street has said the statue represents "the power and potential of having more women in leadership."
Some have called Fearless Girl a corporate public relations ploy and though James, Brewer, and other female civic leaders have championed the statue, the enthusiasm for it has been the source of much derision, including on social media, which can often be home to a great deal of negativity. Yet, New York Times columnist Ginia Bellafonte recently called Fearless Girl "corporate feminism" and noted that it could have been an effort at changing the subject or distracting from some recent bad news -- fraud charges -- for the State Street parent company, which the company denied.
De Blasio, a champion of regulating Wall Street who regularly calls for higher taxes on the wealthy, made no mention of the financial industry on Monday.
The mayor's appearance at the statue was the first time he had gathered the press to make remarks since Thursday's truncated media availability, when the mayor promoted his "mansion tax" proposal but refused to answer questions on other topics and shut the press conference down in frustration after three "off-topic" questions.
On Monday, de Blasio's updated schedule, as emailed to members of the media, said that the appearance at Fearless Girl would not include any Q&A with the press, despite the fact that more than a dozen journalists were on the scene. After the mayor posed for photos, gave his remarks, and listened as Brewer gave hers, he quickly walked back up Broadway to a waiting car, ignoring reporters who started asking questions.