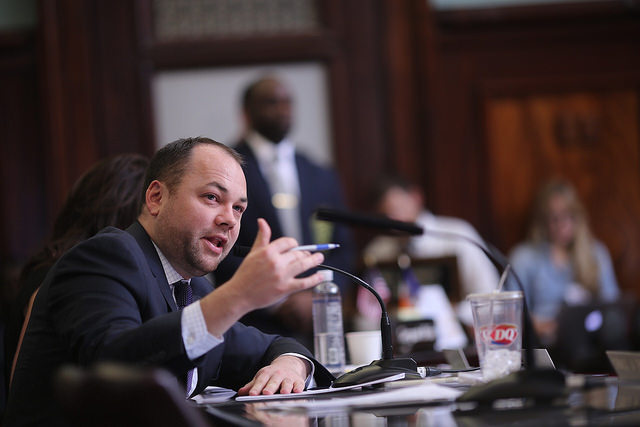 City Council Member Corey Johnson (photo: William Alatriste)
---
The City Council General Welfare Committee conducted a budget hearing Monday to evaluate the programs, expenditures, and needs of the Human Resource Administration (HRA) and Department of Homeless Services (DHS). Steven Banks, Commissioner of the Department of Social Services (DSS), which oversees both HRA and DHS, provided testimony for the two agencies before taking questions from concerned Council members.
Though HRA provides a wide variety of services -- including job training and emergency food assistance -- the committee's questioning focused almost exclusively on the city's homelessness crisis and the lack of progress that has been made by the de Blasio administration.
"Is this something that New Yorkers are going to have to accept as a new norm?" asked Council Member Stephen Levin, chair of the committee. "Are we to look ahead to future years and future generations and accept that the reality is that there are going to be 50,000 individuals and families living in our shelter system?"
There are currently about 60,000 New Yorkers living in homeless shelters, and Mayor Bill de Blasio recently outlined the goal of reducing the population to about 57,500 over five years. While the mayor has admitted that his administration has not made enough progress reducing homelessness, he argues that the population would be around 70,000 if not for the rent subsidy and anti-eviction measures his team, led by Banks, has implemented.
Responding to Levin and committee members, most of whom were late to the hearing, Banks provided a comprehensive rundown of the investments DSS and the de Blasio administration have instituted, such as voucher programs and legal assistance to tenants facing unwarranted eviction.
He also discussed the HOME-STAT initiative, which has doubled the number of outreach workers on city streets in order to bring people into shelter. Though the committee acknowledged its support for these measures and conceded that significant investment has been made, they nevertheless stressed their dissatisfaction -- often bordering on outrage -- with the lack of progress, especially considering the concentration of resources targeted at homelessness. Expenditures for HRA and DHS have ballooned under de Blasio, and the mayor is proposing more money for the fiscal year 2018 budget, which is due by July 1.
In his $84.67 billion preliminary budget proposal, 18 cents of every dollar goes to social services, the second largest portion behind education. The mayor has allocated $7.5 billion for the Department of Social Services and $772 million for the Department of Homeless Services, though both numbers are likely lower than the adopted budget will show at the end of June.
At Monday's hearing, Council Members Barry Grodenchik, Corey Johnson, and Brad Lander were particularly critical of the administration's efforts.
"It seems to me that this city has committed an immense amount of resources and...it doesn't seem like we're getting value for our dollars," Grodenchik told Banks, questioning both the effectiveness and scope of the administration's plan to stop using 360 cluster apartment and commercial hotel locations and open 90 new homeless shelters throughout the city. "It seems to me that the goal is not as ambitious as it needs to be."
Banks defended "a concrete and realistic goal."
Lander expressed frustration that is shared by de Blasio, his predecessor on the Council, and other stakeholders. "On the one hand I appreciate being realistic, on the other I appreciate that this is an absolute crisis and we need to do more," Lander said, before proceeding to recommend that Banks and his team focus on "getting families into affordable, permanent public housing."
The notion of placing more homeless families into public housing, through NYCHA, is something that some elected officials and advocates have long-called for, but that Banks and de Blasio have said is not the right approach. The mayor has cited the already-long NYCHA wait-lists.
"It's disturbing to walk down the streets everyday and to see homeless people on nearly every block...even after all these efforts at homelessness prevention, it still feels like we are not being successful," added Council Member Johnson, who represents Chelsea and Greenwich Village.
Banks' testimony touched on other important DSS initiatives, in addition to homelessness, and provided updated data points on a variety of key topics:
--The Supplemental Nutrition Assistance Program (SNAP), which helps feed 1.7 million New Yorkers, including more than 650,000 children, added 8,371 participants in the last year. Asked about the future of SNAP in New York City, given the uncertain prospects for federal funding under the Trump administration, Banks said that he and the mayor would be working with Senators Chuck Schumer and Kirsten Gillibrand to retain SNAP funding for New York City recipients.
--According to Banks' testimony, HRA provided rental assistance to 58,100 households in 2016 at a cost of $214 million. Asked about the widespread problem of landlords refusing to honor rental assistance programs and vouchers, Banks provided a phone number that residents can now call if they experience such refusal. Banks said HRA is determined to identify non-compliant landlords and compile a database of these individuals.
--Banks' testimony also explained that HRA has eliminated the Work Experience Programs (WEP) in favor of Job Training Program slots at NYPD, Parks Department, Department of Sanitation, and Department of Citywide Administrative Services (DCAS). The programs will serve up to 210 cash assistance participants annually.
--The HIV/AIDS Services Administration (HASA) accepted 3,444 new clients from August 2016 through January 2017, which is 1,410 more than the same period from the previous year. This was result of an HIV expansion program that allowed "all financially-eligible New York City residents with HIV to seek and obtain HASA services." Applicants previously had to have developed AIDS or be "symptomatic" to be eligible. Council Member Johnson, who chairs the health committee, spoke about the success of HASA as a key achievement.
--Banks' testimony also announced a DHS plan to add 10,000 affordable apartments specifically for seniors, veterans, and New Yorkers earning less than $40,000 per household. DHS also has plans to institute an Elder Rental Assistance program, to be funded through the mayor's "mansion tax," to help more than 25,000 seniors with monthly rental assistance of up to $1,300. The mansion tax is unlikely to be approved in Albany, though.
--In 2016, DHS placed 3,153 homeless veterans in permanent housing.
--30% of families with children in a DHS shelter have a history of domestic violence. The Fiscal Year 2017 budget included $217 million for DHS security purposes.
--Banks also referenced the 24% drop in evictions citywide since the institution of free legal assistance programs for many New Yorkers facing eviction. More than 40,000 residents avoided eviction in 2015 and 2016. The mayor and the City Council recently agreed to expand such assistance further.
--Banks provided figures to demonstrate why the city has struggled to contain its homelessness problem. Between 2000 and 2014, Banks testified, median rent has increased 19%, while household income decreased by 6.3% over the same period.
--360,000 New Yorkers now spend more than 50% of their income on rent and utilities. Another 140,000 spend more than 30%.
--All in all, homelessness has increased by 115% over the past two decades. In 1994, 23,868 New Yorkers were homeless, by 2014, when Mayor de Blasio took office, that number was 51,470. It is now around 60,000.
Banks' testimony was followed by the General Welfare Committee's examination of the Administration for Children's Services.