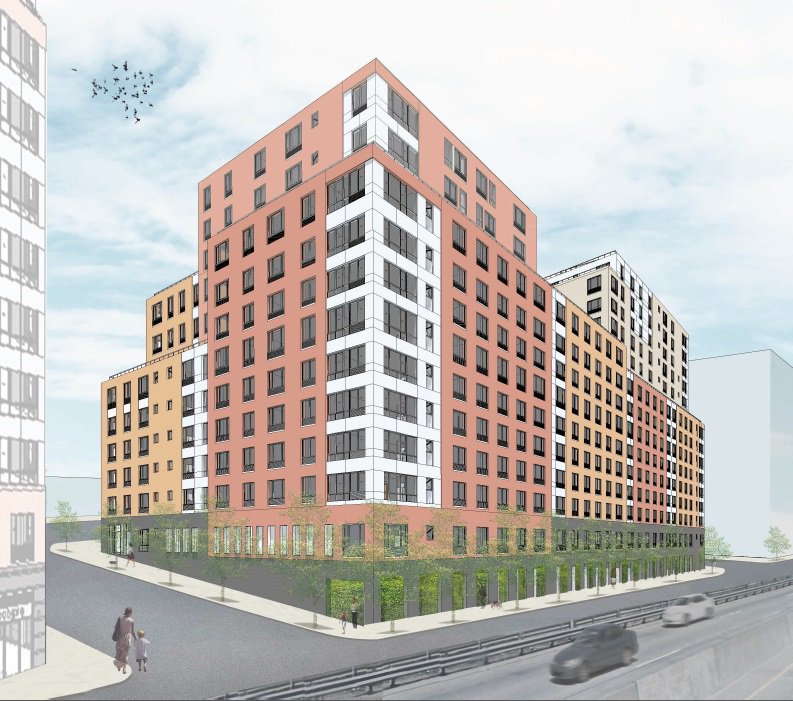 (rendering of new affordable housing being built in the Bronx, via HPD)
---
In Mayor Bill de Blasio's 2017 State of the City speech delivered at the Apollo Theater in Harlem, he referred to the affordable housing crisis as a threat to "the very soul of the city." The singularity of that "soul" captures de Blasio's desired outcome of "the tale of two cities," which he has said exists in New York, alternately for those with and without wealth, resources, and opportunity. In the final year of his first term and amid implementation of his major city-wide affordable housing plan, a recent lawsuit has brought an old housing policy to the fore of conversations about racial segregation in the city.
At the center of the suit is a Koch-era policy that reserves half of all available units in city affordable housing lotteries for locals already living in the community district of the desired housing. The City Community Preference Policy is lauded by proponents as a tool that curbs displacement – a bi-product of redevelopment since the 1980s – and gives low-income residents greater access to local affordable housing even as their neighborhoods change. To the extent that the policy is meant to help low-income residents stay in their communities, however, it is said to make racial integration of neighborhoods more difficult, and is being challenged in federal court.
Stakeholders are divided on the merits of community preference. Contemporary supporters endorse it as a measure that helps to preserve affordable housing options, mitigate community rupture, and preserve the "fabric" of community in the wake of growing market pressure, neighborhood upzoning, and new resources.
Among opponents, where it is sometimes referred to as the "outsider restriction policy," it only serves to perpetuate an already-segregated city landscape. Critics of the policy say it prevents movement, especially of people of color seeking affordable housing in de facto segregated, predominantly white communities, which often have greater access to city services, schools, supermarkets, and other basics and "amenities."
The court case unfolds against the backdrop of the city's 10-year, 200,000-unit affordable housing plan that includes the construction of 80,000 new apartments across the five boroughs. Many of those new units will be built as part of rezoning plans intended to create greater housing density, commercial space, and services like schools and parks in about a dozen neighborhoods throughout the city.
The first neighborhood that has been rezoned under the plan – East New York, in Brooklyn – is set to see the construction of 1,200 new affordable housing units begin in the next two years.
[Related: The East New York Rezoning, One Year Later]
The New York City metropolitan area also claims the second-highest level of racial segregation in the country, according to Craig Gurian, executive director of the Anti-Discrimination Center, which is challenging the community preference policy on the grounds that it violates the city's human rights statutes and the federal Fair Housing Act. An analysis of 2010 Census data shows that nearly 80 percent of New Yorkers live in segregated neighborhoods.
The Anti-Discrimination Center is representing three African-American women who were unsuccessful in their lottery bids to attain affordable housing in predominantly white "neighborhoods of opportunity" in Manhattan in 2015. Gurian contends that the community preference policy skews the chances of many black and Latino income-eligible applicants when the relatively few affordable units in better-resourced areas do become available, which allows decades-old lines of segregation to be maintained.
The case also draws concerns over the city's approach to fair housing placement when choosing areas to rezone. Some in support of the policy have pointed out that the greater problem is the city's unbalanced approach to building affordable housing when it nominates low-density, predominantly black and Latino areas to be rezoned, while neglecting other mostly white areas that could also bear an increase in housing.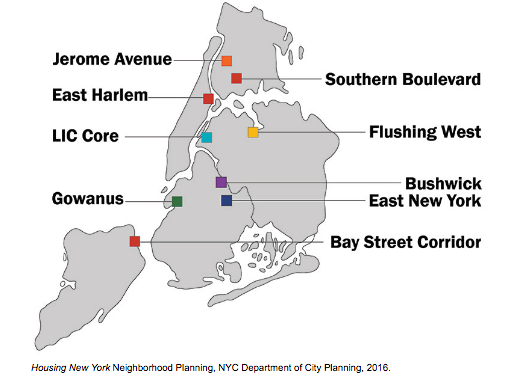 As part of the city's housing plan, a signature initiative of Mayor de Blasio known as Housing New York, the Department of City Planning, with the East New York rezoning in motion, is currently undertaking planning studies in several more neighborhoods throughout the five boroughs. Five of eight neighborhoods in the pipeline – Southern Boulevard and Jerome Avenue in the Bronx, East New York and Bushwick in Brooklyn, and East Harlem – are predominantly black and/or Latino with small non-Hispanic white populations. Before the city paused a housing study because of federal hurdles and infrastructural challenges last spring, City Planning had been considering rezoning part of Flushing, Queens, the population of which is roughly two-thirds Asian and one-third white.
In a statement written for the court by former Housing Preservation and Development (HPD) Commissioner Vicki Been, the then-commissioner supported the community preference policy as a measure that "is intended to ensure that local residents, many of whom have deep roots in the community and have persevered through years of unfavorable living conditions, are able to remain in their neighborhoods as those neighborhoods are revitalized."
Racial Segregation in the City
In New York City, where close to a quarter of the population identifies as African-American according to the 2010 Census, 17 of the 59 community districts have African-American populations of less than five percent. In 11 other community districts, by contrast, more than 50 percent of the population identifies as African-American, and six of those have particularly extreme levels of segregation.
The pattern of segregation between Latino and white New Yorkers is similar, and combining levels of segregation experienced by both African-American and Latino New Yorkers, who together made up 51 percent of the city-wide population in 2010, shows that over half of New York's community districts are heavily segregated.
The racial breakdown within the subpopulation of New Yorkers who qualify for rent-regulated affordable housing is roughly the same as in the larger city population.
"If you have the city as a whole, the income-eligible households are pretty diverse," Gurian told Gotham Gazette in an interview last year. "When you apply an outsider restriction policy...You wind up, by definition, with a more segregated tenancy than you otherwise would have had."
And that is illegal, he argues.
Employing the types of metrics used in determining affordable housing eligibility, Gurian described the example of households making 40 to 60 percent of the Area Median Income (AMI) - equivalent, in 2016, to between $36,200 and $54,400 for a family of four. In Gurian's example, black, white, and Latino New Yorkers each make up slightly under a third of the people who fall into that band of income-eligibility. This, he says, is the profile of the applicant pool – and it would be the profile of the resulting tenancy that Housing Connect, the lottery, would have per district if the community preference policy did not limit the access of outsiders to affordable housing.
"Those are the numbers [city-wide]," Gurian said, "and those are not the numbers within individual community districts. So we think there's a big problem."
From a legal standpoint, Gurian believes that this argument is enough to show that community preference creates a "disparate impact" on New Yorkers of color, which would signal the end to the policy if the courts agree with him. But other factors, like where the city chooses to build or subsidize affordable housing, also impact the racial layout of the city.
Fair Housing Assessment
To many who have dealt with the issue in predominantly low-income black and Latino neighborhoods, abolishing the community preference policy would only serve the public good in a theoretical sense. On the ground, community preference, according to these proponents of the policy, is a legal instrument essential to maintaining both housing options and a sense of justice for those living in historically underserved districts that have only recently begun to see investments from the city.
Gregory Louis, a senior attorney at Brooklyn Legal Services, told Gotham Gazette that the anti-segregation arguments against community preference, despite being rooted in aspirations toward social restitution, seem to be ignoring the general lack of affordable housing in the city.
"A good number of the criticisms of community preferences sort of operate at a particularly abstract level, as though there is affordable housing being built throughout New York," he said. In 2011, Brooklyn Legal Services was involved in the only other case where the community preference policy was the subject of a lawsuit against the city, decades after it was first adopted.
Louis' argument is that, in reality, most – and the most dense – affordable housing has historically been built in the city's non-white enclaves. This means that aside from community preference requirements barring income-eligible black New Yorkers from white neighborhoods and vice versa, it is also an affirmative mechanism that helps local black residents gain access to affordable housing when it is created in their neighborhoods.
"Taking the example of East New York," Louis said, "that's the place where all the people…the forsaken people, who had to sort of live without resources, that's where they went. If that area disappears without any sort of real [anti-displacement mechanism] New York on the whole will be less 'of color.'"
In East New York where the real estate prices are relatively low compared to most other neighborhoods in the city, having premium access to affordable housing may mean the difference between renting an apartment and being pushed out of the housing market entirely. As the cost of housing has risen, so has the number of New Yorkers living in shelters, which reached a historic high of 60,000 last fall, part of a decades-long trajectory.
The latest listing on Housing Connect is for 25 new units in neighboring Brownsville. The one-bedroom units there will go for $876 per month to one or two people making 60% of the AMI. A resident from that community district - an area with a population of about 86,000 - applying for a unit will be at least one hundred times more likely to succeed than an average city resident. Considering that apartments are in this case further reserved for municipal workers, those chances are additionally skewed.
Louis believes the persistence of segregation has to do with the city's lack of comprehensive fair housing assessment when it comes to choosing where to build affordable housing. This is especially true, he says, in areas that will be rezoned under the mayor's affordable housing agenda, now that the construction of much-needed affordable housing has been linked with neighborhood redevelopment (and rising property value) through Mandatory Inclusionary Housing (MIH), which was passed by the City Council a year ago and requires a certain percentage of rent-stabilized units in new housing developments in rezoned areas.
That redevelopment is itself made possible by years of stagnant development and depressed local economies that have kept real estate prices low, especially in the segregated enclaves Louis refers to.
A main goal of the mayor's Housing New York initiative is the construction of 80,000 new affordable units and the preservation of 120,000 more by 2024. Three years into the program, HPD has been on scheduleon schedule, financing the construction or preservation of just under a third of the mayor's goal even without the help of MIH during the first two years.
Joel Feingold, a cofounding member of the Crown Heights Tenant Union, which was created in response to the displacement of low-paying tenants, points out that a disparate impact on a protected class of people, such as racial and religious minorities, is illegal under the federal Civil Rights Act when it is to the detriment of the protected group. "The community preference policy does not have any disparate negative impact," Feingold told Gotham Gazette. "It has only disparate positive impact, especially in the context of gentrification, of displacement, and overcharged uprooting…by real estate capital."
For supporters of community preference, as long as affordable housing continues to be built in historically segregated neighborhoods of the city that are experiencing gentrification and redevelopment, such a policy is seen as key to helping black and Latino New Yorkers attain affordable housing at all.
"Because the subset of low-density neighborhoods that are predominantly white are not on the rezoning list, the answer isn't to remedy that imbalance but to perpetuate segregation?" Gurian asked rhetorically, in an email subsequent to the interview last year.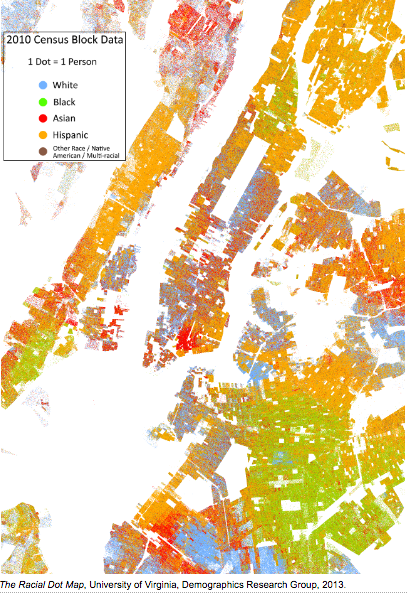 Studies show a link between individuals' geographic integration and their chances of financial success and that of their children. "We find that places that have less residential segregation by race or by income tend to have higher levels of upward mobility," Stanford University economist Raj Chetty stated in a presentation at the annual NYS Association for Affordable Housing conference, held in Times Square last year. In New York City, however, many of the Housing New York rezoning studies are taking place in segregated communities of color.
"Not all neighborhoods are equal," Gurian wrote in the email. "If you are talking about neighborhoods of opportunities, a very, very high proportion are in community districts that are disproportionately white."
The de Blasio administration -- and many of its City Council partners -- argue that pressures on communities are heightening and the only way to help people stay in their neighborhoods is through intervention, harnessing the free market, which creates additional housing, including affordable housing, and also brings new resources into communities.
The Anti-Discrimination Center lawsuit, which survived the city Law Department's motion to dismiss in October, aims to remove what it calls an artificial barrier to affordable housing in areas of opportunity. The attention to the policy has revived the argument that neighborhoods throughout the metropolitan area, including the surrounding suburbs, must take on more responsibility for racial and economic segregation by building more affordable housing. Through congressional action in the late 1990s and early 2000s, Rockland and Westchester counties each got their own area median incomes based on local incomes. At the same time, however, these relatively affluent suburban counties remain tied to the AMI calculation of the five boroughs, artificially pulling it higher.
Political Calculations
Policy debates over the best approach to integration and affordable housing provision are also hampered by political considerations. Some proponents of community preference, like City Council Member Rafael Espinal, who represents a majority of residents in the East New York rezoning area, have stated that keeping the provision is essential to getting community constituents to accept major rezoning proposals.
In her statement for the court, then-housing commissioner Vicki Been wrote, "The City Community Preference Policy ensures that neighborhoods see that new growth and investments in affordable housing provide some benefits to local residents to offset those burdens. This makes it possible for the City to overcome that resistance and achieve its ambitious affordable housing goals despite neighborhoods' understandable concerns about the difficulties that new construction and growth may pose."
Gurian has a response to such political considerations, too: "The City responding, as it has, to those kinds of concerns - that's illegal. That's illegal on the basis of intentional discrimination; when you respond to concerns that want to maintain a particular racial or ethnic status quo, that's illegal."
Ultimately, the question of community preference is a question of where New York stands within the history of racial progress in American cities. The answers may lie in the various justifications for the policy since it was first enshrined in city law in the 1980s.
Under the Koch administration, the policy was adopted as a measure to allow low-resource communities to remain in their neighborhoods and benefit from local redevelopment. Now it is defended on similar grounds but with a new assumption, or one that has only recently become relevant: the policy is aimed at maintaining community character in the face of gentrification – whether that means preventing displacement or maintaining cultural guideposts. What had been articulated as an affirmative tool to help underserved communities gain access to city investments, is now also lauded as a way of designing a certain type of community.
In New York City in the 1980s, the prospect of large-scale geographic racial integration was uncharted territory. The legacy of unequal mortgage lending practices, restrictive deed covenants, and constrained affordable housing placement fortified the lines separating white and black neighborhoods, making community-specific renewal projects necessary for many black residents in under-resourced enclaves to benefit from city services.
Under Koch, the community preference policy was intended to assist the revitalization of communities that had seen decades of disinvestment and abandonment, the result of stagnant tenant incomes and a rising cost of living. In 1988, about half of the 252,000 affordable units the city planned to create would be on property owned by HPD. Today, the city faces the widespread displacement of communities of color due to rising market pressures and a lack of truly affordable housing to compete with them. There is also far less city-owned land to build on, though exactly how much has been a matter of dispute between the de Blasio administration and Comptroller Scott Stringer.
A lack of city-owned property means that HPD must rely almost entirely on private development to create enough affordable housing to meet its goals. Critics of de Blasio's housing plan say the income-eligibility standards for new affordable units are based on unrealistic AMI proportions, as the city tries to balance conflicting interests, and are not providing enough rent-stabilized housing for the very low-income. De Blasio recently announced a slight adjustment to his affordability targets to account that outcry.
In 2017, the prospect of redevelopment across the city accompanying changing attitudes of new generations of white, middle-class residents toward having black neighbors means that community preference, rather than providing a resource for already-segregated communities, may now serve to perpetuate that segregation even as neighborhoods change. Whatever the outcome, the mobility of people living in historically segregated communities will continue to be restricted if they must rely more and more on subsidized affordable housing as values in their local economies scale up.
"So I think our position, what we're observing on the ground, it is extraordinarily sad," said Gregory Louis of Brooklyn Legal Services. "It's sort of an indictment of – I don't know what – political reality that we are still very much having an original purpose, an almost 1960s conversation about race in New York City because we have to. We can't even move on to the part where we can worry about integration because of the dynamics of New York City."
***
by Ethan Geringer-Sameth for Gotham Gazette
@GothamGazette