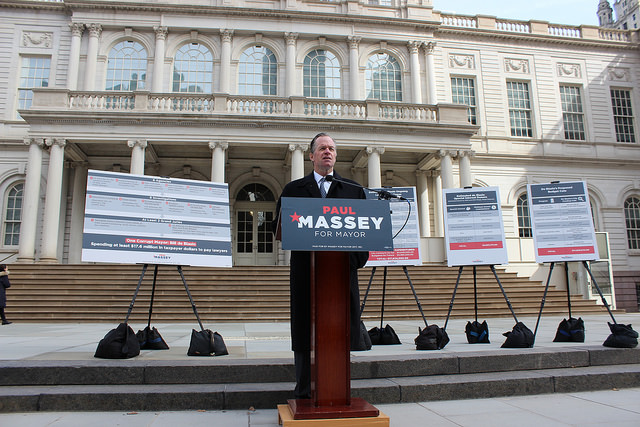 Paul Massey (photo: Samar Khurshid/Gotham Gazette)
---
Real estate executive Paul Massey, a leading Republican mayoral contender, held a week-long campaign launch earlier this month, concluding with a focus on community policing. Having visited each borough with a daily theme, Massey said in an email blast on March 17, "I've heard many concerns in my discussions with city residents this week and one that stands out is that our city feels less safe."
It wasn't the first time Massey made the claim, and it wasn't the last, as he takes to the campaign trail attempting to paint Mayor Bill de Blasio as an ineffectual and corrupt leader who has presided over declining quality of life in the city. Massey has repeatedly pointed to cherry-picked statistics that show certain crimes are up in the city, or in certain geographic areas, contributing, he says, to unease among New Yorkers about their safety. In doing so, Massey is attempting to make a campaign issue out of one of de Blasio's strongest overall metrics -- in reality, major crime has declined over the last three years and the city continues to hit historic lows in crime rates virtually each month.
De Blasio, a first-term Democrat, has already positioned himself to run on declining crime. The mayor has taken to holding monthly press conferences with NYPD leaders to tout new crime numbers, while also arguing that he has reformed the police department to improve police-community relations. The mayor's campaign often recycles a statement for news stories about the mayoral race that includes "crime is at historic lows" in summarizing de Blasio's record.
Still, Massey and his team see an opening. The first-time political candidate, who recently moved to the city from Westchester in order to run for mayor, ran a real estate business throughout the five boroughs for decades. While his campaign has been focused on critiquing de Blasio, Massey must first win the Republican primary (though he has already secured the Independence Party line).
In its early stages, Massey's campaign identified what it saw as a few major areas of failure for de Blasio: housing, jobs, quality of life, and schools. Each issue presents a debate de Blasio and his supporters are seemingly ready to have. Yet, Massey has struck the chord on several points of substantive criticism of the mayor that have more supporting evidence than claiming rising crime -- homelessness, the administration's top-down approach to rezoning neighborhoods, crumbling infrastructure in public housing, and long-struggling public schools, for instance.
Massey has also decided to take on the mayor's record on public safety, arguably the most important job for the Mayor of the City of New York.
"We will maintain public safety and fight terrorism by providing the resources, support, and leadership our police officers need and deserve," Massey's campaign account said in a tweet on March 17. Another refrain of his campaign is that NYPD members "feel like they can't do their job because the mayor doesn't have their back."
Asked for further explanation of those points, Mollie Fullington, a spokesperson for the campaign, said in an email to Gotham Gazette, "Perhaps it goes without saying that men and women in uniform do not feel [de Blasio] has their backs for a variety of reasons, and we also know our public spaces feel less safe, with random slashing attacks targeting pedestrians, commuters being pushed in front of subway cars, and a 55% increase in hate crimes and bias attacks."
Fullington also pointed to a 32 percent increase in crime in city parks, a 4 percent increase in crime at public housing, and 14 percent increase in crimes in a South Bronx precinct last year. She added, "The Mayor has failed to maintain the counter terror capabilities of the NYPD, resulting in the first major terror attack in New York since 9/11," seemingly referring to the bombing in Chelsea last year.
Those numbers are countered by the fact that major felony, or "index," crimes tracked by the NYPD have decreased overall by about 9 percent between 2013 and 2016 under de Blasio, according to year-end statistics released by the NYPD in January. The number of murders, 335, was the same as three years ago after having seen slight fluctuation each year, and rapes and felony assaults did increase from 2013 to 2016, by 4.2 percent and 2.5 percent, respectively. But, overall, 2016 was the city's safest year on record -- robberies were down 19 percent, burglaries were down by 25.5 percent, grand larceny was down by 2.4 percent. Gun violence also decreased significantly - there were 998 shooting incidents in 2016, the first time that number was below 1,100 in the decades of modern data-tracking.
Massey's campaign appears to be the first and only entity to attribute the jump in hate crimes, widely seen as having been sparked by forces in and around Donald Trump's presidential campaign, to a failure by the de Blasio administration, which includes the NYPD.
Massey may have difficulty gaining traction on public safety as a campaign issue, though he will certainly not fall on deaf ears. Voters are divided along demographic and party lines on the mayor's handling of crime, with the city's lopsided enrollment tilting things heavily in de Blasio's favor (Democrats outnumber Republicans six-to-one in New York City voter rolls; there are also over 1 million unaffiliated voters Massey is hoping to woo). At the same time, Massey and other Republicans have pointed largely to the perception that crime is getting worse, even if the numbers look good.
The latest Quinnipiac University Poll from March 1 shows 54 percent of voters approve of the way de Blasio is handling crime while 39 percent disapprove. Along party lines, the difference is stark -- 69 percent of Democrats approved of the mayor's handling of crime while 17 percent of Republicans felt the same. The polling also shows racial differences -- 73 percent of black voters approve and 56 percent of Hispanics approve, while 44 percent of white New Yorkers gave the mayor a thumbs up on crime.
"The truth of the matter is, whether [Massey] likes it or not, crime is down," said Christina Greer, professor of political science at Fordham University. "By saying that crime is up and everything's violent, he's trying to tap into the white fear that [former New York City Mayor] Rudy Giuliani and [President] Donald Trump consistently tap into."
Greer believes that Massey could get some amount of support by hammering home his message on crime. "But the type of people who believe that," she said, "are people who aren't interested in looking at the data."
Before de Blasio came to office and early in his term, there were those who worried about his rhetoric concerning the NYPD and its tactics, and warned that he would oversee a rise in historically low crime from the Bloomberg era. De Blasio stringently opposed the overuse of stop-and-frisk policing, and his opponents pounced on that to paint him as anti-police. Over much of the last three years, he has been at pains to correct that impression, portraying himself as a strong ally of the police department, especially after his mayoralty hit a low point in late 2014 and early 2015 when two police officers were killed and others publicly turned their backs on the mayor.
Many who warned that curtailing the use of stop-and-frisk would lead to a spike in crime citywide were proved wrong, and some admitted so. The New York Daily News Editorial Board, which was strongly critical of de Blasio's position on the policing tactic, published a mea culpa in August. "We are delighted to say that we were wrong," the editorial read, admitting that the increase in murders that they foresaw never occurred while crime hit record lows.
Even de Blasio's harshest critics have conceded that he's kept the city secure. "Keeping the streets safe is one thing de Blasio has managed fairly well, by avoiding too much political interference with the NYPD, the best police force in America," wrote the editorial board of the New York Post in December. (The Post and de Blasio are frequent targets of each other's ire, with de Blasio famously feuding with the tabloid last year, refusing to take questions at a news conference from one of its reporters and calling the paper a "right-wing rag.")
But crime is an "emotive topic," said Eugene O'Donnell, a former NYPD officer and state prosecutor who teaches at John Jay College of Criminal Justice. "I think that public safety never goes away as an issue," he said. "It may appear to be taking a holiday, but every mayor knows you're never more than one day away from public safety catapulting to the top of the list."
Poll numbers bear this out. The March 1 Quinnipiac poll shows that 82 percent of voters said crime is a "somewhat serious" or "very serious" problem, compared to 17 percent who said it is "not very serious" or "not a problem at all." O'Donnell said a single incident -- like the recent terror attack in London or the murder of a black man in midtown by a white supremacist from Maryland -- could easily dominate the conversation. "Emotion can quickly eclipse statistics," O'Donnell said. "New York City is provably super safe," he added. "The difference between perception and reality can change quickly."
O'Donnell did acknowledge that public safety would resonate as an issue in the mayoral primary, particularly with the Republican base in the city, but it will be "daunting" for Massey to venture beyond that group. It also smacks of the irony in the public safety conversation, as O'Donnell points out. "A lack of safety mostly affects minorities. White New York has generally been safe but they're the ones that are fearful," he said.
Former Republican mayoral candidate Joe Lhota, de Blasio's main general election opponent in 2013, said that crime and quality of life issues "are always high on the agenda." "Some people are more worried about street cleanliness than they are about crime and vice versa, but crime is an issue because it's the quality-of-life nature of it," he said. In 2013, Lhota's campaign argued that de Blasio was a risk to public safety. (Some of the consultants who worked on that campaign are working for Massey, who has raised and spent about $2 million.)
Although he couldn't speculate whether public safety will gain traction as the race progresses, and he gives credit to de Blasio and the NYPD for continuing reductions in crime, Lhota echoed O'Donnell's point that singular events could change that. "Campaigns are a function of things that happen in the city and in the world," he said. "Events take control of elections, events take control of campaigns."
But Lhota reiterated that there is indeed anxiety among New Yorkers about crime. "Polling is showing people still have a sense of fear. So another question is, how do you eradicate that fear and is it [eradicable]? I'm not sure."
He added, "The argument will be, 'People don't feel safe' and the mayor's argument's gonna be, 'But the numbers say that they are safe.' And so where does that debate go? What's the next question? What is your policy on homelessness? What are you going to do about reducing the rate of growth in the budget in the city of New York? Those issues could become more important. Homelessness could be, sanitation pickups could be. That's where I'm saying events can take over. An opponent will talk about the feeling of crime and the mayor will have the ability to stand behind his record on crime."
Perhaps the one constituency that Massey may be able to spotlight is rank-and-file law enforcement, which has had an adversarial relationship with the mayor since before he took power. Although de Blasio has taken many opportunities to try to repair that dynamic, especially over the past two years, there are few signals that much has changed.
Last year, an internal survey by the Patrolmen's Benevolent Association, which represents more than 24,000 rank-and-file officers in the NYPD, found that morale among its members had bottomed out under de Blasio. About 96 percent disapproved of the mayor's policies on public safety and policing, and 95 percent said they felt "less safe" on duty. This has become one of Massey's consistent talking points.
"Nothing's changed," said Albert O'Leary, PBA communications director, of officer sentiment towards de Blasio. "He's still mayor, he's still perceived as a supporter of anti-police segments of our society. He's viewed as anti-police by police."
O'Leary also indicated that the recent settlement of the PBA contract with the city, which de Blasio and PBA President Patrick Lynch announced in a rare joint appearance, had done little to assuage those sentiments.
Using this relationship as a foil, Massey has emphasized that he will show the NYPD the support he says the mayor has failed to display. "I will always stand with police and work with the police commissioner to fully empower and fund the NYPD's community policing," he said in the March 17 statement. It is not clear what additional empowerment or funding the NYPD needs for community policing given what de Blasio has invested in the effort that is one of his hallmarks, including adding 1,300 officers to the force.
De Blasio is now fighting for NYPD funding in terms of $110 million in federal anti-terror funds that are currently under threat from the Trump administration. Greer, from Fordham, said this actually works in the mayor's favor. "I think that relationship is on the mend," she said of de Blasio and the police, "and the mayor's in a good position because Trump's trying to defund the NYPD." Greer also said Trump, with his proposed cuts to NYCHA, the NYPD, and elsewhere, has inserted himself into the mayoral race and that any Republican candidate would have to address that. Massey has repeatedly said he will not make the mayoral race a "referendum" on President Trump as he thinks de Blasio is trying to do.
At a November 29 news conference, when asked about morale in the police department, NYPD Commissioner James O'Neill said, "There are ebbs and flows with morale depending on what goes on around the city and what the sense of appreciation that the police feel from the residents of the city. I think we're in a good place now. It can always be improved, but we look constantly to make things better for our police officers."
He continued, "And the number one thing that I do is that I respect that the work that they do, and they know that because I've come up through the ranks. So, I think that having a police commissioner that's come up through the ranks, I think that's appreciated by the vast majority of the members of the New York City Police Department who continue to do an outstanding job every day."
De Blasio then added, "There's tremendous appreciation for how the NYPD protects people from any terror threat. I hear that from the public all the time and I hear it from the officers that I talk to that they get those thank-yous and they appreciate those thank-yous."
He also said that the department's new neighborhood policing model is improving relationships between cops and communities. "There's a lot of mutual respect and a lot of appreciation and it's stated quite frequently. I know our officers appreciate that. And I agree that having a leader who came up through the ranks means a lot to our officers. I've also heard that from many officers that they really appreciate that their leader experienced everything that they experience, and they know that Commissioner O'Neill has their back."
De Blasio quickly named O'Neill, who had been chief of department, as commissioner after former Commissioner Bill Bratton announced his intended retirement from the NYPD last year. De Blasio has stressed that O'Neill is the architect of neighborhood policing and, in announcing the new PBA contract, focused on the agreement that all officers will wear body cameras within three years. This has become a campaign talking point for the mayor as he seeks to assure his base he is a reformer who is improving accountability at the NYPD. Some see de Blasio as more vulnerable on policing from the left than the right -- activists have questioned the scale of de Blasio's reform of the NYPD, attacked him for a lack of transparency and accountability at the NYPD, and long-time policing reformer Robert Gangi, executive director of Police Reform Organizing Project, has declared his candidacy in the Democratic mayoral primary.
The mayor's campaign is scarcely worried about Massey's attacks. A Quinnipiac poll from Feb. 28 showed de Blasio handily beating Massey in a head-to-head contest, winning 59 percent of the vote over Massey's 25 percent (with about 15 percent undecided). Massey's campaign has spun the poll as a positive, stating that voters have begun to recognize their previously unknown candidate and winning approval from one-fourth of voters this early in the race is a promising sign.
Massey's campaign is also set to roll out detailed policy positions over the next few weeks. At his first official news conference in February, Massey had little to say on policy and said he hadn't "established an answer" yet on stop-and-frisk, the controversial policing tactic that dominated much of the 2013 election cycle. At subsequent events Massey said that the NYPD is "currently using stop-question-and-frisk and I believe it's one of the necessary tools and that there are many that we need to have for our police." He stressed the importance of the Mayor supporting the police and said, "They will never turn their back on me because I will never turn my back on them."
Dan Levitan, a spokesperson for de Blasio's campaign was confident when asked about Massey's public safety positions. "Mayor de Blasio ended the overuse of stop-and-frisk and brought crime to record lows while improving relations between police and the communities they serve," Levitan said in an email. "That's a record we are happy to compare with anyone."
As Lhota also said, "[Crime] won't be the only issue in the campaign I guarantee you. Will it be an issue? Yes. Will it be the issue that makes the difference? Probably not."
Note: this article has been updated to provide more specific felony crime data for 2013 to 2016.