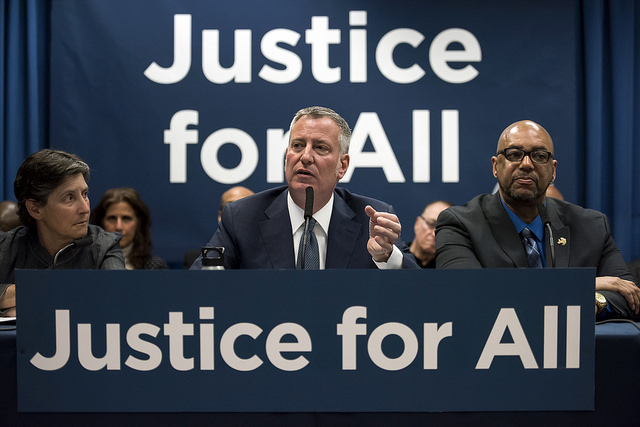 Mayor de Blasio (photo: Ed Reed/Mayor's Office)
---
Mayor Bill de Blasio's plan to create a legal defense fund to pay fees incurred from the recently concluded state and federal investigations into his fundraising activities may face significant hurdles after the Conflicts of Interest Board issued an advisory on Wednesday establishing clear contribution limits for such defense funds.
The mayor and his administration were the subject of two separate corruption investigations -- a federal probe into whether donors to his 2013 electoral campaign or defunct nonprofit, the Campaign for One New York, were promised or granted government favors in exchange for their contributions; and a state probe into whether de Blasio and his team violated election laws in funnelling large donations to Democratic state Senate candidates in 2014. State and federal prosecutors announced earlier this month that they were concluding their investigations without bringing charges against the mayor or his aides.
De Blasio said in February that he would not use taxpayer funds to pay the law firm of Kramer, Levin, Naftalis and Frankel for his personal legal defense in the two cases, instead announcing plans to create a defense fund and raise money from donors. "All legal efforts on my behalf are not paid for by the taxpayer, as opposed to other city employees," he said. "That's money that will have to be raised. So that's the reality, because I guess you didn't know, I'm not a billionaire like my predecessor."
But the Conflict of Interest Board, an independent ethics watchdog, wrote in an advisory opinion issued Wednesday that contributions to a legal defense fund created by a public official "are no different from gifts directly to the public servant," and therefore subject to a number of restrictions, chiefly a $50 limit on donations.
The Conflicts of Interest law is intended to prohibit individuals and firms from currying favor with city officials and defines any gift worth $50 or more as a "valuable gift." City officials cannot accept a valuable gift, the board wrote, from individuals or firms that have or seek to have business with the city. It also noted that successive gifts within a 12-month period are not allowed and that the $50 limit applies as an aggregate to donors who are related. The aggregate limit also applies to donations by multiple "directors, trustees, or employees" of one firm or affiliated firms.
"In the absence of specific legislation that distinguishes gifts made to public servants through legal defense funds from other gifts to public servants," the advisory opinion reads, "there is no legal basis for the Board to treat gifts made through legal defense funds differently."
The law also holds that a public servant may not accept gifts of any value from a subordinate and no "valuable gifts" from people just by virtue of holding their public office. The only allowable unlimited contributions can come from either a family member or a close personal friend "who is not engaged in business dealings with the City, who does not appear before the City, and who otherwise has no non-ministerial dealings with the City," the opinion reads.
The mayor has not yet specified what his own defense is expected to cost, although it's likely in the hundreds of thousands, if not more. The city had spent about $10.5 million on outside legal fees in defending the administration and de Blasio's aides as of earlier this month, Corporation Counsel Zachary Carter testified at a City Council budget hearing.
[Related: Law Department Budget Hearing Focuses on De Blasio Administration Legal Defense]
The COIB opinion poses a major hurdle to de Blasio, who may have to shoulder those legal costs himself or make the unpopular choice of using city funds to pay off a good portion of them, which he is entitled to do. At an unrelated news conference on Wednesday, the mayor indicated that he may take up the advisory opinion with the COIB. "This now initiates a dialogue," he told reporters. "They're a government body like everyone else. You can go back and say, 'Well what about this example or what about this history.' and again, this is not just applying to me, it applies to other people who may need to use this approach."
When asked by reporters, de Blasio said that he did not ask for the COIB advisory himself and that he could not think of any very wealthy close friend who could give him the money he owes. He called a legal defense fund a "fair and appropriate tool."
The Board noted in its opinion that distinguishing legal defense funds from gifts would require new legislation or an amendment to the city charter, which the mayor brought up at the news conference. "As they've indicated, a potential solution is through legislation," he said. "That's a perfectly fair possibility. I'm not committing to anything yet because they literally just put it out, we have to think about it, we have to talk to them."
The mayor nominates the five members of the COIB, who are confirmed by the City Council.
Dick Dadey, executive director of Citizens Union, a government reform group, praised the COIB opinion as an important measure in preventing "influence peddling by those who do business with the city." "The ways that people can seek to influence an elected official's decisions through the use of money become more and more limited within the city over the course of time and this was the one big remaining loophole that was left out there that the Conflicts of Interest Board has now closed," he said.
Dadey also conceded that the mayor could fall back on city funds to pay his bills. "[Mayor de Blasio] allowed taxpayer funds to pay for the defense of his staff and I think the city may be in a position to pay for his own defense, particularly since he was not charged with anything," he said.
For de Blasio, who is seeking reelection this year, every option appears to be a minefield.
The mayor said Wednesday that he doesn't "feel comfortable" with the idea of revisiting use of public money for his legal bills. "I think because I'm the leader of this whole operation it is better not to ask the taxpayers to cover expenses even if they're valid expenses," he said.
Note: Gotham Gazette is an independent publication of Citizens Union Foundation, sister organization of Citizens Union.