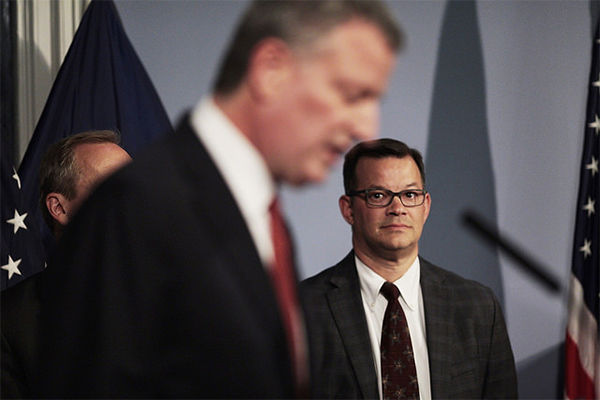 City Council Member Andrew Cohen (photo: William Alatriste/City Council)
---
New York City government capital projects -- the building of a school or park, or the reconstruction of a bridge, for example -- are notorious for their delays and tendency to exceed initial budget projections. In an attempt to address these long-standing issues, City Council Member Andrew Cohen of the Bronx is introducing a bill that will require city government agencies to inform communities and their elected officials about expected delays and cost overruns to capital projects in their districts.
No matter the project or the city agency, communities and their elected representatives are frequently left in the dark as to when and at what cost promised improvements will be complete. Frequently, the agencies involved are the Parks Department, Department of Transportation, Department of Design & Construction, and Department of Housing Preservation & Development.
Cohen's bill, which he'll introduce at the City Council on Wednesday, will require that agencies send electronic notice to the relevant City Council member, borough president, and community board within 30 days of learning of "any projected or actual delay of sixty days or more," as well as "any projected or actual change of ten percent or more of the total estimated cost of the capital project." The bill also mandates that the notice must also include an explanation of the reason for the delay or cost increase.
Speaking with Gotham Gazette, Council Member Cohen said that the impetus for the bill "was really just about improving accountability, telling these agencies that when you make a commitment to our communities, you have to deliver on it, and if you don't, there will be consequences."
According to data provided to Gotham Gazette by the Citizens Budget Commission (CBC), a nonpartisan budget watchdog, as of November 2016, 86 of the 191 city capital projects with budgets of over $25 million are delayed by at least 12 months. Of those 86, 33 have been delayed by more than 24 months, with the median delay for such projects totaling 126 days.
In regards to budgetary concerns, CBC also reported that, of the 191 projects, 81 have current forecasted budgets greater than 120 percent of their original budget. Of those, 18 are projected to double their original baseline projection, leaving the median change in overall budget at an increase of $6.5 million. The total net change in current forecasted budgets for the 191 projects is $5.6 billion above the original forecasted budgets for all projects ($19.4 billion), an aggregate increase of 29 percent.
Jamison Hague, the Director of Infrastructure Studies at CBC, was quick to note that while a number of projects might exceed their initial budget or schedule, this can often be due to a "change in scope," which, from an agency perspective, would not constitute an over-budget or behind-schedule project.
Council Member Cohen noted that the difficulties he has faced in his district have often been with the Parks Department, but added that every Council member has their own horror story. "Talk to any member and they will agree," he said. "Every member is frustrated with this issue."