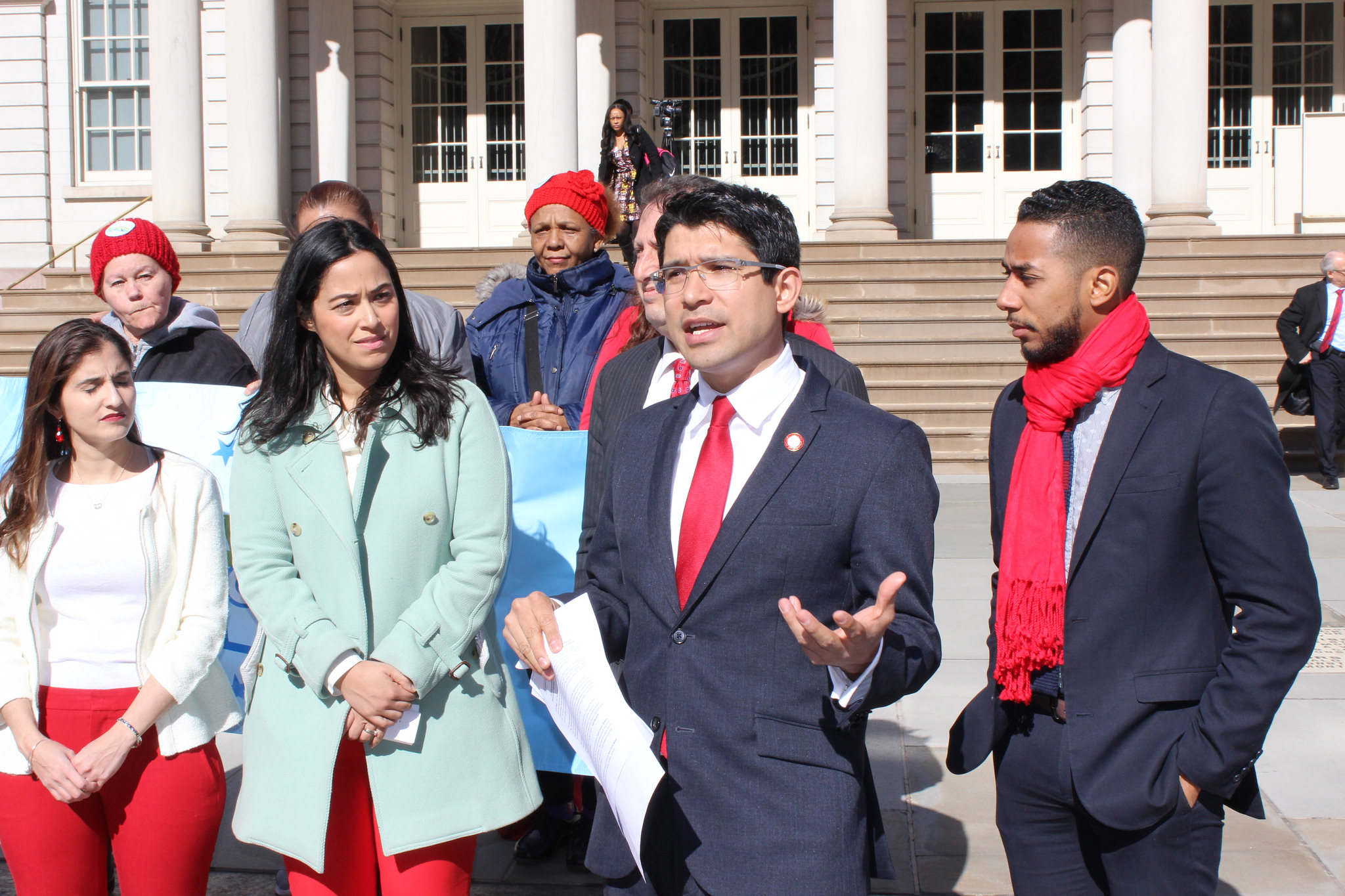 Carlos Menchaca, center, & other Red Horse clients (photo: Samar Khurshid/Gotham Gazette)
---
Ritchie Torres became the current New York City Council's youngest member in 2014 and the first openly-gay representative from the Bronx. Carlos Menchaca joined the legislative body that same year as its first Mexican-American representative, and the first openly-gay member from Brooklyn. Queens Council Member I. Daneek Miller is the Council's only Muslim representative. All three are men of color and members of the City Council's progressive caucus. And each is a client of Red Horse Strategies, a New York City-based political consulting firm with national ambitions that has established itself as a prominent player in the city, attracting progressive and increasingly diverse Democratic candidates.
Red Horse was co-founded in 2008 by Doug Forand, Marc Lapidus and Nathan Smith, political operatives with decades of collective experience in elections, campaigns and government. In the two years prior to forming the consulting firm, the three worked together at the New York State Democratic Senate Campaign Committee, where Forand served as executive director.
In the nine years since starting the firm, they have helped elect Democrats throughout the city and state, from City Council, boroughwide and citywide offices to statewide positions and Congressional seats. They've been involved in the successful campaigns of Andrew Cuomo for Governor, Tom DiNapoli for Comptroller, Letitia James for Public Advocate, and Bill de Blasio for Public Advocate, along with numerous races for City Council, state Senate, state Assembly and U.S. Congress. The Red Horse brand is progressive, focused on "emerging communities" and candidates as well as issues that reflect the firm's policy goals. The firm says its strength is in tailoring services to clients rather than using a one-size-fits-all formula and that the candidates they often work with are often underdogs in their races -- Menchaca, for example, took on an incumbent City Council member in the Democratic primary.
"We're looking for candidates that we think have the potential to be viable," said Forand, co-founder and senior partner, in a phone interview, "and that doesn't always mean candidates who start from a position of strength, but someone who sort-of understands what the work is gonna do, someone who can build the network they're gonna need to fundraise...Someone who's really up for the kind of commitment to a race that it takes to win because campaigns are insanely hard work for the candidate."
New York is flush with political consultants, particularly Democratic-leaning firms, and Red Horse is among the prominent names on the list. Other firms, many of whom have close ties to Mayor de Blasio, include Berlin Rosen, AKPD Message and Media, SKDKnickerbocker, The Advance Group, Metropolitan Public Strategies, and The Parkside Group, to name a few.
Some of these firms tend to focus on direct voter communications and campaign mailings, which is where the money is in political consulting, said Hank Sheinkopf, a veteran political consultant who runs his own firm and whose past clients have included former President Bill Clinton and former New York City Mayor Michael Bloomberg. Other firms employ broader public relations strategies, a natural long term evolution for successful firms, according to Sheinkopf. "What Red Horse has done very well is try to sell quickly and dominate the left where possible and therefore they have a marketing edge," said Sheinkopf.
He said Red Horse's combination of direct communication for candidates and an effective field operation, along with their work on issue-based campaigns, is "not a unique model, but it's a smart business model to follow." Sheinkopf added, "As the Democrats move further to the left, they'll become even more prominent."
Red Horse's team of 13 staff is currently handling 15 City Council campaigns in the 2017 election cycle, including eight reelection bids -- for Council Members Helen Rosenthal, Ritchie Torres, Antonio Reynoso, Barry Grodenchik, Carlos Menchaca, Mark Treyger, Elizabeth Crowley, and Rafael Salamanca Jr. The Council is a 51-member body.
The firm is also involved in five competitive races in districts where the current Council member is term-limited from running again this year. In two races, they're working with candidates to challenge incumbents: in the 35th Council District, their client Ede Fox is challenging Council Member Laurie Cumbo; and in the 14th Council District, they're representing Randy Abreu, who's hoping to unseat Council Member Fernando Cabrera.
Candidates who have worked with the firm sing its praises. Council Member Reynoso's first experience with Red Horse was when he was managing the City Council campaign of Diana Reyna, whom he eventually replaced when she was term-limited out in 2013. "What I think separated them from other firms was the support," he said. "During the heated moments of the campaign, in the last two months, they were there everyday. Their attention to detail and involvement, we consider above and beyond."
Reynoso said that he wasn't a clear favorite in his own race, going up against Democratic county boss Vito Lopez. But Red Horse helped him, a first-time candidate in 2013, win the primary, and thus the seat, given the Democratic advantage in the district, with a strong field operation. "After just one cycle, they were probably the most sought after consulting firm in New York," Reynoso said. Red Horse was involved in 10 City Council campaigns in 2013, and seven of those candidates were victorious (Jenifer Rajkumar, Austin Shafran, and Lew Simon lost their races).
"Nothing breeds further success like success," said Dick Dadey, executive director of Citizens Union, a government reform group, of Red Horse's record. "Every election cycle there's a new 'It' political consulting firm that's the new kid on the block that garners the attention based on their ability to win in past races, and this is their time."
The firm's abilities were most recently recognized in March by the American Association of Political Consultants, which presented them with four Pollie Awards, the "Oscars of the political world," as a Red Horse email blast read. One of those was for the best Get Out The Vote program in the country, for their work on the special election of State Senator Todd Kaminsky last year. Kaminsky, a Democratic Assembly member at the time, won an open Long Island seat that had been held by a Republican. Grassroots outreach defines the Red Horse approach, as well as campaigns tailored specifically to their candidates, candidate clients and Forand explained.
"We came to this business convinced...that integration of a strong ground operation, strong field program with a strong messaging program was always gonna be the best formula for creating a successful campaign and it's something that really does drive our approach to every campaign," said Forand.
He stressed that they still give each race the individual attention that they and their clients call their hallmark. "The reality of campaigns is that whether you're running for City Council, [where] there's 160,000 people, or for a Congressional district of 700,000, it takes the same amount of work, focus and determination to run a successful campaign," Forand added. "[It] doesn't get easier because the race is smaller."
He said that Red Horse opposes the "cookie cutter approach" to campaigns. "Every district has its own character, its own constituency, its own concerns, and we try to build a messaging construct that's gonna reflect that and reflect it in the context of the candidate," he added.
This year, in the City Council in Brooklyn's 43rd Council District, an "open" seat, Justin Brannan is another first-time candidate who's relying on Red Horse. "I like the history they had doing races with unorthodox candidates," Brannan said of the firm, and himself. "I like their scrappiness. I need folks who I can text at two o'clock in the morning if I have an idea and have them tell me it's a bad idea and I should go to sleep or that it's a good idea and we'll talk in the morning."
And although they're one of the established firms in the city, with numerous victories under their belt, Brannan said, "They still operate hungry. They're not resting on their laurels. They still come at stuff with an underdog perspective."
Despite the fact that Brannan has long ties in the community and is an aide to the current Council Member, Vincent Gentile, his campaign may indeed be the underdog if Assemblymember Joseph Abbate enters the race, as is rumored.
Marjorie Velazquez, a Democratic district leader in the Bronx who is running to replace term-limited Council Member James Vacca for the District 13 seat, said Red Horse sees "the candidate for who they are and [helps] them deliver their message, empowering them." Velazquez is one of few progressive women of color running for the City Council this year, aligning with Red Horse's goals of promoting gender and ethnic diversity. She chose the consultants because she saw that in Ritchie Torres' Bronx campaign in 2013, they were willing to take on challenging races. "They take on races where they honestly believe in their candidates," she said.
"Well we do look for candidates that we believe in, that we think you know, this is somebody who a) is gonna be a good candidate and b) is gonna make a difference in the Council or whatever office they're running for," Forand said of the firm's approach. "I mean we all got into this business not because we grew up with the desire to be political consultants but because we grew up with the desire to make progressive social change, and this was the means by which we were most able to do that."
Along with Brannan and Velazquez, Red Horse is working for Carlina Rivera, Marti Speranza and Diana Ayala in "open seat" City Council races, looking to help fill five of the seven seats being vacated due to term limits.
Red Horse's work isn't limited to candidate campaigns, and it has been lucrative. The firm is actively engaged in issue advocacy, which has earned them millions in consulting fees from progressive organizations such as Planned Parenthood, the League of Conservation Voters, NYSUT, the state teachers union, to name a few. Since its inception, the firm has received more than $31.3 million for candidate campaigns and lobbying work combined, according to state Board of Elections records. It did work with Mayor de Blasio's defunct nonprofit, the Campaign for One New York, as well.
Forand insists theirs isn't typical lobbying "in the traditional sense of the word at all," even though they've had to register as lobbyists under state law. "The lobbying laws are pretty broadly written and for good reason, so we have had to register," he said, "but from a business perspective, it is one of the differences between us and a lot of other firms. We don't do that work. We don't elect people and then go lobby them on behalf of a different client."
It's that conflict that good government groups also warn against. "The fact that some of these political consulting firms do it not just on behalf of candidates but also issue campaigns is essentially the same side of the coin," said Dadey of Citizens Union. "It's when these consultants directly lobby the elected officials they helped put in place that I believe poses the conflict. There is no conflict here if they are simply representing organizations trying to get their message out, broadly, without any direct contact with elected officials they're lobbying."
Blair Horner, executive director of the New York Public Interest Research Group, believes that the joint model of advocacy and campaign consultancy brings up concerns about conflicts of interest as they become increasingly common. But, he said, "Not a lot can be done about it," since it is a natural result of Supreme Court decisions that have relaxed restrictions on political spending under the First Amendment's free speech protections. "I'm not surprised that in the Wild West of American political life and campaign finance, political consulting firms are flourishing," Horner said. "The stakes are high and the payoff is big."
While Red Horse has deep ties in the City Council, it does not appear to be pushing any issues on the city level at this time. The firm is currently working with state Assembly Member Andrew Hevesi, a Queens Democrat, on the Home Stability Support proposal, which aims to revamp rental assistance statewide to help low-income New Yorkers avoid homelessness. "Generally its public awareness campaigns on behalf of an organization...pursuing a specific policy goal," Forand said of the advocacy work Red Horse takes on.
Red Horse has its own policy goals, Forand said. For instance, as evidenced by their work on HSS, the firm has focused on housing policy. "You can't live in New York City without understanding how critical affordable housing is for the economic future of the city," said Forand. And, the firm is also striving to improve gender representation and ethnic diversity in elected offices. "Where we have the opportunity to work with those candidates who are sort of groundbreaking and history-making, we like to do that," Forand said.
Issue advocacy is a particularly lucrative side of the consulting world, said Sheinkopf. "It's smart to try to make yourself partisan when it's required, or nonpartisan or bipartisan when it's required," he said. "Advocacy campaigns are nonpartisan, they enable you to maintain partisan credentials while representing corporate and special interests."
Looking ahead, the firm seems to be taking its mission beyond the New York area. The newly launched Red Horse website indicates that they now have a presence in Florida and California as well. Jon Greenfield, managing director of press for the firm, when asked about phone listings for offices in those states, said, "We're planning on making a formal announcement in the near future because we're in the process of expanding nationally."
Their brand has also apparently not been hurt by involvement in Mayor de Blasio and the state Democratic party's attempt to flip the state Senate in 2014, which triggered at least two state investigations into potential violations of election law. Red Horse was among five firms subpoenaed by the Joint Commission on Public Ethics, before the case was referred to Manhattan District Attorney Cy Vance. Vance's investigation recently closed down and no charges were brought against de Blasio and his aides. In another related investigation that began last year, the Erie County District Attorney was looking into donations made in 2014 to the Erie County Democratic Committee, which then made payments to Red Horse for its work on the state Senate campaign of then-Senator Marc Panepinto from Buffalo. There's no indication that Red Horse was or is being investigated.
Red Horse's Greenfield confirmed that the firm received $50,000 for its work on the campaign but did not comment on the investigation. The Erie County DA's office did not respond to multiple calls and voicemails seeking comment.
Union organizer Marvin Holland, another new entrant into electoral politics, was also a recent Red Horse client. Holland unsuccessfully ran for the District 9 City Council seat in Harlem in a special election held in February. Despite the loss, Holland was complimentary of the firm. "I think they are one of the few consulting firms that can do an entire campaign," he said, noting that other firms had specific strengths while Red Horse was a one-stop consulting shop. "They have a well-rounded program."
Holland lost to state Senator Bill Perkins in a crowded field, but is running again this fall to unseat the short-term incumbent. He is not retaining Red Horse again, though, but said that he isn't looking to hire any consultants for his campaign. He's chosen to go at the race with his own resources and team, having crafted his message and strategy, with the help of Red Horse, through the special election.
Forand said the firm's work at the congressional level will likely create more opportunities for them. The firm helped elect Grace Meng to Congress representing Queens, and she was recently reelected as vice chair of the Democratic National Committee. "We've put together a pretty successful track record of winning some very tough races here in New York," he said, "and we think that's something we can directly apply across the country."
Note: Gotham Gazette is an independent publication of Citizens Union Foundation, sister organization of Citizens Union.