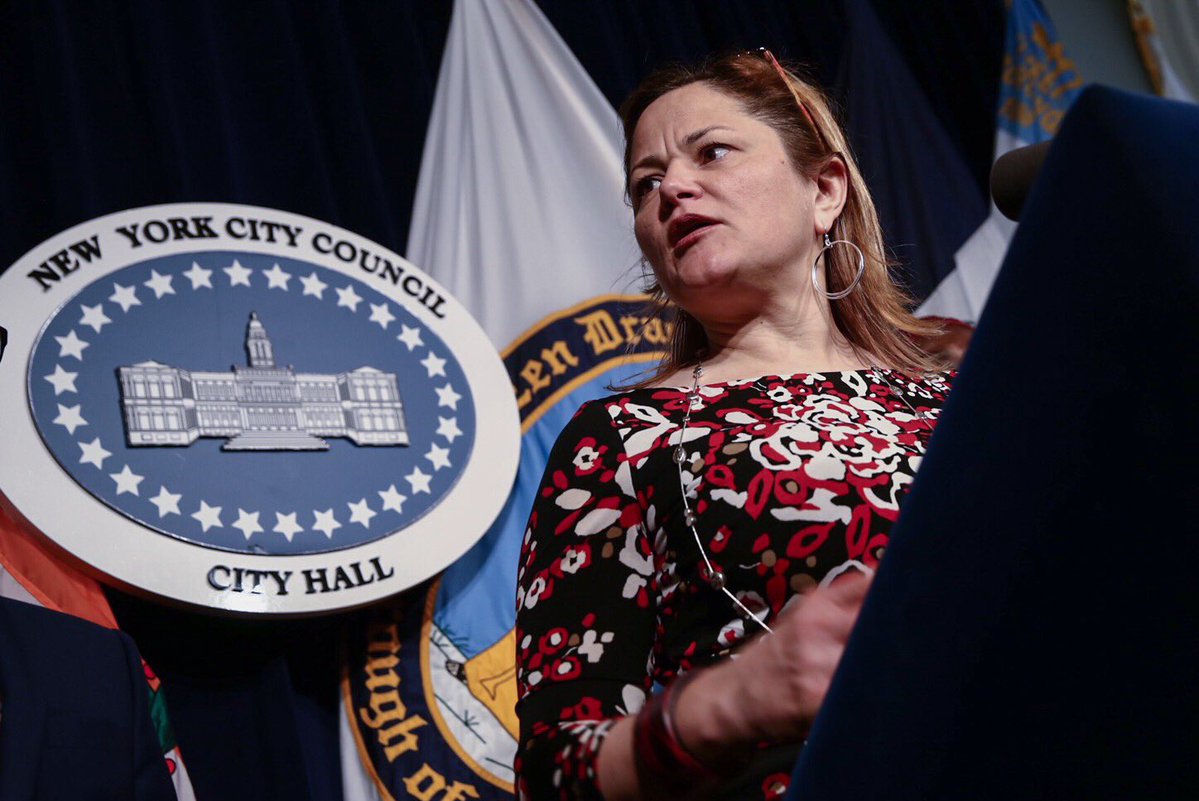 Council Speaker Melissa Mark-Viverito (photo: @NYCCouncil)
---
Local legislators from large cities across the country will gather at the New York City Council chambers at City Hall on Friday and Saturday, in a first-of-its-kind conference to exchange ideas on policy, governance and, perhaps most significantly, the challenges cities face under the presidency of Donald Trump.
City Council Speaker Melissa Mark-Viverito first spoke of the conference in her final State of the City speech in February, when she struck a defiant tone against divisive politics and the threats to local administrations from federal policies. "We've reached a critical point in our nation's history," she said from the stage at the historic Kings Theater in Brooklyn, "and it's imperative that we create opportunities to rise above divisive rhetoric and learn from one another."
Partnering with the National League of Cities, an advocacy organization that represents more than 1,600 cities, towns and villages, and over 18,000 communities through 49 state municipal leagues, the New York City Council will host local legislative leaders from Tampa, Washington D.C., Philadelphia, Boston, Detroit, San Diego, Denver, Baltimore, Charlotte, Cleveland, St. Louis, and San Francisco.
The two-day conference will cover a broad agenda that includes infrastructure, public safety, criminal justice reform and economic development, among other issues. "Just imagine dozens of Criminal Justice Reform Acts and municipal identification card programs instituted in every big city across the United States," Mark-Viverito said in her February speech, referencing two signature achievements of the City Council in her tenure as speaker. "The possibilities for national solidarity on almost any issue are endless."
The conference comes amid uncertainty, at the state and local levels, about the potential impact of the unpredictable proposals of the federal administration. President Trump signed an executive order in January threatening to cut funding to so-called sanctuary cities such as New York unless they cooperate with federal officials in implementing immigration policies. The order has since been blocked by a federal judge, who ruled it unconstitutional this week, but other federal proposals could still affect local jurisdictions. Among those is the reduction in funds allocated to the federal Department of Housing and Urban Development and the Environmental Protection Agency, both of which would have adverse effects for large cities.
The conference will address these general issues and the legislative strategies they can employ in response.
The local representatives will also do their fair share of introspection, examining the internal challenges in running a legislative body, pulling lessons from their counterparts on effective governance, constituent communication, and budget management.
The summit, in effect, mirrors efforts at the municipal executive level by the United States Conference of Mayors, which convenes leaders from 1,408 cities to formulate urban agendas and to help drive federal policies. The weekend conference, as Mark-Viverito said, will be the start of "a new, national effort to build lasting partnerships with legislative leaders across the country."