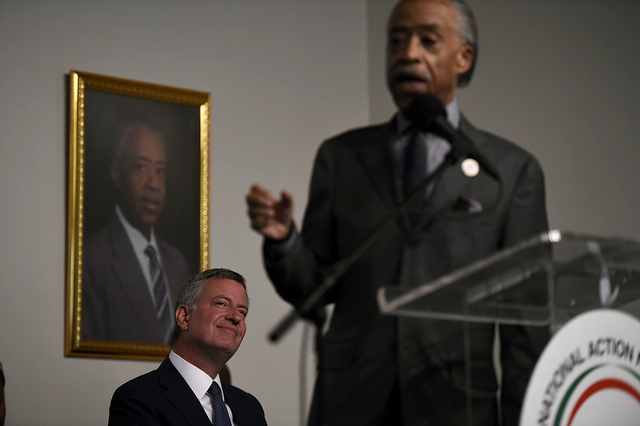 De Blasio and Sharpton (photo: Ed Reed/Mayor's Office)
---
Reverend Al Sharpton, the national civil rights leader, radio and television host, and founder and president of the National Action Network (NAN), is emphatically disinterested in the nitty-gritty of local politics and says that his support for New York City Mayor Bill de Blasio is not unconditional.
Gotham Gazette sought comment from Sharpton on his relationship with de Blasio, a first-term Democrat who is running for reelection this year, and how he gauges the mayor's leadership and record on police reform, a focus issue for the reverend. When de Blasio came into office in 2014, the two appeared especially close, but while de Blasio continues to make appearances at NAN, there has been evidence of distancing in recent years. Indeed, greater distance is something Sharpton reinforced in a Tuesday interview with Gotham Gazette.
In an energetic 16-minute phone conversation, as he took a break from recording his radio show, Sharpton explained his past support for the mayor and the current dynamic between the two, while also refuting analysis by political observers relayed to him by Gotham Gazette. Those observers, long-time chroniclers of city politics, said Sharpton and de Blasio's relationship was one of mutual benefit, with Sharpton maintaining both access to the mayor and distance enough from which to criticize him. Meanwhile, Sharpton's support for the mayor, multiple experts argued, provides cover for the mayor's record on police reform, which many say has been less than satisfactory, while bolstering support in the African-American community. At the same time, the perceived daylight between the two allows de Blasio to maintain a better relationship with the NYPD, many members, union leaders, and supporters of which see Sharpton as an antagonist.
"I'm not interested in local New York politics," Sharpton said, calling it a "laughable" theory that he seeks access to the mayor. "I run a national organization in 102 cities. I have to deal with 102 mayors and 50 governors...So I think a lot of them don't understand, my focus is national."
He added, "I mean, the things that I supported Mayor de Blasio for is because he supported our drive against stop-and-frisk. Had he not done that, I would've went with Bill Thompson...And I wanted to use our hometown as a national model for these issues. Other than that I have no interest...I don't get city funds, I don't ask for patrons, I don't need access to him. Access for what?"
Sharpton and de Blasio have had an at times fraught alliance over the last several years, sharing common ground on certain issues while also diverging sharply on others. De Blasio has courted the civil rights leader for years, as far back as his 2009 run for public advocate, and Sharpton in turn has been a prominent supporter for de Blasio's progressive policies. The two have almost exclusively had praise for one another, and Sharpton publicly celebrated when de Blasio and his associates were recently cleared of any charges in two criminal investigations. But there have been several bumps in the road.
As Sharpton said, his support for the mayor in 2013 was predicated on de Blasio's strong criticism of the NYPD's use of stop-and-frisk policing, which a judge ruled was racially biased. In the months following de Blasio's victory, the two were seen as close allies, with de Blasio making regular appearances to speak at NAN's House of Justice and referring to Sharpton as a "good friend" to him and his wife.
On January 20, 2014, just three weeks into his mayoralty, de Blasio praised Sharpton in a speech at NAN. That same day, Rachel Noerdlinger, a Sharpton aide, was appointed chief of staff to First Lady Chirlane McCray. "I think Reverend Sharpton is a very important leader of this city and this country," de Blasio told reporters after the speech. "And I think he's someone who's often been right about the kind of changes we need to make for a more equal society. And certainly a lot of the talent he's developed over the years have contributed greatly." De Blasio referenced Kirsten John Foy, another Sharpton protege who served as the head of intergovernmental affairs to de Blasio when he was public advocate. Foy now leads NAN's local efforts, something Sharpton reminded Gotham Gazette multiple times in explaining his own focus on national issues.
Noerdlinger's employment by the First Lady became a source of controversy over the course of 2014, leading to her eventual departure in November. She faced criticism for failing to disclose that she lived with her boyfriend, who had a criminal history and had made inflammatory and disparaging comments about the police on social media. She eventually returned to Sharpton's fold, now representing him as a media consultant at Mercury Public Affairs. The mayor received a lot of flack at the time for defending Noerdlinger, especially from those who felt de Blasio himself was anti-police.
Sharpton, for his part, has consistently been in de Blasio's corner. Last year in May, when the mayor faced the cloud of two parallel investigations into this fundraising practices, Sharpton showed support at a NAN rally. "Whether you're Republican or Democrat, whatever is going on – I'm not a lawyer or an investigator – but I am telling you, I've known Bill de Blasio for 25 years," he said. "And he's operated with integrity. And we are not going to react to nothing – to rumors and innuendos – we're going to see where things go."
When both investigations were simultaneously shut down in March -- de Blasio had never been formally accused of wrongdoing and no charges were brought against any of his aides -- Sharpton seemed ecstatic. He tweeted, "Congratulations to Mayor de Blasio, now that the clouds have been lifted and the skies are clear LET'S FINISH THE FLIGHT. Work to be done."
He also wrote, "We are glad to see our trust of NYC Mayor @BilldeBlasio was vindicated by the prosecutor." He also said, "We congratulate @NYCMayor & his staff for being cleared of all charges 2day & we were glad to stand by them during a period of such scrutiny."
Sharpton struck a different chord in the Tuesday interview. "When have I shown general support?," he wondered aloud, of his apparent backing of the mayor. "He supported us on stop-and-frisk and we agreed on that, and pre-K and we agreed on that. You haven't seen me at City Hall...I think these people have an imagination that is boundless. Supported him on what?"
Asked specifically about his public proclamations after the mayor was cleared in the investigations, he said, "When I said that we can move on, I didn't say we can move on and reelect him. We can move on and deal with the issues, that's what I said, because I felt the issues were important and I still do."
While many police reformers, including Foy, have been critical of de Blasio as not going far enough, de Blasio has hung his hat in part on changes at the NYPD: he's instituted a new training program that focuses on de-escalation, he's implementing a neighborhood policing program that stresses positive police-community relationships, and he's putting body cameras on all patrol officers by 2019.
While Sharpton is right that he has not been at City Hall, it is unclear why that's been the case. Early in de Blasio's tenure, not only was Noerdlinger working for the administration, but Sharpton was invited to a public roundtable with de Blasio, then-Police Commissioner Bill Bratton, and several other officials. At that event -- which came a short time after the death of Eric Garner, who was killed during an attempted arrest after an NYPD officer placed him in a chokehold -- Sharpton criticized broken windows policing, the strategy favored by Bratton and de Blasio, and defiantly said that de Blasio's son, Dante, whose mother is black, would be "a candidate for a chokehold," if he wasn't the mayor's son.
The fallout from the event, which reports indicated irked Bratton, may have led to some distancing between Sharpton and de Blasio. Still, the mayor has regularly appeared at NAN, where he and Sharpton exchange compliments.
On Tuesday, Sharpton insisted, albeit with a little contradiction, that he isn't ready to endorse de Blasio, or any candidate, in the 2017 mayoral election. "I have said that, right now, until we see the candidates, that I have not made any support," Sharpton said. "I have not seen anything glaring that would stop the support but I haven't made a decision. I certainly would support him over what I've seen out there," he said of de Blasio.
Asked about Sharpton's apparent reluctance to energetically support the mayor's reelection, Dan Levitan, a spokesperson for de Blasio's campaign, emailed, "The Mayor has a great deal of respect for Rev. Sharpton, and they have worked together to dramatically reduce stop-and-frisk and improve police-community relations, expand universal Pre-K, and stand up to the Trump Administration in Washington. He looks forward to continuing to work together to make New York City stronger and fairer."