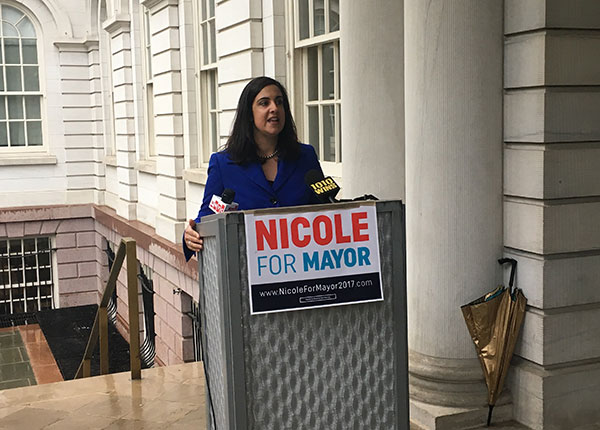 Assembly Member Nicole Malliotakis (photo: Samar Khurshid/Gotham Gazette)
---
Assembly Member Nicole Malliotakis, a Republican who represents parts of Staten Island and Brooklyn, officially launched her mayoral campaign on a rainy Friday morning at the steps of City Hall, criticizing Mayor Bill de Blasio's record on crime and what she called the city's out-of-control spending under the heavily progressive partnership between the mayor and the City Council.
"City Hall has been taken from us," Malliotakis said. "Over the past four years, the people of New York City have seen a City Council hijacked by an out-of-touch progressive caucus and a mayoralty wasted on an incompetent politician more concerned with raising taxes so he can throw money at problems instead of finding solutions to actually fix those problems."
She criticized the massive increase in the city's budget over the last three years, claiming it had gone up by 20 percent since the last budget under former Mayor Michael Bloomberg. In fact, de Blasio's proposed $84.86 billion executive budget, if passed, would be a 17 percent or $12.2 billion increase, from the last budget modification under Bloomberg in November 2013.
Malliotakis also took issue with the city's homelessness crisis, which has arguably been de Blasio's biggest challenge, and one that he is still struggling to bring under control. Malliotakis opposes the mayor's recently announced plan to put 90 new homeless shelters across the city, although she did not note that the plan ultimately will reduce the city's shelter footprint by 45 percent through closures of emergency hotel shelters and cluster sites, per city plans.
The most significant issue Malliotakis focused on during Friday's news conference was the mayor's policies on crime and quality-of-life, particularly the decriminalization of low-level offenses such as public urination. "New York City has become a total free-for-all," she said. "Quality of life no longer seems to matter, unless that life belongs to the offender."
She said de Blasio was taking credit for crime reductions under Mayor Bloomberg, and using selective statistics that show a much rosier picture of public safety. The mayor and Police Commissioner James O'Neill tout statistics that show felony crime is at historic lows, almost consistently each month, and that the city has never been safer. These numbers, Malliotakis argued, aren't presented fairly and certain crimes, particularly sex crimes, have increased significantly.
Malliotakis also said the mayor's policies toward the NYPD had made the police's jobs more difficult, forcing them to operate with restraint and putting them in danger. On the NYPD's use of the controversial stop-and-frisk policing tactic, which de Blasio ran in opposition to in 2013 and which a federal judge ruled was being practiced under Mayor Michael Bloomberg in a racially biased fashion, Malliotakis said she would give the NYPD discretion.
"As long as it's used properly as a tool and appropriately, then I think it should be a tool that a police officer are still allowed to use because it did take a number of drugs and guns off the street," she told reporters. Notably, her position doesn't differ drastically from de Blasio's, who has not sought to eliminate the use of stop-and-frisk, but Malliotakis insisted that he has not publicly shown that support to the NYPD and pointed out that he dropped the city's appeal of a lawsuit over the discriminatory use of stop-and-frisk. She also called out the mayor for pushing a proposal that would make disciplinary records of officers available to the public.
"He turned his back on all of us and Bill de Blasio has made us less safe," she said, referencing an incident when rank-and-file NYPD officers turned their backs on the mayor following the shooting deaths of two officers in December 2014.
"This mayor's strategy of decriminalization and the hindrance of law enforcement have made all New Yorkers less safe," she added. "On the most basic of responsibilities, the most fundamental of mayoral duties, Bill de Blasio has failed."
Promising that as mayor she would ensure that "crimes on every level will be prosecuted," she took a swipe at the administration's promise to defend undocumented immigrants facing deportation. The mayor recently announced a $16 million investment in legal assistance for undocumented immigrants, although not for those convicted of certain crimes. City Council Speaker Melissa Mark-Viverito took issue with that distinction, disagreeing with the mayor and insisting that even those immigrants deserve legal aid. Malliotakis, referencing the speaker's position, was not pleased. "Am I missing something here? Have our officials lost their minds?" she wondered, saying that city funds were being used to protect "illegal" immigrants who commit violent crimes like murders and rapes from deportation.
Malliotakis also struck out at de Blasio's policies and proposals on Rikers Island. She opposes closure of the jails there and said that putting jails in communities was "off the table," insisting instead that the jail complex must be reformed under a new corrections commissioner. She would also allow cooperation with federal Immigration and Customs Enforcement (ICE) officials, rebuking the mayor and City Council's policy that removed those officials from Rikers Island and ended cooperation on ICE detainer requests in most instances.
In response to Malliotakis' comments, de Blasio's campaign spokesperson Monica Klein, said in a statement to Gotham Gazette, "Mayor de Blasio has driven crime to record lows while dramatically reducing stop-and-frisk and reducing the City's jail population by nearly 20%. Expanded neighborhood policing, renewed trust between immigrant communities and the NYPD, and body cameras on all patrol officers by 2019 are bringing the police and the communities they serve closer together. That is the Mayor's record on criminal justice, and one that New Yorkers are rallying around."
On Friday Malliotakis acknowledged that defeating de Blasio is not an easy task. "The fight will not be easy but I've never had a problem with that," she said, in apparent reference to the uphill climb for a Republican to defeat an incumbent Democrat in New York City. Malliotakis must first get through the Republican primary, of course. "I've defeated one incumbent already and I will defeat another one," she said.
Malliotakis faces two main opponents in the primary - millionaire real estate executive Paul Massey, who has raised and spent significant funds already; and Michel Faulkner, an energetic Harlem pastor and former professional football player, whose campaign is in the red. Malliotakis took the opportunity to criticize Massey, who has been seen as the de facto Republican frontrunner given his fundraising, by knocking his "maxed out" donation to de Blasio's 2013 campaign, his lackluster personal voting history, and the fact the he only recently moved from Westchester County to New York City to run for mayor (while that's true, Massey points to decades running a real estate business across the five boroughs).
Billionaire businessman John Catsimatidis, who sought the Republican mayoral nomination in 2013 and has been considering another run this year, recently announced he would not run and lauded Malliotakis' candidacy on Friday, although he did not overtly endorse her. Catsimatidis and Malliotakis, who share Greek heritage, are close, and she had said she would drop out of the race if he decided to run.
"Assemblywoman Nicole Malliotakis is a talented and strong Republican woman," Catsimatidis said in a public statement Friday. "With her immigrant roots and her Cuban and Greek heritage she can relate to so many New Yorkers who are reaching for the American dream. Her experience in the state legislature, her energy and her understanding of the issues make her a great candidate for Mayor."