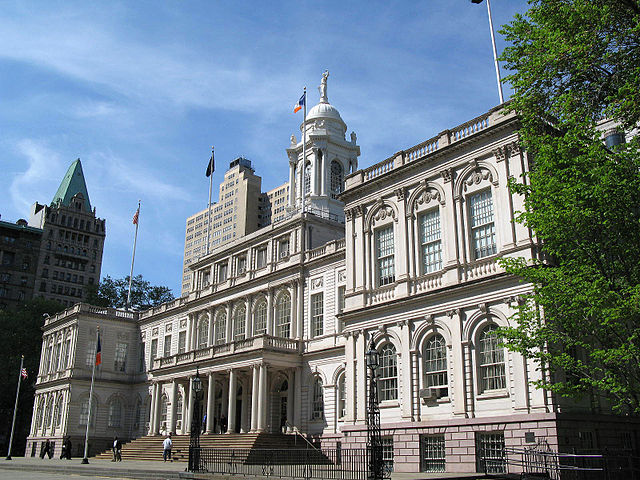 New York City Hall
What to watch for this week in New York politics:
The state Legislature continues its post-budget session in Albany this week -- including Monday there are just 20 days of session left, it ends June 21. There are other hearings and events to watch in Albany this week, see below for details. Governor Andrew Cuomo has been spending little time in Albany since the new state budget passed, the governor has been touring the state celebrating the highlights of the budget deal.
In New York City, the City Council continues its hearings this week on Mayor Bill de Blasio's executive budget proposal. The Council and de Blasio must agree on a new city budget by the July 1 start of the new fiscal year. De Blasio had a quiet weekend after a Friday evening campaign event with Senator Bernie Sanders in Vermont. De Blasio has two public events Monday -- see details below.
As always, there's a great deal happening all over the city, with many events to be aware of - see our day-by-day rundown below.
***Do you have events or topics for us to include in an upcoming Week Ahead in New York Politics?
e-mail Gotham Gazette editor Ben Max: This email address is being protected from spambots. You need JavaScript enabled to view it.***
The run of the week in detail:
Monday
On Monday at 1 p.m., "Mayor de Blasio will deliver remarks and unveil a plaque alongside First Lady Chirlane McCray and Harry Belafonte and New York Public Library President & CEO Tony Marx at the renaming of the 115th Street Library to the Harry Belafonte-115th Street Library." In the 7 and 10 p.. hours, the mayor will appear on NY1's Road to City Hall.
At the City Council on Monday, there will be executive budget hearings on:
-Fire/emergency medical services at 10 a.m.
-Correction at 11 a.m.
-Aging at noon
-Environmental protection at 2 p.m.
Also at the City Council on Monday
-The Committee on Housing and Buildings will meet at 10 a.m. to vote on proposed laws regarding "illegal conversions of dwelling units for other than permanent residence purposes" as well as a law related to "the preservation of certain hotels."
-The Committee on Environmental Protection will meet at 1:45 p.m. to vote on a proposed law "in relation to water pollution control, including provisions relating to stormwater management and control of discharges into storm sewers."
Monday "at 9:30 AM, Brooklyn Borough President Eric L. Adams will join health care practitioners to launch a large-scale multimedia public service announcement (PSA) campaign aimed at tackling Brooklyn's ongoing hospital crisis, notably soaring healthcare costs and emergency room overuse expected to deepen under the impending repeal and replacement of the Affordable Care Act by the Trump Administration. The PSA will be debuted at Brookdale Urgent Care Center in East Flatbush."
The New York State Legislature will be in session on Monday in Albany.
On Monday and Tuesday, the New York State Board of Regents will hold their monthly meeting. At 9 a.m. Monday, Regents Chancellor Betty Rosa, State Education Commissioner MaryEllen Elia, along with education policy experts, will meet with the Board to discuss the draft plan of the Every Student Succeeds Act.
Starting at 11 a.m. Monday, Queens Borough President Melinda Katz and the Queens Chamber of Commerce will host "Queens Day in Albany," showcasing "the culture, tourism, and economic development" of the borough. Free shuttle buses to Albany for Queens residents will depart from Jackson Heights at 8 a.m.
At 12:30 p.m. Monday, Senator Liz Krueger and Assemblymember Felix Ortiz, along with Divest NY Coalition and "activists, pensioners, businesses, and elected officials," will hold a press conference outside the Senate Chamber in Albany to call on the State Legislature to pass the Fossil Fuel Divestment Act, "which would require the State Comptroller to divest the New York State Common Retirement Fund from all holdings in the 200 largest publicly traded fossil fuel companies, as defined by carbon content in the companies' proven oil, gas, and coal reserves."
Members of Gov. Cuomo's administration and SUNY leaders will hold information sessions across the state Monday and throughout the week about the Excelsior Scholarship. "The events, to be held at SUNY campuses, will be open to the public, and students, parents and faculty are all encouraged to attend to learn how they can benefit from the scholarship. Cuomo administration officials and SUNY leaders who will host upcoming events include: Lieutenant Governor Kathy Hochul, SUNY Chancellor Nancy L. Zimpher, Chairman of the SUNY Board of Trustees Carl McCall, Higher Education Services Corporation Acting President Guillermo Linares, Commissioner of the Office of General Services RoAnn M. Destito, Labor Commissioner Roberta Reardon and Empire State Development President, CEO & Commissioner Howard Zemsky."
At 11 a.m. Monday, Bronx Borough President Ruben Diaz Jr will host an event to kick off Bronx Week 2017 at the Veterans' Memorial Hall in the Bronx County Building on the Grand Concourse. Diaz and the Bronx Tourism Council "will announce the four honorees of the Bronx Walk of Fame Class of 2017."
At 12:15 p.m. Monday, Open Society Foundations will host "Locking Up Our Own: James Forman Jr. in Conversation with Khalil Gibran Muhammad," with the two professors discussing mass incarceration and "how to dismantle it."
At 1 p.m. Monday at Staten Island Borough Hall, Borough President James Oddo will announce "that [Anthony] Ferreri has accepted a position at Borough Hall as Special Advisor for Strategic Initiatives."
At 2 p.m. Monday, #CLOSErikers will host "Power of the People," a panel discussion featuring singer John Legend, JustLeadershipUSA founder Glenn Martin, City Council Speaker Melissa Mark-Viverito, and #CLOSErikers campaign member Darren Mack. The panel, which will be held at The New School, will be moderated by Fordham professor Dr. Christina Greer.
At 6 p.m. Monday, Supreme Court Justice Ruth Bader Ginsburg will deliver introductory remarks at the eponymous "Justice Ruth Bader Ginsburg Distinguished Lecture on Women and the Law" at the New York City Bar Association. The lecture itself will be delivered by Patricia Bell-Scott, Professor Emerita of Women's Studies and Human Development and Family Science at the University of Georgia.
At 6 p.m. Monday, the Brooklyn Historical Society will host "100 Clark Street: A Case Study in Navigating Building Codes, Gravity, and Landmark Preservation," discussing how the landmark building is being saved from demolition. Speakers include Margaret Streicker Porres, the owner; architect Tom van den Bout; and Historic Districts Council Executive Director Simeon Bankoff.
At 6:30 p.m. Monday, the Manhattan Republican Party and the Women's National Republican Club will host "A Discussion on Women in Politics" featuring Congressional Rep. Claudia Tenney.
Monday at 6:30 p.m. at P.S. 171 in Queens, Schools Chancellor Carmen Farina will attend a town hall meeting of District 30's Community Education Council.
Tuesday
Mayor de Blasio has no public events scheduled for Tuesday.
At the City Council on Tuesday, there will be executive budget hearings on:
-Small Business Services/Economic Development Corporation at 10 a.m.
-Health and Hospital Corporation at noon
-Health and Mental Hygiene at 2 p.m.
Also at the City Council on Tuesday
-The Committee on Transportation will meet at 1 p.m. to vote on proposed laws related to "businesses using a bicycle for commercial purposes," "requiring a report regarding the feasibility of implementing Barnes dance pedestrian interval crossing systems at high-crash intersections," and "requiring a study on locations with significant pedestrian traffic."
-The Committee on Education will meet at 2 p.m. to vote on a proposed law in relation to "creating a sexual health education task force."
The New York State Legislature will be in session on Tuesday in Albany.
At 8 a.m. Tuesday, Crain's will host its 2017 Health Care Summit, focusing on "The Future of Behavioral Health in New York State." Health care experts will discuss how behavioral and physical healthcare, long distinct fields, are beginning to merge.
At 8:30 a.m. Tuesday in Albany, Assembly Speaker Carl Heastie and Senate Majority Leader John Flanagan will speak at a breakfast event hosted by the Albany Times Union, "The Six Week Forecast: Legislative Leaders on What Comes Next," hosted by the Hearst Media Center.
At 9 a.m. Tuesday, the New York City Board of Correction will hold a public meeting at 125 Worth St in Manhattan.
At 9 a.m. Tuesday, the New York City Industrial Development Agency will hold a board of directors meeting.
At 10 a.m. Tuesday, John Jay College and the John A. Reisenbach Foundation will host "Gun Violence in NYC Neighborhoods: Complementary Solutions from Law Enforcement and Public Health" at the College's Moot Court. Two panels will convene to discuss policy solutions for gun violence and how New York can be a model for the nation. The first panel will examine the law enforcement perspective, featuring Lt. Mark Moreno of the NYPD Crime Stoppers, Danny Peralta of The Point CDC, and Greg Roberts of The NYC Police Foundation, in a discussion moderated by John Jay College's own Professor Ric Curtis. The second panel will examine the public health perspective, "featuring Ife Charles of the Center for Court Innovation, Eric Cumberbatch of The NYC Mayor's Office of Criminal Justice, and Jeff Coots of John Jay College's Punishment to Public Health Initiative, in a discussion moderated by Sheyla Delgado."
At 11 a.m. Tuesday at Riverside Church, "Students, government officials, educators, and professionals representing New York's business, government, nonprofit, and philanthropic sectors will come together to celebrate youth leading policy change on local issues at Generation Citizen New York City's biannual Civics Day." New York City Deputy Mayor Richard Buery will deliver remarks at 11:15 a.m.
At 5:30 p.m. Tuesday, NYC Votes will hold a hearing "on the release of the 2016-2017 Voter Assistance Annual Report." The hearing will take place at the New York City Campaign Finance Board.
At 6 p.m. Tuesday, City Council Member Jumaane Williams will give his "State of the 45th District" address and make a 2017 campaign announcement, at Andries Hudde Junior High School in Brooklyn.
At 6:30 p.m. Tuesday, City Council Member Corey Johnson will hold his third annual West Side Summit at the Whitney Museum. Johnson will deliver a State of the District address and also will announce the winners of participatory budgeting in his district. Comptroller Scott Stringer will also speak.
Wednesday
The full City Council will meet at 1:30 p.m. Wednesday. The "Stated Meeting" will be pre-faced by the usual pre-stated press conference led by City Council Speaker Melissa Mark-Viverito.
Also at the City Council on Wednesday: The Committee on Finance will meet at 10 a.m. and The Committee on Rules, Elections, and Privileges will meet at 10:30 a.m. to vote on submitting the names of several nominees, from the Mayor, Brooklyn Borough President, and the Council, for advice and consent. The nominees are: Carlo Silvestri, for the Tax Commission; Debra Scotto, for the Environmental Control Board; Joseph Douek, for the City Planning Commission; and Robert F. Nolan, for the Health & Hospitals Corporation.
The New York State Legislature will be in session on Wednesday in Albany.
On Wednesday and Thursday, the Business Council of New York State will host its "2017 Annual Conference on State Taxation," which will focus "specifically on the latest tax issues" and "how these will impact businesses in New York State."
At 8:30 a.m. Wednesday, the Board of New York City School Support Services will hold a public meeting at 321 West 44th St.
At 10 a.m. Wednesday, the Bronx Youth Empowerment Program and City Council Member Andy King will host "Youth Speaks," discussing issues relevant to young people with students from the 12th Council District. Speakers will include King, Schools Chancellor Carmen Fariña, Olympian Daryl Homer, and others.
At 10 a.m. Wednesday, the City Planning Commission will hold a public meeting at Spector Hall.
At 6 p.m. Wednesday, Congressional Rep. Adriano Espaillat will hold a town hall meeting at the Johnson Community Center in East Harlem.
On Wednesday evening at Gracie Mansion, "Mayor Bill de Blasio and First Lady Chirlane McCray will honor Hasan Minhaj at the Asian-Pacific American Heritage Reception at Gracie Mansion. Minhaj is an American comedian of Indian descent who most recently performed at the White House Correspondents Dinner."
At 6:30 p.m. Wednesday, City Limits will host "Rezone or Leave Alone," a debate "on the complexities of de Blasio's push for density," at Impact Hub New York. Debaters will include Tom Angotti, Hunter College professor and author of Zoned Out!; Vicki Been, former Housing Preservation and Development commissioner and current Faculty Director at the NYU Furman Center; and Moses Gates, of the Regional Planning Association and formerly of the Association for Housing and Neighborhood Development.
At 6:30 p.m. Wednesday, the Civilian Complaint Review Board will hold a public board meeting at the DREAM Charter School in East Harlem.
At 7 p.m. Wednesday, Assemblymember Robert Carroll and New York City Comptroller Scott Stringer will host a town hall at the John Jay Educational Complex in Brooklyn, discussing President Trump's budget and the impact it could have on both New York City and New York State.
On Wednesday at 8 p.m., Republican mayoral candidate Paul Massey will keynote the Queens County GOP Spring Gala.
Thursday
At the City Council on Thursday, there will be executive budget hearings on:
-Housing Preservation and Development at 10 a.m.
-Buildings at noon
-Immigrant affairs at 2 p.m.
At the State Assembly on Thursday, the Standing Committee on Corporations, Authorities, and Commissions will hold a public hearing regarding "the impact of Amtrak's New York Penn Station Infrastructure Renewal Program on the Metropolitan Transportation Authority (MTA), the Long Island Rail Road (LIRR), and New York commuters" in the Assembly Hearing Room in Albany.
At 8:30 a.m. Thursday, U.S. Congressional Rep. Joe Crowley will join the Association for a Better New York for a "Power Breakfast," discussing his "legislative priorities, as well as federal issues and policies impacting New York City."
At 8:30 a.m. Thursday, Crain's will host its 2017 Middle Market Breakfast, featuring founders of fast-growing New York companies discussing "how to foster rapid growth while maintaining a culture of innovation that retains and attracts top talent so that your business stays ahead of the competition."
At 9 a.m. Thursday, New York City's 2017 Small Business Expo will be held at the Javits Center.
At 10 a.m. Thursday, the New York City Campaign Finance Board will hold a public board meeting.
Friday and the weekend
At the City Council on Friday, there will be executive budget hearings on:
-Sanitation at 10 a.m.
-Citywide Administrative Services at noon
-The Board of Elections at 12:45 p.m.
-The Campaign Finance Board at 2:30 p.m.
-The Law Department at 3 p.m.
Also at the City Council on Friday: the Committee on Sanitation and Solid Waste Management will meet at 1 p.m. to discuss a proposed law in relation to "designating expanded polystyrene as recyclable and repealing sections 16-324(f) and 16-329 of the administrative code of the city of New York."
At 9:30 a.m. Friday, NYC4CEDAW (Convention on the Elimination of All Forms of Discrimination Against Women) will march from Brooklyn Bridge Park to City Hall for a rally to recommend that the City Council and Mayor pass a bill "which links the Commission on Gender Equity to the CEDAW framework and which appropriates the necessary fiscal and personnel resources to make manifest what is already a crucial underpinning of our widely lauded and publicized Safe Cities Agreement with UN Women."
On Saturday, there will be two marches: 11 a.m. at Cadman Plaza: The Children's March NYC, "an opportunity for all of our children to choose the issues they care about, and to learn to stand up and speak out—on their own terms and in their own words" and at noon at Bryant Park: March for Truth and Transparency, demanding an investigation into the president's ties to Russia and to defend a free press.
At 11 a.m. Saturday, AHRC New York and Herbert Lehman College will host a "social services job fair" at Lehman College. City Council Members Andy Cohen, Annabel Palma, and Ritchie Torres will be in attendance.
***
Have events or topics for us to include in an upcoming Week Ahead in New York Politics? E-mail Gotham Gazette executive editor Ben Max any time: This email address is being protected from spambots. You need JavaScript enabled to view it. (please use "For Week Ahead" as email subject).
***
by Ben Brachfeld and Ben Max
@GothamGazette