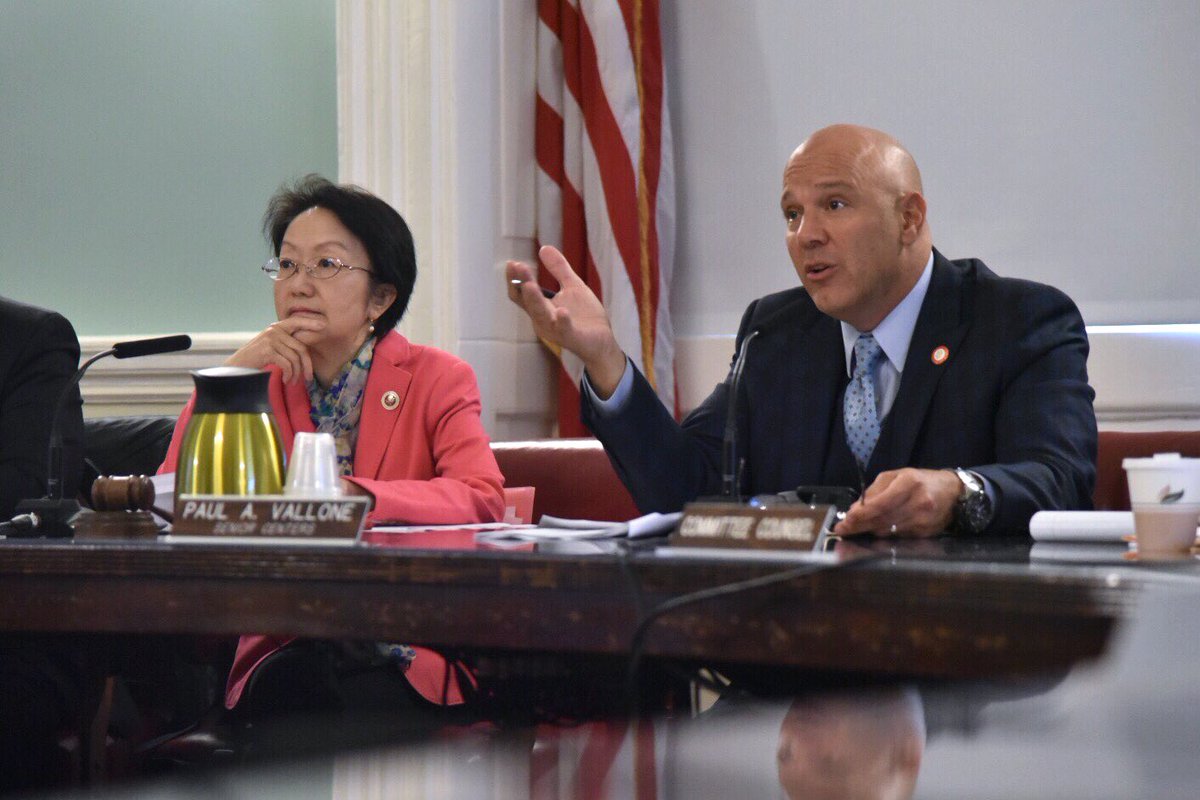 Council Members Chin, left, & Vallone (photo: John McCarten/City Council)
---
The City Council Committee on Aging held a hearing on Monday to examine the allotment for the Department of the Aging (DFTA) in Mayor Bill de Blasio's recently-released executive budget plan.
Council members and DFTA representatives for the de Blasio administration discussed the situation that seniors may be facing given reduced funding numbers in de Blasio's $84.86 billion budget proposal. The Council, in its response to the mayor's preliminary budget, had called for $60 million in additional funding for DFTA for Fiscal Year 2018, a request shared by senior advocates such as LiveOn NY. According to the City Council, none of that request was added for DFTA in the mayor's new iteration of the city spending plan.
The mayor's executive budget, presented to the public on April 26, includes $194.6 million in city funding for DFTA, representing 63% of DFTA's proposed budget. This is a $21.8 million, or 11%, reduction in funding from the current fiscal year, which, along with proposed cuts in federal funding by the Republican-controlled Congress, has senior advocates and City Council members worried, despite an increase in funding from the state government. Among other things, the proposed agency budget includes $171.8 million for senior centers and meals, a $24 million reduction from the 2017 adopted budget, and $35.9 million for case management services, an increase of $2.9 million.
Donna Corrado, the Commissioner of DFTA, assured Council members that despite the apparent cut in funding for the agency, seniors were not necessarily being thrown under the bus by the de Blasio administration.
"In addition to these funds," she said, "the mayor has committed tens of millions of dollars to other city agencies that will directly benefit older New Yorkers, such as to set aside 15,000 affordable housing units targeted to households where older people reside, and a recently announced proposal which will require city and state legislative approval to raise the Senior Citizen Homeowner's Exemption household income eligibility from $37,400 to $58,400, which would benefit an estimated 32,000 households in New York City."
One of the major issues at hand was the executive budget's failure to address the issue of seniors being stuck on waiting lists for case management services -- a long-standing problem.
Seniors ineligible for Medicaid services are eligible for counseling, meals, transportation, and other services through city case management, but the services are chronically underfunded, with high numbers of cases per caseworker, who are paid low salaries on top of that, which creates additional problems. The City Council, led by aging committee chair Council Member Margaret Chin, earlier this year declared 2017 "The Year of the Senior," in part with an eye on the large number of seniors on waitlists -- currently 1,864, although the Commissioner claimed a slightly lower number of 1700 -- for case management services, as well as the 900 seniors sitting on the waitlist for home care services.
Council Member Chaim Deutsch asked Corrado what the criteria is for who goes on the waitlist.
"There's no criteria necessarily that's systematic across the board," she said. "Some agencies don't keep a waitlist because they try either -- one, they close intake, which is very unfortunate but because it's a finite service with a finite amount of funding and staff and resources, they do close intake, so they won't take on any new clients." She also mentioned the fact that some clients may be referred to other programs.
When finance committee chair Council Member Julissa Ferreras-Copeland pressed Corrado on how much money would be necessary to clear the waitlists, Corrado refused to answer, saying that the cost "fluctuates" every day.
The other major issue addressed by the committee was that of senior centers, which were recognized across the board as inadequate. The budget does not allocate money towards new senior centers, and their funding has decreased by 12% in the proposal.
"To me, senior centers save lives," said Council Member Karen Koslowitz, noting that she has never seen a new senior center in her community in the long time that she's lived there, despite the existing ones being packed.
The hearing was attended by many members of AARP, distinguished by their trademark red shirts, who are frustrated by the city's inaction. Council Member Chin shared this sentiment, declaring that she was "angry, but yet determined," demanding that everyone in the room work collectively to "secure additional funding for the agency before the budget is adopted."
After a series of executive budget hearings at the Council, negotiations will continue behind closed doors, leading to a budget deal between de Blasio and the Council by the July 1 start of next fiscal year.