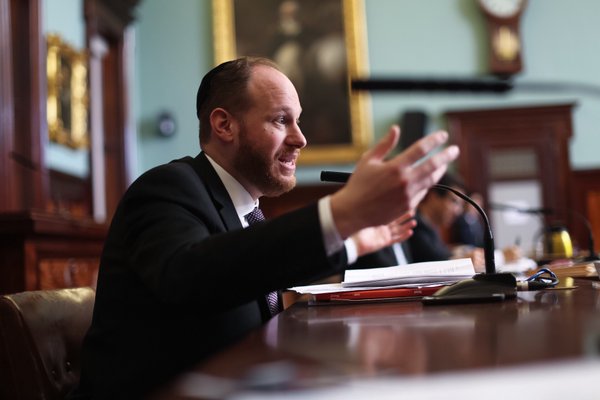 City Council Member David Greenfield (photo: @NYCCouncil)
---
At a City Council hearing on Friday, representatives of the city's Campaign Finance Board expected to answer questions about their proposed budget for the next fiscal year but instead found themselves defending their processes for post-election auditing of campaigns.
One of the Campaign Finance Board's prime functions is to perform detailed examinations of how candidate campaigns utilize funds and whether they adhere to the strict requirements of campaign finance law. These post-election audits sometimes take years to complete and can involve hefty fines, in the range of thousands of dollars, for campaigns that are found to have committed campaign violations. They can also involve repayment obligations for candidates who receive public matching funds from the CFB.
Of the 234 campaigns from 2013, the last city election cycle year, the CFB has completed audits on 214, with a few more slated for completion next month, according to testimony at the hearing from CFB executive director Amy Loprest. Some of those 214, including that of Mayor Bill de Blasio, were completed earlier this year. Audits of two campaigns from the 2009 election cycle also remain incomplete, Loprest said, owing to a long-running investigation in one campaign and a legal challenge by another.
For City Council Member Ben Kallos, chair of the governmental operations committee, and City Council Member David Greenfield, a committee member, those delays in audits are just one reason that they believe the CFB's system is flawed and in need of change. In December, Kallos, Greenfield, and other Council members ushered through nearly two dozen campaign finance related bills, some of them tweaks to how the Campaign Finance Board operates. Several of the measures were based on recommendations from the CFB, others were seen as addressing problems with the CFB identified by Council members and their consultants.
The Friday hearing did touch on the CFB's budget needs for the next fiscal year, which begins July 1 and in which there will be a citywide election with a primary in September and a general election in November. These city elections account for a massive increase to $56.7 million for the 2018 fiscal year from last year's CFB budget of $16.17 million.
About half of the proposed budget, $29 million, is allocated to the public matching funds program, which provides participating campaigns with 6-to-1 matches of small contributions up to $175. Another $11 million will go to printing and distributing a voter guide for the upcoming election.
But Kallos seemed more concerned that the board was spending more money, and time, on auditing campaigns than the money they received from resolutions of those audits. When Loprest told the committee that the CFB's candidate services unit has seven full-time employees and the audit unit has 26, Kallos insisted that the CFB should dedicate more resources to candidate services and campaign liaisons, so campaigns can preemptively steer clear of missteps in navigating a complex campaign finance system, and avoid fines and penalties down the line.
"We're trying to balance the needs of the work and be fiscally responsible," Loprest said, welcoming the idea of more personnel funding for candidate services.
"I guess I have an overarching concern here," Kallos responded, "just that you're spending four times more on auditing and penalizing candidates than you are on supporting them and your candidate-to-liaison ratio far exceeds what would be allowed in a public school at this point [for student-to-teacher]." He said the candidate services unit should at least be on par with the audit unit, to provide more personal attention to campaigns, and later floated the idea of legislation to mandate it. "I feel a bill coming up," he said.
Kallo also questioned the CFB's spending on lobbying the state Legislature to push election and voting reforms, arguing that perhaps it needs to focus its attention closer to home in the city. The CFB's mandated voter outreach arm, NYC Votes, engages in efforts around voter awareness, voter registration, and election law lobbying.
Greenfield was more vociferous in his rebuke of the system, repeatedly interrupting and talking over Loprest as she sought to defend the necessity of the in-depth auditing process.
Loprest told Greenfield that more than half of the 214 campaigns from 2013 that had been audited received some or the other penalty or a repayment obligation, which is not always considered a violation since it can involve leftover funds in a campaign's account. Greenfield wasn't pleased with the answer, seeing it as an indication that the program is faulty. "Either there's a program that is designed for people to fail...or you're not spending enough time and resources helping people through the program," he said.
He added, "To me that's a very serious concern about how the system works. If we have a system where most people who are part of the system end up failing the system, then the reflection is not on the people, rather it's a reflection on the system."
Greenfield said the system was unfair, painting candidates as having committed wrongdoings, as opposed to minor accounting mistakes. "Every time one of these things happens, our very capable reporters...they blow it up," he said, pointing to the press section in the City Council chambers to illustrate his point (Greenfield repeatedly gestured toward the press section and referred to stories that look like more than they really are).
Loprest refuted his contention about CFB violations. "Many of these things are more akin to parking violations," she said.
"I don't think it's fair, it's very high stakes," Greenfield said, interrupting Loprest and insisting that CFB violations are not as "benign" as parking tickets. "To compare it to parking tickets, I don't think that's really fair because you're a government agency and the implication is that these people are engaged in some sort of wrongdoing and it gets blown out of proportion." He pressed the point that the CFB's audit process is in fact discouraging electoral participation, particularly for first-time candidates, and needs to be simplified.
Although Loprest pushed back, she did concede near the end of the hearing that the process could be better and that the CFB was already taking steps to that end. "One of the things we're engaged in right now is a review of our audit processes in order to to make the audit process simpler and more streamlined," she said.