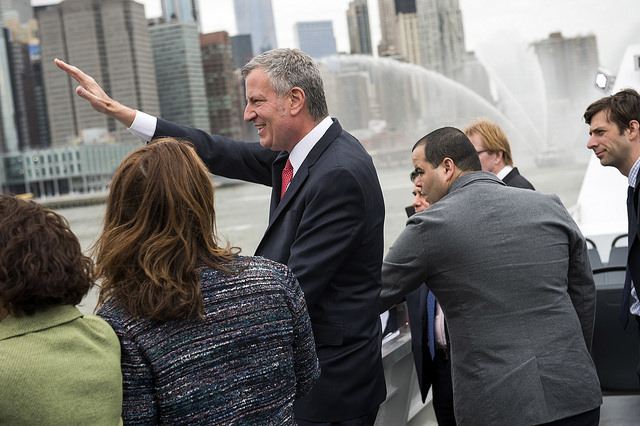 Mayor de Blasio (photo: Ed Reed/Mayor's Office)
---
Candidates in the running for Mayor in this year's municipal elections filed their latest fundraising and expenditure reports with the New York City Campaign Finance Board on Monday. Mayor Bill de Blasio, the Democratic incumbent, leads the pack with more than $2.5 million in his campaign account, while those seeking to unseat him -- Democrats, Republicans, and others alike -- lag behind in terms of cash-on-hand. Those other candidates have shown varied levels of success in fundraising, and have approached spending their money differently as well. Several mayoral candidates have their eyes on the threshold for achieving public matching funds from the city's Campaign Finance Board and the raise and spend bar for eligibility in the city-sanctioned primary debates.
With just four months till the September primary, candidates have begun to step up their fundraising efforts in order to pose a strong challenge to a mayor who is enjoying relatively comfortable polling numbers and is now able forge ahead with fundraising for the general election, having hit the maximum he can spend on the primary, with anticipated public matching funds.
De Blasio posted a $669,174 fundraising haul in the last two months and spent about $384,646. (The CFB requires campaign disclosure reports every two months in an election year.) He has raised $4.3 million and spent $1.8 million in total, leaving him with roughly $2.6 million in cash on hand. De Blasio has also consistently touted his participation in the CFB's public matching funds program, which matches qualifying small dollar contributions up to $175 at a 6-to-1 ratio. The mayor's latest numbers, combined with matching funds, put him over the threshold for the amount he can spend in the primary -- the limit is $6.96 million for mayoral candidates for each the primary and general -- and de Blasio can now begin to fund-raise for the general election.
"Our campaign's focus on grassroots, small-dollar donors has powered us to more than 11,000 contributions, and we are now fully funded for a Primary campaign," said Elana Leopold, finance director for de Blasio's campaign, in a statement. "Under Mayor de Blasio, crime is at record lows, jobs are at record highs, and the City is building affordable housing at a record rate. New Yorkers want to keep that progress going, and that is why so many people from all five boroughs are supporting our campaign."
At least four other candidates are running in the Democratic primary, but none has shown significant fundraising prowess. Two of the candidates are relatively known quantities - Sal Albanese, a former City Council member and a mayoral candidate in the 2013 race; and Bob Gangi, a veteran police reform advocate. Both Albanese and Gangi are vocal critics of the mayor -- with Albanese focused on the mayor's ethics and management, and Gangi focused on the mayor's policing policies as well as affordable housing and other programs.
Albanese has raised $82,838 so far -- $26,852 in the last filing period -- and spent $5,920 in total. Gangi has raised $6,404 for his campaign and personally loaned himself another $45,000. Having spent about $4,000, he has $47,491 in his campaign account. The two other contenders, retired FDNY lieutenant Kevin Coenen and entrepreneur Colin Slattery, have barely made a mark in fundraising.
On the Republican side, the candidate closest to de Blasio in fundraising is Paul Massey, a real estate executive who recently moved from Larchmont, Westchester to the city to run for mayor. Massey, who ran a commercial property sales business throughout the city and is also spending a lot of his own money on his campaign, raised $555,786 the last two months, but spent $1.3 million in the same time.
Massey has raised $3.03 million since the start of the race, and has personally loaned his campaign about $2.7 million, of which he's repaid $1.1 million. But his runaway spending, totalling $3.7 million, has left him $607,963 in campaign funds. A moderate, Massey has promised to incorporate ideas from across the political spectrum and has the backing of the Independence Party. He's vowed raise and contribute enough of his own money so that his campaign will never want for funds, but he is also spending at an unmatched clip, with the primary several months off and things just heating up.
"I am pleased with how our fundraising is going. I am the only candidate not using taxpayer funds, and I am not beholden to special interests," Massey said in an email blast.
The only other seemingly viable Republican candidate, Assemblymember Nicole Malliotakis, just recently entered the race and began to fund-raise. Within the three weeks that she's been running leading up to the recent filing deadline, she raised $94,624 and spent just $570. She also owes $12,000 to a marketing and polling firm. But Malliotakis is also a participant in the public funds program, meaning she will have to raise far less than Massey and still be able to be competitive. As the Staten Island Advance recently reported, Malliotakis used to bash the matching funds program as a misuse of taxpayer money.
Malliotakis has some name recognition and a base of support as an elected official. She also has a record of serving in public office, though it is unclear how much her legislative record will help her. She is decidedly more conservative than Massey, which could help her in the Republican primary but make her less viable in a general election. Fundraising, political ideology, general election viability, and other factors are being considered as Republican and Conservative county parties make their endorsements.
In an email touting her fundraising numbers, Malliotakis was confident she would meet the thresholds for the public funds program. "While I am extremely happy with our results and the potential they show, I am also well aware that we have a lot of catching up to do to match the stockpile of 'pay-to-play' donations in Bill de Blasio's campaign coffers," she said. "While he'll continue to be funded by the special interests and the business as usual crowd, my campaign will remain focused on donations from hard-working New Yorkers who share the core belief that Bill de Blasio and his progressive policies are progressively bad for New York."
Businessman Roque "Rocky" De La Fuente, a California native, moved to New York in April to run for mayor as a Republican. De La Fuente previously ran a longshot presidential campaign as a Democrat. He has raised $40,240, lent himself another $250,000 and spent about $2,000. He has $265,700 in cash on hand. Darren Aquino, an actor and disability rights activist, is also running on the Republican line but has raised no more than $1,800 since the start of the race, spending a little more than half that amount.
A number of independent candidates have also joined the race, most prominent among them being Richard "Bo" Dietl, a private detective and former NYPD officer with a brash Trumpian temperament. Dietl first sought to run in the Democratic primary but made an error on his registration, forcing him to run as an independent. He also attempted to get a waiver from Republican County leaders to run on the Republican line but ran afoul of the party after making apparently racist remarks about First Lady Chirlane McCray at a GOP candidate forum in Manhattan. Dietl raised $169,850 over this last filing and spent $150,818. He has raised $580,058 overall and spent $227,276, leaving $346,782 at his disposal.
Eight other independents are running for mayor as well, but most have little or no money to their name. The exception is Michael Tolkin, a millennial candidate who lent his campaign about $100,000 and raised about $2,000. He has about $15,000 left to use, however, after spending about $54,000 and owing another $32,000 for consulting fees and campaign literature.