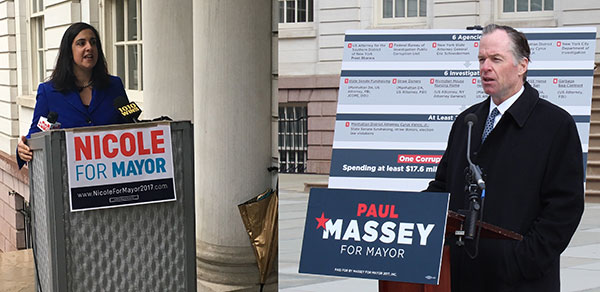 Malliotakis, left, & Massey (photos: Samar Khurshid/Gotham Gazette)
---
The Republican field for the mayor's race has winnowed down to two major candidates -- real estate executive Paul Massey and state Assemblymember Nicole Malliotakis -- and a few longshot contenders with a minimal presence on the campaign trail. With just four months till the September primary and Malliotakis only in the race a few weeks, early signs indicate Republican Party officials may be split on Massey and Malliotakis while a contentious primary battle has quickly emerged.
Republican county leaders had hoped that they could rally around a single candidate and avoid the kind of primary that defined the 2013 race, one that they believe will only serve to strengthen the incumbent Democrat, Mayor Bill de Blasio, who already has a strong lead in fundraising and a distinct advantage in the city's lopsided 6-to-1 voter registration in favor of Democrats. (De Blasio must of course first make his way through his own primary, where he is facing several candidates who have not established especially robust campaigns thus far.)
As of mid-May it appears that either Massey or Malliotakis will be the GOP nominee for Mayor, and the two have been jockeying for county party endorsements, as well as the ability to run on other ballot lines. Massey has secured the Independence Party line, Malliotakis the Conservative Party line.
GOP leaders rejected bombastic independent candidate Bo Dietl, a private detective and former police officer, refusing to hand him a waiver to run in the Republican primary (Dietl is still running as an independent and could take votes from the eventual Republican nominee). And Michel Faulkner, an outspoken Harlem pastor and former professional football player, jumped out of the mayor's race to instead run for city comptroller against Scott Stringer, the Democratic incumbent. Another longshot candidate, actor and disability rights activist Darren Aquino, has little presence on the campaign trail and minimal campaign funds. Roque "Rocky" De La Fuente, a California businessman and a Democratic presidential aspirant last year, moved to New York last month to run for mayor, but hasn't displayed the political credentials to be able to shake up the race.
Massey and Malliotakis come from different wings of the Republican Party, with Massey a moderate billing himself as a "non-political" technocrat open to "ideas from across the political spectrum," in the Michael Bloomberg mold; while Malliotakis -- as evidenced by her support from the Conservative Party -- is further to the right, though she has also claimed to not easily fit into any ideological orthodoxy.
Led by Malliotakis, the two have begun to snipe at each other, at news conferences and in public statements, a precursor perhaps to a more divisive campaign than the party hoped to see. Thus far, most of the negative campaigning has come from Malliotakis, who has said the mayoral race has lacked energy so far and promised to energize the electorate. She implies that Massey is not a true Republican, hitting him for making the maximum donations to Mayor de Blasio and Comptroller Scott Stringer's 2013 campaigns (Massey also donated to Republican mayoral candidate Joe Lhota).
After the release of the latest Quinnipiac University poll on Wednesday, which showed de Blasio beating both candidates handily -- he received 64 percent of the vote against 21 percent for Malliotakis in a head-to-head race and 63 percent against Massey's 21 percent -- Malliotakis' campaign took an opportunity to undercut Massey, even calling for him to end his campaign.
"Assemblywoman Nicole Malliotakis entered the race at the beginning of May, so the results of today's poll don't mean much," said Rob Ryan, campaign spokesperson, in a statement. "When voters get to know Nicole the numbers will change. What is obvious from the poll is that after months in the race, too many consultants to count and sky high expenditures Paul Massey's candidacy hasn't gained traction, that's sad. He should drop out of the race now."
Massey, on the other hand, has said that Malliotakis lacks the experience to be the city's top executive. His campaign points out that one of Malliotakis' top donors, Margo Catsimatidis (wife of John, who ran for the Republican mayoral nomination in 2013), also gave the maximum donation to de Blasio this year. Pointing to the Quinnipiac poll, the campaign noted that 59 percent of Staten Island residents haven't heard enough about Malliotakis even though she has served eight years in office representing parts of the borough.
"Paul Massey is building a coalition campaign," said Mollie Fullington, a campaign spokesperson. "He is the Independence Party nominee, expects to be the Republican Party nominee, and he has a vision for this city and the ability to execute it. He is the only candidate who can beat Bill de Blasio in November."
At this early stage in the race, the two candidates have yet to produce comprehensive policy platforms. Massey's campaign has released detailed policy positions on a few key issues while Malliotakis, who has been in the race less than a month, has said she will do so soon. Though she has a voting and legislative record where Massey does not, of course.
Massey says he is "independent-minded," rarely using the word "Republican" but styling himself on the model of former Mayor Michael Bloomberg, a billionaire technocrat and fusion candidate who successfully ran on multiple party lines to consolidate votes. In his attempt to earn Republican support, Massey has earned the backing of the Queens County Republican Party. On Monday, Faulkner endorsed Massey, who reciprocated with an endorsement of Faulkner for Comptroller. It's unclear what help this may give to Massey, but Faulkner is an energetic campaigner who has been on the attack against de Blasio.
Malliotakis leans more conservative than Massey and proclaims that she is "the real Republican in the race for Mayor." She has a degree of institutional support on her side. Her colleague, Staten Island Assemblymember Ron Castorina Jr., had originally endorsed Massey but withdrew his support and endorsed Malliotakis instead. Castorina was also recently named the new chair of the Staten Island Republican Party and it is likely that the borough's party apparatus will get behind Malliotakis.
On Wednesday, Malliotakis received the Conservative Party endorsement. Among her top donors in early fundraising is the Sergeants Benevolent Association PAC, the campaign arm of the NYPD sergeants union, portending perhaps another key endorsement from its parent group. Malliotakis also received donations from billionaire supermarket mogul John Catsimatidis and his wife. Catsimatidis, who chose not to run himself this year (Malliotakis had said she'd drop from the race if he did), could potentially play a part by choosing to throw his immense resources into the mix.
J.C. Polanco, an attorney and Republican political consultant, believes the primary race will be "contentious" and that Massey and Malliotakis are working hard to excite the Republican base across the city. "[Malliotakis] brings this across-the-city sort of understanding of New York City Republicanism," he said, also acknowledging that he's been a close friend of the Assembly member for years, "of what it's like to be a Republican in New York City, what it's like to be in the minority in the Assembly and work on the issues that we care about and she has a following." Polanco donated $50 to Malliotakis' mayoral campaign and is exploring a run for public advocate himself.
Polanco says of Massey, "On the other hand you have someone that has the experience in business, that is raising enormous amounts of money and is also making the rounds, something that many New York Republicans are used to: the businessman Republican. So you're gonna have a battle for the heart and soul of the Republican Party in New York City."
Pointing out that Republican voters in the city tend to be ideologically diverse, he said it was incumbent on the two candidates to show broad appeal. "If [Massey] can raise the money to connect with voters and explain how his positions are in line with ours, he'll do well," Polanco said. "I think that by default Nicole Malliotakis is that nitty-gritty New York Republican and connects immediately with New York voters because she has a voting record. She's from Staten Island, which by the way is the bastion of Republicanism. So she has some advantages. No question Massey has his advantages. So this is gonna be a really good opportunity for there to be a battle of ideas between both candidates."
And short of both candidates slinging mud at each other, Polanco said a competitive primary will not hurt the party's chances down the line. "I really hope they focus just on how they can be the best mayor of New York City, how they can represent our party moving forward," he said. "I don't think we run the risk of it hurting the party unless they get into the gutter."
The two candidates' positions on certain campaign issues, gleaned from public statements and campaign appearances, are largely similar. They are both fiscal conservatives, generally in keeping with the philosophy of national and New York Republicans. On their many criticisms of Mayor de Blasio, they often converge -- they have both called out the mayor's record on crime with similar rhetoric; they've both criticized the mayor's handling of the city's schools and homelessness; they both believe that jails should remain on Rikers Island, though reformed and modernized. On other issues, their views are more divergent, however, such as New York's status as a "sanctuary city" and some social issues -- Malliotakis voted against same-sex marriage in the Assembly in 2011, for example.
They have also shown a different approach to the use of taxpayer funds for their respective campaigns, though Malliotakis -- who plans to accept public matching funds -- used to criticize the city's campaign finance system as a waste of taxpayer dollars. Massey is not accepting matching funds, in part so that he does not have to abide by some of the accompanying rules of the campaign finance system, particularly spending limits.
A look at how the two leading GOP mayoral candidates stack up as of mid-May:
| | | |
| --- | --- | --- |
| | Nicole Malliotakis | Paul Massey |
| Bio | Malliotakis, 35, has referred to herself as the "millennial" candidate and is the youngest candidate, and the only woman, in the mayoral race. A daughter of Cuban and Greek immigrants, she believes she can pull broad support from across the electorate, particularly Hispanics who tend to favor Democrats. Malliotakis grew up on Staten Island where she attended New Dorp High School. She attended Seton Hall University, where she received a bachelor's degree and later attained an M.B.A. from Wagner College. | Massey, 56, is Irish Catholic and originally from Boston. He models himself as an "independent-minded" Republican in the vein of former Mayor Michael Bloomberg. He recently moved to the city from Larchmont in Westchester county, though he ran a business across the five boroughs for decades. Massey has a B.A. in economics from Colgate University. |
| Public Safety | Malliotakis has criticized Mayor de Blasio and the New York City Council for reducing penalties for low-level offenses including public urination. These offenses, she says, have increased in the city and contributed to a decline in quality of life. She supports the use of stop-and-frisk policing, insisting that the NYPD should have discretion in deciding when to employ the tactic. She believes the mayor has shown inadequate support for the NYPD and that interference in its functioning puts officers in danger. | Massey has attempted to make public safety a prominent campaign issue. He opposes the decriminalization of low-level offenses, has decried worsening quality of life in the city, and believes the use of stop-and-frisk should be left up to NYPD discretion. Additionally, he has pledged to provide 24/7 uniformed police protection to religious institutions and religious-affiliated community centers during periods of active threat and supports community policing. |
| Homelessness | Malliotakis has criticized the mayor's plan to put 90 new homeless shelters across the city. | Massey says he will launch an immediate review of the city's homelessness policies and convert unsafe shelters into thousands of supportive housing units. He would also focus on programs that preemptively help families avoid homelessness. He has pledged to improve the pace of affordable housing development. |
| Economy, jobs, taxes & the city budget | Malliotakis has critiqued the $12.2 billion or 17 percent increase in the city's budget under the current administration. She opposes de Blasio's "tax and spend" policies and is pushing for increased spending on vocational training programs instead of the mayor's proposed expansion of early childhood education. | Massey has vowed to reduce regulations on small businesses. He wants to promote job growth by simplifying the city's permitting processes, eliminating fees, and proposes cutting business and property taxes. He also wants city programs, such as those for the homeless, to be linked with job training, internship and mentorship programs. He has decried the spending increases under de Blasio and promised better fiscal management. |
| Campaign Finance | Malliotakis has said she opposes public financing of elections but she will be participating in the Campaign Finance Board's public matching funds program, which matches small dollar contributions up to $175 at a 6-to-1 ratio with public funds. | Massey has raised millions in donations, and personally loaned his campaign millions more. He's also spent millions. He is opposed to using public funds for his campaign, going so far as to call on Mayor de Blasio to eschew participation in the program. |
| Immigration | Malliotakis' campaign is based on her opposition to the administration's policies towards undocumented immigrants, whom she calls "illegal," and she is critical of the city's sanctuary city status. She has been particularly opposed to the city's legal assistance for immigrants facing deportation and criminal charges. She also opposes the city's attempts to limit cooperation with federal immigration officials and believes that the list of offenses that trigger that cooperation should be expanded. She has also sued the city to prevent the destruction of records from the immigrant-friendly IDNYC municipal identification program, which she has argued could pose a national security threat. She does, however, support a path to citizenship for law-abiding undocumented immigrants. | Massey has not argued against New York's sanctuary city status, stating that it should remain as it is, and has opposed President Trump's travel ban on immigration from certain Muslim-majority nations. But, he supports cooperation with federal immigration officials and has repeatedly said in the past that immigration policies need to be defined at the national level. He also supports a path to citizenship for undocumented immigrants. He has attempted to distance himself from President Trump's immigration policies and proposals. |
| Rikers Island | Malliotakis opposes the recently announced plan to close the Rikers Island jail complex. She insists, rather, that there must be sweeping reforms under a new commissioner for the Department of Correction. | Massey believes that Rikers Island should be reformed and modernized, with new facilities built on the island rather than across the five boroughs. |
| Education | Malliotakis has said de Blasio's Renewal Schools program has shown few results. She was also critical of Governor Andrew Cuomo's free college tuition plan and has been advocating for the state to expand its Tuition Assistance Program to more families. | Massey criticized the mayor's Renewal Schools program and his opposition to charter schools. He supports lifting the city's cap on charters, providing an education tax credit, expanded vocational training, and increasing the number of specialized high schools. He also wants to bring back grades for school performance and implement teacher merit pay and performance incentives. His education platform includes creating Individualized Education Programs for every single student and providing financial literacy and life skills training in schools. |
| Housing | TBD | Massey is eager to see reinstatement of the 421-a tax credit for real estate developers to encourage the building of housing, including some affordable housing. He has said he will lift regulations that are "stifling new housing construction" and will allow development on unused city land. He also wants to decentralize zoning decisions from City Hall to communities. |
| Transit infrastructure | TBD | Massey has promised to invest in infrastructure across the five borough to reduce traffic congestion and vows a "total ground-up overhaul of city traffic management policies." |