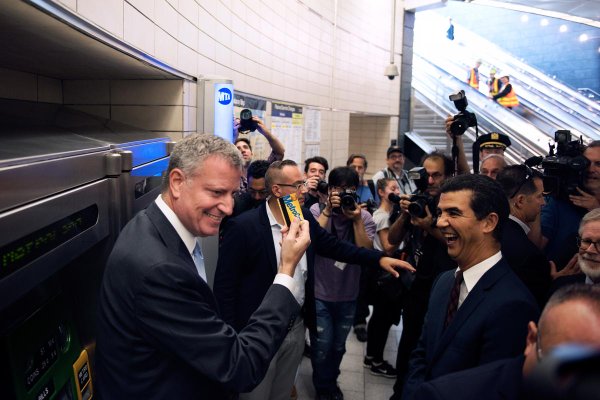 Mayor de Blasio (photo: Mayor's Office)
---
Mayor Bill de Blasio said at a news conference on Wednesday afternoon that he doesn't take the subway very often because New York City residents want him to use his time as effectively as possible.
"My life and schedule are well known and what it would do in that case is add a whole lot of time to moving around and that's not in the public's interest," de Blasio said, when Gotham Gazette asked why he doesn't lead by example and use the subway to commute to work, given that de Blasio regularly implores New Yorkers to avoid driving and take mass public transit whenever possible. "Every minute of my day has to be used effectively on behalf of the people and that's literally seven days a week, 365 days a year," the mayor continued, speaking at a news conference about the city's plans to crack down on parking placard abuse. "There's no day when I'm not working on this job in some form or fashion," the mayor said.
Often while promoting the city's Vision Zero program aimed at reducing traffic fatalities, de Blasio says New Yorkers should use public transportation as much as possible. Just last week, at a May 17 news conference in Queens, Gotham Gazette asked de Blasio what he would tell New Yorkers choosing between driving to work and taking the subways, which have been in terrible shape of late. "I would always say don't drive," the mayor said. "It's as simple as that."
De Blasio did acknowledge that in certain parts of the city that are underserved by mass transit, driving may be necessary. "But to the maximum extent humanly possible, don't drive. It's a bad scene...So, my point is, even though there are problems in the subway system I think they pale in comparison to problems in our roads. Avoid driving whenever humanly possible."
"For our subways – look, there's work that has to be done but there's still a hell of a lot more reliable, I think, than driving on the streets," he added.
De Blasio's advice conflicts with his own daily commute, which often involves travelling in a motorcade with a security detail from Gracie Mansion on the Upper East Side to his gym at the Park Slope YMCA, then to City Hall or another destination. Just this week, the mayor's motorcade drove him to Park Slope and then back up to the Bronx, where his administration is holding the weeklong "City Hall in Your Borough."
Although the Second Avenue Subway line launched a few months ago, adding more connections to the Upper East Side, including one fairly close to Gracie Mansion, it hasn't changed de Blasio's commuting habits. Nor has it provoked him to ride the subway even slightly more sporadically - the mayor is an infrequent subway rider, though he says he rides it often enough to understand the deplorable current conditions and that his experience riding it in the 1980s and '90s also helps him get straphangers' plights.
The mayor's gym routine has also invited criticism and ridicule from City Hall watchers and political opponents, many of whom say the mayor, who often arrives at City Hall between 10 a.m. and 11 a.m., is distracted from his official duties and an ineffective leader. Republican mayoral candidate Paul Massey has called de Blasio "lazy" for his late arrivals at City Hall. Others point out that the mayor is not only not being efficient with his time (he argues that he works in the car and even at the gym), but also setting a bad example in terms of both transportation type and unleashing unnecessary, environmentally-harmful emissions.
De Blasio's comments come at a time when commuters are increasingly aggravated over the sorry state of the city's subways, which experience persistent delays and breakdowns. The mayor constantly seeks to remind people that the MTA is a state-run agency and that Governor Andrew Cuomo appoints 6 of its 14 members and its chair, and has pushed for increased resources for the ailing transit system. At the May 17 news conference, de Blasio reiterated that point. "I think the MTA needs to recognize that they've got to do something quick here...They have to make sure the allocation of resources in the region is fair," he said. "In number terms, the number of people riding our subways dwarfs everything else in the region that the MTA does."
"And there are obviously physical problems that have to be addressed," he added, saying that the MTA's recently announced emergency plan for the subways was helpful. "But I think the MTA needs to come forward with an even bigger plan to shift its resources towards this problem of making sure the day-to-day commute works better...The big question is how you prioritize your resources."
Governor Cuomo, on the other hand, has been slow to take responsibility, insisting that historic disinvestment in the system has caused it to crumble (Cuomo has been in office for six-and-a-half years), and that he has limited control over the MTA. On Tuesday, Cuomo proposed an international competition, with $1 million for each of three categories of solutions to the MTA's most intractable problems, including an outdated signal system and old subway cars.
The mayor does ride the subway on occasion, sometimes, in his telling, as a way to take the temperature of the city. "There are times when I take the subway because I just obviously like to see what's going on," he said Wednesday, adding that he will hop on when heading to Midtown or during the holidays, when the subways make for a quicker journey. He also said he spent 20 years as a subway commuter before buying a car in 1999. "But in the end people wanna make sure that I'm getting things done for them all the time and so that's the first imperative here," he insisted with regard to the question of the example he's setting by rarely taking the subway.
"I have plenty of understanding of life in the subway and I still use it consistently enough to keep a good sense of things," he added. "But no, the number one thing I owe the people is good use of my time."
with reporting by Ben Max