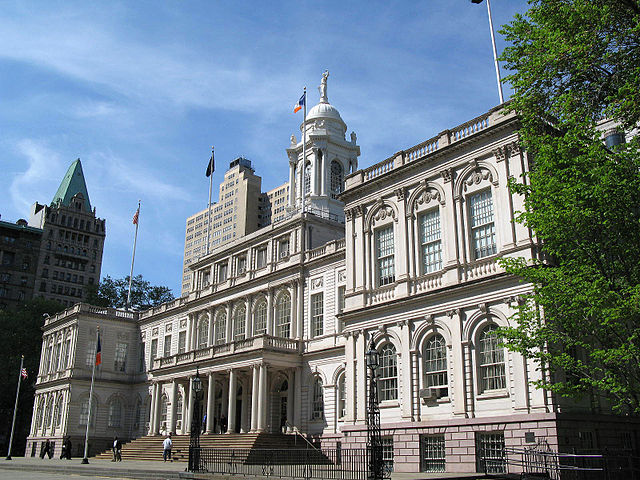 New York City Hall
---
What to watch for this week in New York politics:
It's a fairly quiet post-holiday week in New York. The state Legislature is not in session in Albany this week. Legislators will return to the Capitol on Monday, June 5, with 11 sessions days to go over three weeks. For his part, Governor Andrew Cuomo continues to hold events around the state - he starts his week on Staten Island - see below for details.
The City Council concluded budget hearings last week on Mayor Bill de Blasio's $87.4 billion executive budget proposal. The two sides will now move to closed-door negotiations before coming to agreement on a final spending plan before the start of the next fiscal year on July 1. [Read more from Gotham Gazette here.] The Council does have a few committee hearings scheduled Tuesday.
As always, there are a variety of other events to be aware of - see our day-by-day rundown below.
***Do you have events or topics for us to include in an upcoming Week Ahead in New York Politics?
e-mail Gotham Gazette editor Ben Max: This email address is being protected from spambots. You need JavaScript enabled to view it.***
The run of the week in detail:
Tuesday
At the City Council on Tuesday
-- The Subcommittee on Zoning and Franchises will meet at 9:30 a.m.
-- The Committee on Youth Services will meet at 10 a.m. to discuss a proposed law relating to a "disconnected youth workforce development program."
-- The Committee on Technology and the Subcommittee on Zoning and Franchises will meet jointly at 11 a.m. for an oversight hearing regarding the "Spectrum Franchise Agreement."
-- The Subcommittee on Planning, Dispositions, and Concessions will meet at 1 p.m.
At 9:30 a.m. Tuesday, Public Advocate Letitia James will speak at the Brooklyn College Commencement Ceremony. At 2 p.m., James will appear at a news conference regarding NYCHA, along with U.S. Rep. Carolyn Maloney and Council Member Ben Kallos.
At 11 a.m. Tuesday, Mayor de Blasio will be in midtown Manhattan to speak at the "Jimmy Breslin Way" street renaming ceremony. At 2 p.m., the mayor will speak at the Fair Workweek Rally at City Hall, and at 4 p.m. the mayor will hold a public hearing and sign 28 pieces of legislation.
At 12 p.m. Tuesday, Brooklyn Borough President Eric Adams will host a press conference at the Long Island Rail Road's East New York station to "spotlight the poor conditions his administration has observed" and to renew "his call for the Metropolitan Transportation Authority (MTA) to address historic inequities of infrastructure investment in Brooklyn's communities of color."
At 12:30 p.m. Tuesday, Gov. Cuomo will make an announcement at The Vanderbilt on Staten Island.
At 3 p.m. Tuesday, Campaign for Children will hold a rally on the steps of City Hall to "urge the Mayor and City Council to restore $16 million for after-school programs for 6,600 elementary school children."
At 7 p.m. Tuesday, the Four Freedoms Democratic Club will announce their endorsements for the coming elections. The mayoral endorsement will be voted on; Mayor de Blasio, Sal Albanese, Robert Gangi, Kevin Coenen, and Collin Slattery are expected.
Wednesday
At 8 a.m. Wednesday, Crain's will host its 2017 "Business Breakfast Forum" at the New York Athletic Club on Central Park South. New York City Economic Development Corporation President and CEO James Pratchett will speak on the "philosophy of economic development, his priorities for the next year, and his advice for businesses seeking subsidies or other city assistance."
On Wednesday at 8:30 a.m. at Penn Station, "Federal and local elected officials; activists and groups will blast Donald Trump's "public private partnership" infrastructure scheme; which would lavish massive tax subsidies on Wall Street billionaires while turning over public infrastructure such as Penn Station; bridges; roads; and even subways. The groups and elected officials will instead promote the #MillionsOfJobs Coalition's campaign to create millions of jobs by repairing and building infrastructure including mass transit; roads; bridges; water systems; and public housing." Representative Nydia Velázquez and City Council Member Brad Lander will be among those participating, along with a variety of activist groups.
On Wednesday at 10 a.m., "Mayor de Blasio will make remarks on NYC Ferry's new South Brooklyn Route, which launches Thursday. After his remarks, the ferry will make a ceremonial first trip from Red Hook to Pier 11 in Manhattan. Return transportation will be provided, as needed. This event it open press. There will be Q-and-A."
At 10 a.m. Wednesday, the Department of Consumer Affairs will hold a public hearing regarding the implementation of the recently passed "Freelance Isn't Free Act."
At 10:15 a.m. Wednesday, the New York City Coalition for Adult Literacy will hold a rally demanding city officials 'baseline $12 million in the city budget for adult literacy. Public Advocate Letitia James will be among those who speak.
At 10:30 a.m. Wednesday, City Council Speaker Melissa Mark-Viverito will speak at the Construction Kick-Off Event for Hope East of Fifth Project at Our Lady of Carmel Church Hall.
At 12:45 p.m. Wednesday, schools Chancellor Carmen Fariña will present New York Historical Society's annual Children's Book Prize.
At 6 p.m. Wednesday, the Pegalis & Erickson Lectureship at New York Law School will host "Can We Identify Bipartisan Common Ground That Will Deliver Quality and Safe Medical Care to All Americans?" Topics will include "health disparities and burdens, legislative and policy challenges, and potential new models of care and payment." Panelists include Congressman Thomas Suozzi, Adam Herbst of New York Law School, and Pamela Brier of Maimonides Medical Center.
"On Wednesday, First Lady Chirlane McCray will travel to the Staten Island Mental Health Society to host the second of five Community Conversations across the City. The conversation will focus on mental health, including combatting stigma and supporting those struggling with addiction. She will be joined by Council Member Debi Rose and Deputy Mayor for Health and Human Services Dr. Herminia Palacio."
On Wednesday evening, Comptroller Scott Stringer will speak at the Communications Workers of America Local 1180 General Membership Meeting and at the Cobble Hill Association Annual Spring Meeting.
Thursday
At 8:30 a.m. Thursday, the New York Building Congress will host a "Public Building and Procurement Committee Hearing" featuring Tom McKnight, Executive Vice President of the New York City Economic Development Corporation.
At 9 a.m. Thursday, City Council Speaker Melissa Mark-Viverito, Council Members Ydanis Rodriguez and Carlos Menchaca, along with CUNY's Center for Puerto Rican Studies, the Dominican Studies Institute, Jaime Lucero Mexican Studies Institute, and the Hispanic Federation, will host the First Annual "Summit on Latinos" at Hunter College. The event will be "a forum to discuss the challenges and opportunities facing the Latino community in New York City and a discussion on our future," according to Council Member Rodriguez.
At 6 p.m. Thursday, Assemblymember Walter T. Mosley, City Council Member Laurie Cumbo, and District Leader Geoffrey Davis will hold a town hall to discuss public safety in Crown Heights and Prospect Heights during J'ouvert. The town hall will take place at P.S. 375.
At 6:30 p.m. Thursday, the New York City Bar Association will host "President Trump's Guantanamo: Views from the Legal Front," discussing President Obama's record on Guantanamo and predicting "where the Trump administration is headed." Panelists will include Brigadier General John Baker, Chief Defense Counsel for the Military Commission Defense Organization; Hina Shamsi, Director of the ACLU's National Security Project; and Adam Goldman, National Security Reporter for the New York Times.
Friday and the weekend
At 3 p.m. Friday, Housing Preservation and Development Commissioner Maria Torres-Springer will hold a talk at CUNY Graduate School of Journalism discussing "the impact of possible cuts to federal funding, which accounts for 86% of HPD's budget; the Housing New York Plan; streamlining the regulatory process for affordable housing; enforcement work to address housing quality and tenant protection; affordable homeownership; Mandatory Inclusionary Housing; the rezoning of East Harlem."
On Saturday and Sunday, JusticeWorksNY will host "A Conference for Progressive New York," at the Desmond Hotel in Albany. Featured speakers include Attorney General Eric Schneiderman; JustLeadershipUSA and #CloseRikers president Glenn Martin; Radhika Balakrishnan, faculty director of the Center for Women's Global Leadership at Rutgers University; J. Phillip Thompson, Associate Professor of Urban Planning at MIT; Climbing PoeTree; and Better Days.
At 9 a.m. Saturday, the New York Urban League Young Professionals will host "State of Young Black New York" at Medgar Evers College. New York Daily News writer and civil rights activist Shaun King will deliver the keynote. Other speakers include Congresswoman Yvette Clarke, State Senator Kevin Parker, Fox News host Eboni K. Williams, and others.
At noon Saturday, City Council Member Ydanis Rodriguez will host the 2017 "Tech Fair in the Heights" at JHS 52 Inwood. The fair will offer high school students interested in STEM to learn about career opportunities and meet professionals in STEM fields.
At 3 p.m. Saturday, Moms Demand Action will march across the Brooklyn Bridge to demand action on gun violence.
Concurrently, City Council Member Jumaane Williams and East Flatbush Village Inc will host the "Not In My Hood" anti-violence march in Brooklyn, followed by a health & resource fair. Several elected officials will be in attendance, including Public Advocate Tish James, City Comptroller Scott Stringer, and several Council Members, Assembly Members, and State Senators.
***
Have events or topics for us to include in an upcoming Week Ahead in New York Politics? E-mail Gotham Gazette executive editor Ben Max any time: This email address is being protected from spambots. You need JavaScript enabled to view it. (please use "For Week Ahead" as email subject).
***
by Ben Brachfeld and Samar Khurshid
@GothamGazette