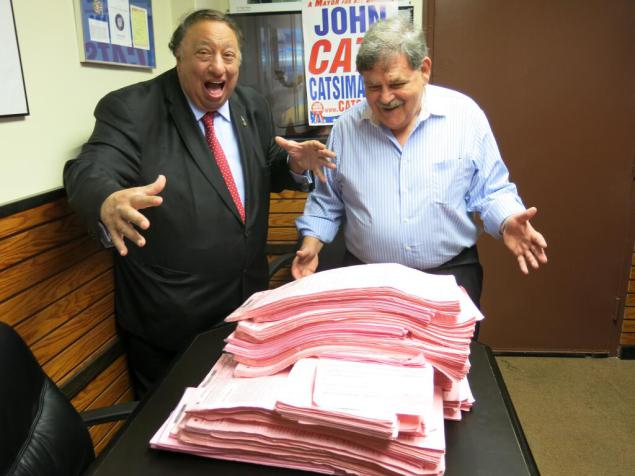 John Catsimatidis with his petitions in 2013 (photo: @JCats2013)
---
"Almost petitioning time!!!" tweeted Bill de Blasio's re-election campaign communications director, Monica Klein, on Friday afternoon. Klein isn't the only one excited and ready to go, as a key period begins Tuesday in the path toward September's primary elections and November's Election Day.
On Tuesday, June 6, New York City residents will start seeing more than the usual number of people on street corners with clipboards, asking them to sign petitions. Instead of the usual environmental non-profit representatives, they'll be from campaigns for public offices all around the city -- including, sometimes, candidates themselves trying to get on the ballot. In recent days, notices have gone out on social media, by email, and otherwise from campaigns, candidates, political clubs and others who activate for petitioning season and try to provoke others to do so as well.
The ballot petition process includes campaigns gathering the requisite number of valid signatures to get their candidate on the ballot, an essential step in running for office. Meant to enhance democracy and force candidates to show community support, it is a somewhat complicated process that some say is outdated.
What is the ballot petition process?
"In order to run for office in New York, for most public offices, one needs to petition to get on the ballot," says Jerry Goldfeder, special counsel at Stroock & Stroock & Lavan LLP and election law professor at Fordham Law School. Campaigns will begin "petitioning to get on the primary election ballot: Democratic primary, Republican primary, and so on," Goldfeder said. "They need a certain number of signatures from the people in their district in order to get on the ballot, so that their name appears in the September 12th primary."
Signatures must come from voters registered in the district covered by the public office the candidate is running for, and they must be members of the party whose nomination the candidate is seeking. These requirements lead campaign representatives to ask people their residency and party affiliations on the street, taking their word for the answers, and therefore creating a need for a significant buffer in signatures collected to account for those that might be invalid.
How many signatures are required?
It depends. Candidates need either 5% of party members in their district, or a fixed number that varies by position they are seeking, whichever is fewer. This is done so that candidates from smaller parties, such as the Libertarian Party or Rent is Too Damn High Party, can still get on the ballot even if the total number of registered party members in the district is smaller than the fixed minimum alternative.
Major party candidates, on the other hand, almost always go by the set number. This number differs depending on the size of the electorate that designates the winner. For example, only residents of the relevant City Council district can vote in the election for City Council member, so candidates for City Council face a fixed minimum of 450 valid signatures. Meanwhile, elected positions that are voted on by the entire city of New York, such as mayor, have a fixed minimum of 7,500 valid signatures to get on the ballot.
Is it easy to get on the ballot?
Not exactly. The rules for collecting and filing ballot petition signatures are very specific and strictly adhered to. Sarah Steiner, former chair of the Election Law Committee of the Association of the Bar of the City of New York, says that while the petitioning process itself is reasonable on its face, "in reality, the amount of time, energy, and money that it takes up from campaigns is way out of proportion, and some of the rules are so arcane [and so intricate]…in how you have to do everything, including what has to be stapled to which piece of paper."
"It's a minefield," Steiner said.
In fact, people spend thousands of dollars to get on the ballot, and sometimes they don't know if they made it on until it's too late to do anything. Steiner provided an example in which judicial delegates collected 4,000 signatures for a race that only needed 500. When they submitted their petition, however, a clerical error, and another one on the only allowed re-submission, caused the Board of Elections to throw the entire petition out. It was only after the Court of Appeals reversed the ruling that the candidate was allowed on the ballot. "They would not have gotten on the ballot because of a typo on the cover sheet, despite having eight times as many signatures as needed," Steiner said in a nod to the problems with the system.
What will petitioning look like?
From June 6 to July 13, designated campaign representatives will function as "witnesses," handing out forms and verifying details as they collect signatures on their petition documents. Witnesses sign the petition separately and are liable if the petition contains any false information. Petition forms are then put together in a manner that is "securely fastened." The New York State Board of Elections actually makes this specific distinction, and Steiner recommends in her presentation on how to get on the ballot that petitioners use reinforcements on any hole-punched pages, as any rips by the holes mean that the page is not "securely fastened" and therefore can be invalidated.
Once the petitions are filed, the candidate will find out whether or not they will be on the ballot between the end of July and the end of August, depending on any potential litigation. Opposing campaigns often try to knock rivals off the ballot through petition challenges, in a process that regularly leaves under-funded insurgent candidates not backed by a party establishment at an additional disadvantage. If everything is correctly filed and verified, the candidate's name will appear on the primary ballot come September 12.
It's a somewhat complicated and time-consuming process, but it's not without its merit. City Council Member Costa Constantinides, a Queens Democrat, says that he views it, "in a positive way…I [have] an opportunity to interact with the residents of my district, whether that's door-knocking, whether that's train stations, and then [I'm] able to take those concerns and directly work on them."
[Related: See who is running in our regularly updated list of Candidates for the 2017 New York City Elections]
***
by Thomas Duda for Gotham Gazette
@GothamGazette
Note: this article has been corrected to state that 450 (not 900) valid signatures are required to run for City Council.