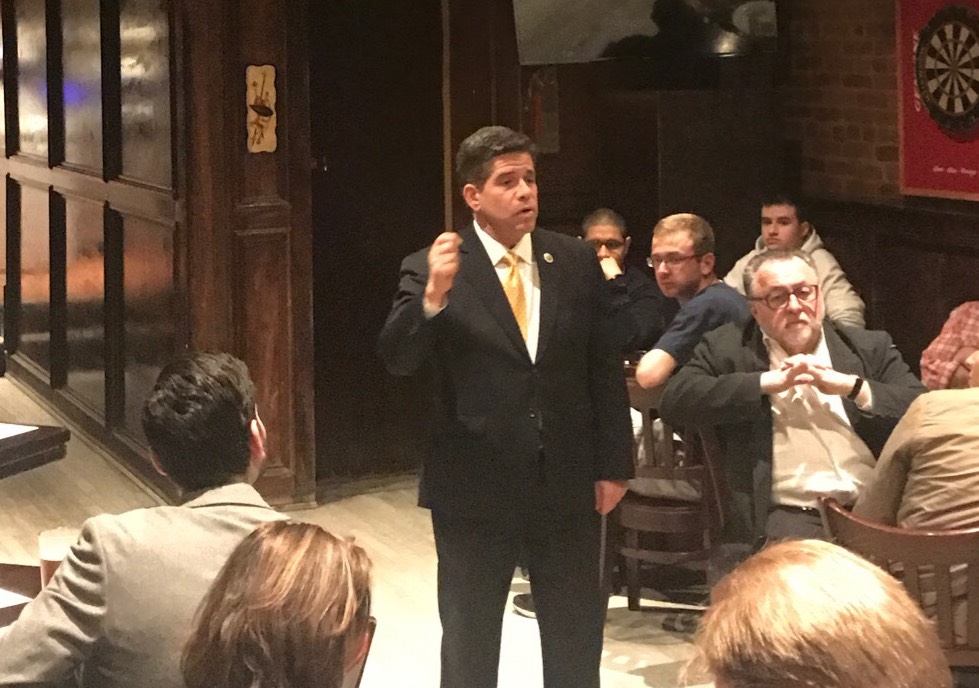 City Council Member Gentile (photo: Sam Raskin)
---
Brooklyn Democratic office-seekers pitched their candidacies to the Brooklyn Young Democrats (BYD) club at a forum the group hosted in Bay Ridge Wednesday night.
The event was part of the candidate and club endorsement circuit leading up to the September primary elections for City Council and other offices, including Mayor.
The BYD meeting featured candidates for several offices, but was centered around the race for City Council in District 43, which includes parts of Bay Ridge and Bensonhurst, along with Bath Beach and Dyker Heights. Several Democrats and Republicans are attempting to replace outgoing Council Member Vincent Gentile, who is term-limited and running for District Attorney.
Three of the four declared Democratic candidates -- Justin Brannan, Khader El-Yateem and Kevin Peter Carroll -- made their cases to the BYD crowd, the members of which could be helpful in terms of campaign volunteers and general support. Due to the volume of candidates who participated in the event and time constraints, all speakers were given just three minutes to speak, followed by three questions from attendees. The candidates spoke predominantly about themselves and their general outlook, while questioners brought up specific policy issues.
Gentile kicked off the evening by promoting his District Attorney candidacy, addressing the roughly 50 attendees.
Brannan, a musician turned local activist and government aide, followed his boss, Gentile -- for the past decade, Brannan has mostly worked in Gentile's Council office. He also spent a recent spell in the de Blasio administration, doing intergovernmental affairs at the Department of Education. He also worked on the effort to see universal pre-kindergarten funding come to the city through Albany.
"As a progressive, the cornerstone of progressive politics is making government work," he said. Brannan, who is well-known in Southern Brooklyn, especially Bay Ridge, where he has led the local Democratic club, chronicled his multifaceted pre-political life, highlighting union organizing as the endeavor that first piqued his interest in electoral politics. Brannan also brandished his progressive credentials on issues such as animal rights and the promotion of inclusivity in the diverse Southern Brooklyn community.
The former punk-rocker also distanced himself some from Gentile, who had since exited the forum, but who has endorsed Brannan as his successor. An audience member asked Brannan about Gentile's 2013 vote against the Community Safety Act, which put further restrictions on racial profiling by the NYPD and created the NYPD Inspector General. "I'm running to replace Councilman Gentile; I'm not Vince Gentile," he said to scattered applause. (A source from the Brannan campaign later said the questioner was aligned with the El-Yateem camp.)
Afterwards, Carroll, who works for City Council Member Stephen Levin, tried to sell himself to the group. Carroll made heavy use of simple sloganeering to brand himself as a young, fresh face and someone who would "stand up" as an "independent voice." He delved into policy specifics only to criticize the MTA, which he believes is both ineffective and unaccountable to New Yorkers. He pointed to the fact that "the MTA can issue bonds," but said it is a problem that "public authorities can do that without the public ever knowing about it."
Carroll did not provide more in terms of a solution. While MTA governance is currently more determined by the governor than the mayor or City Council, Brannan has called for a return of the MTA to city control.
Reverend Khader El-Yateem, a Palestinian-American pastor, followed Carroll. "I was born and raised in Bethlehem...Not Bethlehem, Pennsylvania...the real Bethlehem!" he joked while introducing himself, sparking some laughter. If elected to the City Council, El-Yateem would be the first Arab-American to join the body, a quality he contends gives him unique potential to bridge divides among various demographic cohorts in South Brooklyn. El-Yateem said he would fight for his constituents at City Hall, without regard for outside interests on matters such as rising costs of rent. "We need housing that is affordable to the people that live here," he argued, rather than newcomers from outside the neighborhood.
At Wednesday night's forum, City Council Member Mark Treyger, who represents the 47th Council District and is seeking reelection, and Anne Swern, a lawyer, district leader, and candidate for Brooklyn District Attorney, also made appearances.
In his opening remarks, Council Member Gentile cited his 11 years in the Queens District Attorney's office and his City Council as well as New York State Assembly experience, claiming he was the most prepared candidate for the District Attorney job. "I know how to keep Brooklyn safe," Gentile said. "But also, I know how to give Brooklyn hope," he added. Gentile emphasized his policies would strike a balance between utilizing a compassionate criminal justice approache while still keeping crime at bay. He specifically mentioned the Right to Know Act, legislation that has stalled in the City Council that would mandate certain disclosures from police officers in particular interactions with civilians.
Candidates for City Council District 48 also participated in the event, with two Democratic primary candidates speaking toward the end of the night. Kalman Yeger, the New York City political operative, has launched a primary challenge against incumbent Council Member Chaim Deutsch. It is shaping up to be a contentious intra-party contest.
"I'm running against an incumbent who I think hasn't been there," Yeger said. He went on to accuse Deutsch of spending too much time elsewhere. "He's absent because he has another job. He's at his real estate company all day long," he said, adding that he suspects the money Deutsch earns via Chasa Management, of which he is president, impacted his decision to vote against the ban on Council members earning outside income in 2016. "I think we can do better in our neighborhood," Yeger said.
Deutsch, who was not yet present at the venue to hear his rival's criticism, seemed to be aware of his opponent's critiques. The Council member boasted about his near-perfect attendance at City Hall, as well as his availability to his constituents. "There are some people who say 'oh that person is crazy'" and thus will refuse to speak with them, Deutsch said."...[I'll] meet with everyone."
The Brooklyn Young Democrats will meet again June 19, hosting a North Brooklyn forum in Bushwick.