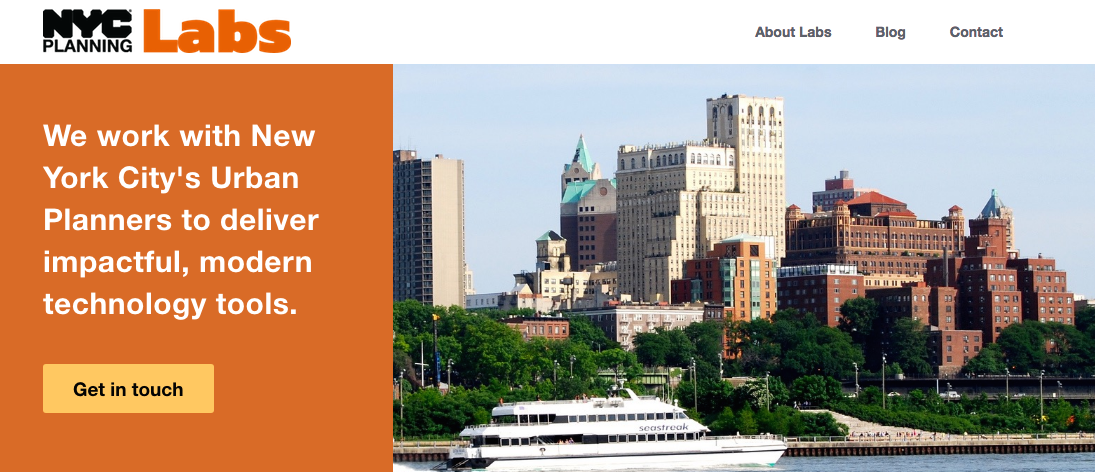 ---
NYC Planning Labs, a new unit in the Department of City Planning introduced on Monday, is a next step in both civic technology and city planning. Planning Labs will use open platforms that will engage people outside of city government, but largely work to provide tools to others at City Planning, so they can find solutions to the city's planning challenges as New York continues to grow and the de Blasio administration moves ahead with its affordable housing, community development, and other initiatives.
The new effort intends to "bring civic data to life through interactive maps and visualizations, create tools to help New Yorkers better understand the built environment, and build simple web-based tools to streamline internal workflows," according to the NYC Planning Labs website.
Open source software allows others to use it for their own purposes, which can make it easier to build websites, apps, and other products. It also creates transparency, giving anyone and everyone access. Some people will only be able to view what Planning Labs and City Planning put forth, as using and modifying certain software and data visualization projects requires skill, but the theme is more information and engagement, not less.
Prior to the announcement, a team of urban planners from the Department of City Planning experimented with the Capital Planning Platform for a year, which was the first step toward creating "a place for planners to access the maps, data, and analytics that they need to plan for public investments in neighborhoods and collaborate with one another."
One of the systems created during this time was the NYC Facilities Explorer, which can show exactly how many education centers, libraries, parks, public safety facilities, and health and human services are available in any given area of the five boroughs.
Equipped with a color-coded legend, this interactive map makes massive amounts of data far easier to digest than a spreadsheet and can clearly show which communities have more or fewer resources.
NYC Planning Labs is another step toward reaching two goals that the team outlines in its charter: "to design and build modern, lightweight, sustainable, and impactful technology products that support the mission of the Department of City Planning" and "to implement and promote the use of agile methods, human-centered design, and open technology to support the above, maximizing the benefits of community-driven product development."
Chris Whong, a civic technologist who established and heads NYC Planning Labs, stated on his blog that "We are focusing on small projects that can go from concept to shipped in 4 to 6 weeks, with our customers being the internal divisions of the agency. These can be web map explorers similar to the NYC Facilities Explorer, interactive data visualizations and animations, or simple purpose-built data tools that replace or complement our Planners' routine workflows."
Web map explorers can have flaws. Missing records or inaccurate data can sometimes skew the visual information, and while this is not the only type of technology NYC Planning Labs will be working with, it is an example of how even modern systems have weaknesses.
In a statement to Gotham Gazette, Whong also said, "We will be taking on small builds to maximize reach around the agency. These projects must have a well-defined problem and may include new interfaces for the agency's map and data products, or lightweight web tools...We are not limited just to web-based projects, and may also have hardware, IoT [Internet of Things], or design-oriented engagements with our customers."
More details about the specific projects the team will take on are yet to be determined, but when asked how NYC Planning Labs would impact the broader community, Whong said, "Those projects that provide better or easier access to civic data can have benefit for community groups. The impact will depend on the scope and goals of individual projects, and at this early stage, we don't have a clearly-defined project pipeline."