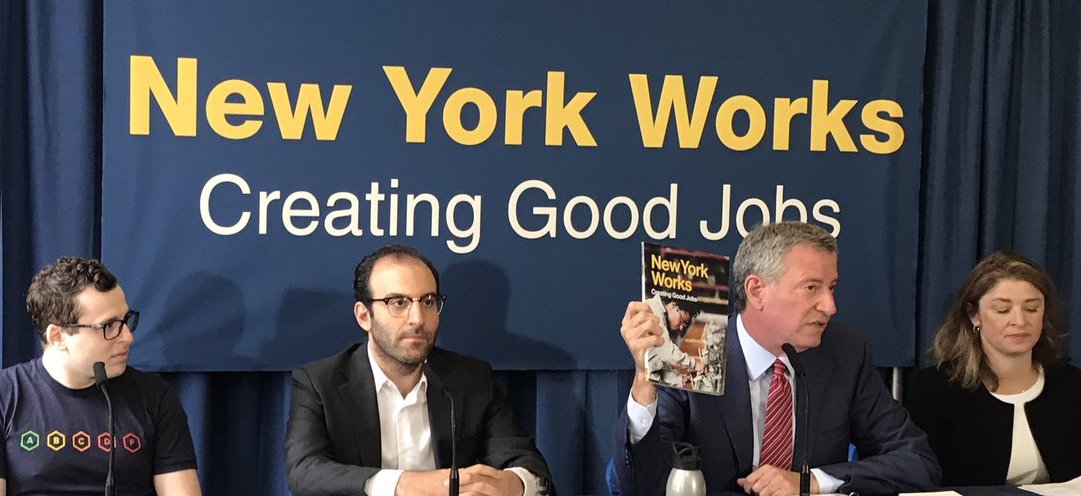 The Mayor & his jobs plan (photo: Felipe De La Hoz)
---
Holding up a glossy, 114-page booklet emblazoned with "New York Works" in bold yellow lettering – the same words hanging from the wall behind him – Mayor Bill de Blasio promised on Thursday to make New York City the "capital of cyber security."
Cyber security is one plank in the mayor's ten-year job creation plan, which he announced from the sleek Garment District offices of SecurityScorecard, a firm specializing in cyber security monitoring and threat detection. Cyber security has been identified as a growth sector, one that will be home to more jobs if the city helps spur it along, the mayor explained.
The overall jobs plan, largely put together by Deputy Mayor for Housing and Economic Development Alicia Glen, promises 100,000 jobs with "good wages" – defined as an annual salary of at least $50,000, which the mayor admitted was somewhat an arbitrary number – through 25 initiatives.
Ultimately, the proposal was framed as a way to create a "critical mass" of tech innovation, as the mayor put it, and ensure New Yorkers enter into fields allowing them to live in the city without being "rent-burdened" – spending more than 30 percent of one's income on rent. The jobs plan is the other side of the coin to the mayor's 200,000-unit affordable housing plan, which he and Glen unveiled in 2014; both of which attack the city's affordability crisis and the inequality that the mayor promised to address as a candidate.
During the announcement and the press questioning that followed, de Blasio and Glen repeatedly stressed that the plan's purpose was to create "jobs that would not be created otherwise" as opposed to riding the wave of growing industries and claiming credit. Glen, who said she had spent time studying other jobs plans at the municipal, state, and federal level, derided them as "usually about positioning yourself to take credit for a lot of different things that are going on in the economy already," but insisted that this plan would supercede those by having a "quality screen" to the jobs.
She said that only jobs that could be directly traced to the administration's efforts would be counted towards the stated job-creation goal, though the exact criteria that would be used was not made clear. The administration committed to providing yearly progress reports.
The mayor also couched the proposal as part of what he called a "high investment model of government," and characterized the proposals -- a variety of city efforts including new uses of city land, workforce development, deal-brokering, and more -- as "investment," with job gains the expected return.
"Private sector folks do key off of government signals, and government actions, and government investments," he said, and alluded to conversations with tech leaders in which an obstacle had been "a certain amount of lack of cognition on how to get started in New York." He argued that the investments would demonstrate to job-creators that New York City was serious about accepting their business.
The initiatives are subdivided into five areas: tech – the largest, with 30,000 projected jobs; life sciences and healthcare (15,000 projected jobs); industrial and manufacturing (20,000 projected jobs); creative and cultural sectors (10,000 projected jobs); and, the especially and purposefully vague "space for jobs of the future" (25,000 projected jobs). The job targets are further broken down into particular projects, in what Economic Development Corporation President James Patchett called a "framework" that would be adjusted depending on changing industries and sectors. Patchett's job includes shepherding the plan, adjusting its pieces, and meeting the targets.
Under the industrial plank, the Brooklyn Navy Yard expansion is estimated to create 4,800 "good-paying jobs," but some points are less clear, such as "discretionary tax incentives" leading to 1,500 jobs. The programs will be funded by $1.1 billion in already allocated spending, plus $250 million that "the administration will apply in its November and January updates to the budget."
The job-creation plan comes at a time when the city's unemployment rate has hovered at around 4 percent, a modern record-low and fact that has been routinely emphasized by the mayor. But, de Blasio explained the need to create jobs with good wages and long-term career options, allowing the city to "shape our own destiny" and lift more New Yorkers out of poverty.