Ben Max, left, of Gotham Gazette, and Jarrett Murphy, right, of City Limits
---
Max & Murphy is a podcast focused on New York City politics and policy hosted by Ben Max of Gotham Gazette and Jarrett Murphy of City Limits. Past episodes of the podcast can be found here and can be dowloaded from iTunes and other podcast networks. The podcast began with a focus on housing in early 2016, but has expanded into other areas, now turning to the 2017 city elections, especially the race for Mayor.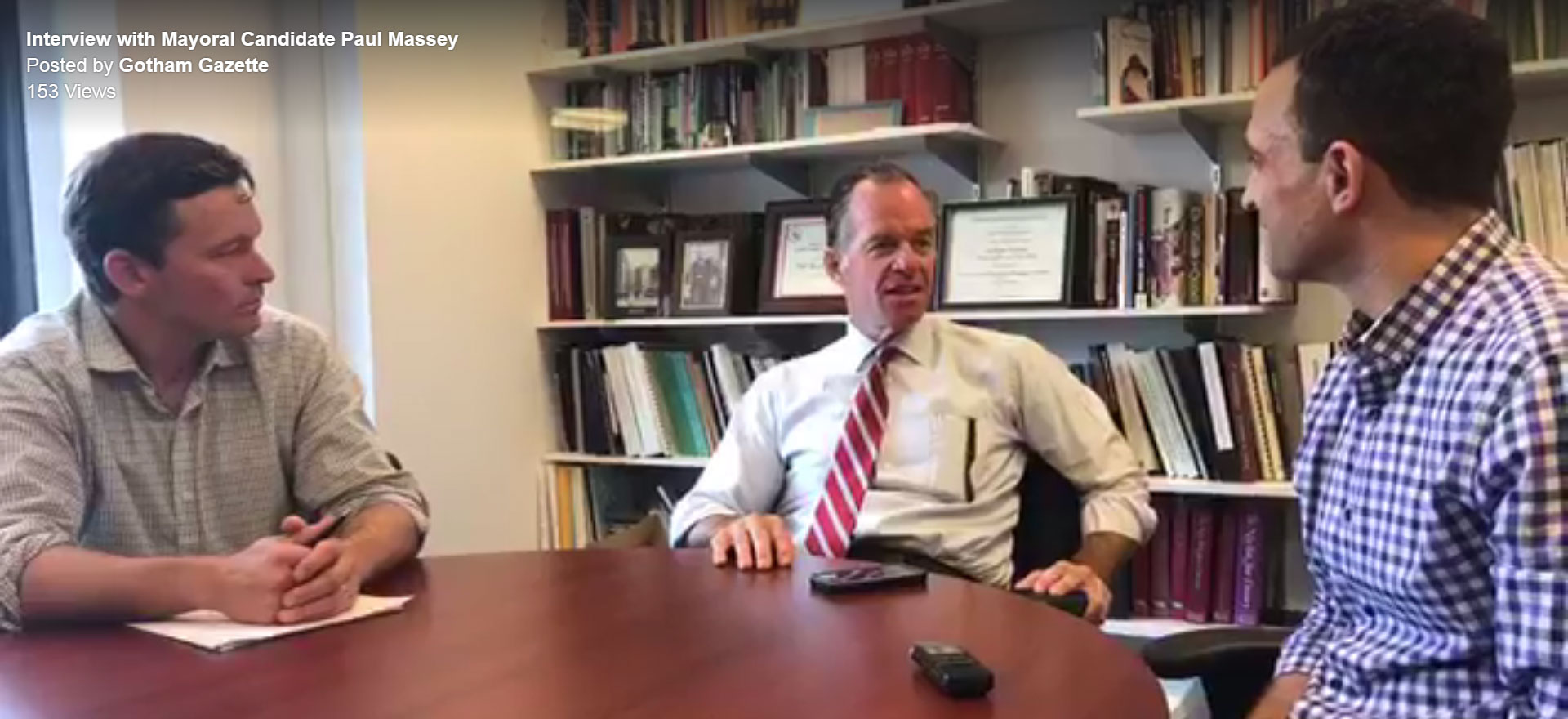 After being joined by Democratic mayoral candidate Bob Gangi last week, we're joined by Republican mayoral candidate Paul Massey this week. Massey, a real estate sales executive, has secured the Independence Party endorsement and is locked in a tough battle for the GOP nomination with Assemblymember Nicole Malliotakis. Massey has mostly focused his campaign on Mayor Bill de Blasio, who he hopes to face in the general election after defeating Malliotakis in the primary.
Massey is selling himself as a "non-political" management executive in the Michael Bloomberg mold, parlaying private sector success into a pitch that he is the kind of leader the city needs so that things get done effectively and efficiently, without the political games that career politicians play. On the flip side of that argument is the fact that Massey is something of a novice when it comes to not only running for office, which requires certain skills, but also policy-making, especially in areas not having to do with real estate and business. Massey has not shown great command of the issues, but he has shown a commitment to learning, a seriousness about the campaign task at hand and the job of Mayor, and an ability to raise a lot of money, including loans to his campaign from his own deep personal coffers.
As you'll hear in the interview, Massey continues to assail de Blasio as incompetent and corrupt, while referring specificially to mismanagement of homelessness, a misguided approach to school choice, and allowing a pay-to-play culture at City Hall. We asked Massey about what animates his campaign other than not liking the job de Blasio is doing, how he will defeat Malliotakis in the GOP primary (and if he'd run on the Independence line if he doesn't get the GOP line), whether he's really prepared to be Mayor of New York City, and much more.
Listen to our interview with Paul Massey through the SoundCloud embed below, or find us anywhere you get your podcasts, like iTunes. Let us know what you think: we're on Twitter @jarrettmurphy and @tweetBenMax. Massey is at @MasseyForMayor. Find our interview with Bob Gangi here and stay tuned for coming interviews with other mayoral candidates, including Democrat Sal Albanese and Republican Nicole Malliotakis.
June 19, 2017: