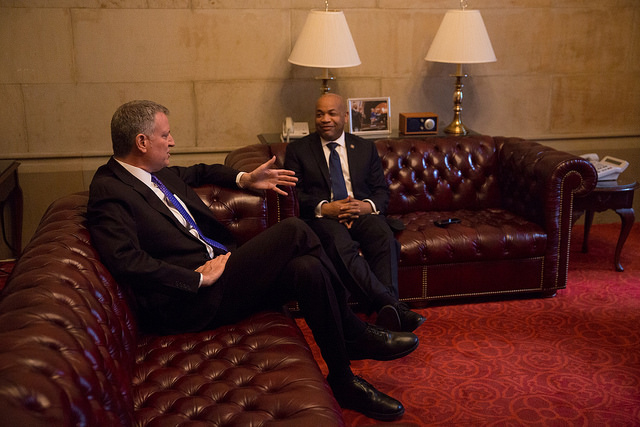 De Blasio & Heastie (photo: Michael Appleton/Mayor's Office)
---
It is easy to mistakenly think there is only one thing Mayor Bill de Blasio wants from state lawmakers before they conclude the dwindling legislative session in Albany. Negotiations over an extension of soon-to-expire mayoral control of New York City schools have sucked most of the oxygen from the proverbial room -- though not the room, of 'three men' fame, which sat empty for months, until Monday -- leaving little time and attention for de Blasio's other top priorities needing state action.
So it was again on Monday, when de Blasio, Comptroller Scott Stringer, City Council members, union representatives, and others rallied at City Hall to, as the mayor put it, call on "the Senate, the Assembly, and the Governor" to "get together and pass mayoral control now!"
Like the past two years, when the mayor was granted consecutive one-year extensions, the de Blasio administration has moved allies to hold press conferences, write op-eds, make phone calls, and rally to push for mayoral control. It amounts to a great deal of effort and energy and political capital expended on one policy matter, albeit an extremely important one affecting over 1 million students, their parents, teachers, and others, while the rest of the de Blasio Albany agenda sits somewhat neglected.
The mayor does have other priorities for the legislative session scheduled to end Wednesday, and while he has found some time to publicly advocate for a couple of them, his representatives are working relationships in Albany to move several key items.
Those priorities include more school-zone speed cameras, a change to regulations allowing the city to expand contracting with minority- and women-owned businesses, the city being given the authority to use the more efficient "design-build" approach for major capital projects, like an overhaul of part of the Brooklyn-Queens Expressway, and a package of electoral reforms that would make voting easier in New York.
While mayoral control is locked in intense political jockeying and electoral reforms are mostly dead on arrival due to opposition from the Republican-controlled state Senate, the de Blasio administration is somewhat optimistic about getting at least some of what it wants on the other three items: design-build, M/WBE contracting, and speed cameras. In each of the three instances, the administration and its allies in the state Legislature have adjusted bills in order to garner more support and, they hope, reach compromise.
Albany being Albany, it's never clear what will get done when the buzzer sounds on a budget or legislative session. Governor Andrew Cuomo has largely been absent from the capital and recently said he doesn't see much of significance, including an extension of mayoral control, happening this week. Cuomo held his first "leaders meeting" of the session on Monday at the Capitol with Assembly Speaker Carl Heastie, Senate Majority Leader John Flanagan, and Independent Democratic Conference (IDC) Leader Jeff Klein, which could be a sign that Cuomo is engaging and ready to broker some deals among the now 'four men in the room.'
De Blasio said Monday at City Hall that he "sat down with the Governor last Wednesday at length" and discussed mayoral control, as well as other topics. When Gotham Gazette asked the mayor for more about what he had said to the governor, de Blasio said, "I asked him to lead. I said we need you to step up and be the one that brings everyone together. We understand there's differences between the Assembly and the Senate. We understand they're held by different parties. That's why we have a Governor."
The next day, the governor said on a press conference call that "Where we're at right now, mayoral control does not have the support to pass." The following day, he said on NY1 television that his guess would be the Legislature reconvenes toward the end of the year to pass emergency tax extenders and gets mayoral control reestablished then. It's not clear if the governor meant these remarks or if he was just looking to make de Blasio sweat. De Blasio indicated Monday he wasn't sure why Cuomo would characterize the mayoral control situation that way, but that they had not agreed on a public script coming out of their meeting.
According to de Blasio administration representatives, a breakthrough on mayoral control, which is being held up by Senate Republicans who want to tie it to an expansion of charter schools, and other big ticket items could pave the way for the annual bevy of deal-making on other things. Cuomo is also supportive of both extending mayoral control and increasing charter schools, whereas the Assembly Democrats are opposed to any expansion of charters.
Cuomo does like to make deals, and his involvement in end-of-session negotiations could signal that the annual "big ugly" of last-minute legislation could be bigger and uglier than some may have expected or the governor himself predicted. One caveat is that Cuomo does not have any signature legislation he is pushing, though there are a handful of issues he has weighed in on, including support for a bill to help victims of childhood sexual assault report their abusers.
The de Blasio administration has not been resigned to defeat on its priorities, instead continuing to work to leverage relationships, tweak bills, and build support. Department of Transportation Commissioner Polly Trottenberg is heading back to Albany Tuesday for further discussions with legislators about both speed cameras and design-build. (Schools Chancellor Carmen Farina is also heading to Albany Tuesday to advance the mayoral control discussion.) Intergovernmental affairs staff members have been working the halls and offices of the Capitol in order to make sure that support remains strong or grows for key pieces of the de Blasio agenda.
When asked if the mayor would be making a journey to Albany this week, a de Blasio spokesperson said the mayor's schedule isn't released in advance. De Blasio is scheduled to hold a town hall meeting Wednesday night in Chinatown at about the same time that final deals might be negotiated in the capital. The mayor said on NY1 Monday night that if Senator Flanagan wanted to talk education policy he would happily take his call or go to Albany to talk with him.
While the de Blasio administration has its top five major priorities, there are other items of interest at play, including what the administration believes will be a victory on expanded property tax exemptions for seniors and people with disabilities who own homes. Notably, de Blasio has not mentioned his "mansion tax" proposal lately, and no one from the administration indicated to Gotham Gazette that it is still a top priority, despite the fact that de Blasio made it a focus as state budget negotiations progressed and promised to push for it after a budget deal was announced that did not include the surcharge on large residential real estate transactions that the mayor would use to subsidize affordable housing for senior citizens.
Instead, the mayor has spent more time on electoral reform, recently holding two tele-town halls on electoral reform, the second featuring 15,000 participants, the mayor said on the call. There is little optimism, however, that any of the signature proposals like early voting or same-day registration will pass. There is some hope for electronic poll books, but even agreement on instituting that fairly minor advancement, which holds the promise of reducing lines at polling places, appears elusive. The Legislature did already pass reforms to conditions for poll-site workers, creating split shifts in an effort to attract more candidates to the temporary jobs and increase productivity.
De Blasio participated in a rally at City Hall calling for more speed cameras in school zones, a piece of his Vision Zero street safety program. The city wants hundreds more cameras after what it says has been a successful prior expansion. The relevant bill has been amended to drastically reduce the number of cameras the city would be able to install, and would allocate 150 new cameras over three years, at 50 per year. The administration and its allies also adjusted other aspects of the bill, like adding signage to alert drivers of the cameras, in order to build support from skeptical legislators.
A main force behind the speed camera legislation is State Senator Jose Peralta, a member of the Independent Democratic Conference from Queens. The key, according to a de Blasio administration official, is getting the blessing of the Senate GOP conference's three New York City-based members: Andrew Lanza, Marty Golden, and Simcha Felder. When the three agree to legislation that affects the city, Majority Leader Flanagan is often deferential, as he has publicly stated.
Another IDC member, Senator Marisol Alcantara, of upper Manhattan, is leading the Senate push on the M/WBE legislation, which would allow the city to award larger contracts to M/WBEs without a competitive bidding process. The city threshold would be raised closer to the state allowance (from $35,000 to $150,000). It's a similar ask to that of design-build.
State government has utilized design-build to save time and money on big infrastructure projects and New York City wants similar power to streamline the process by awarding one contract for project design and execution, instead of engaging in separate processes and contracts. While the city would ideally be granted blanket authority, it has narrowed its ask to an initial eight projects, covered in one bill sponsored in the Senate by Sen. Lanza, a Staten Island Republican. Sen. Golden has his own design-build bill that only covers two projects. If the city is granted authority to use design-build, which has a groundswell of support from business and labor leaders, it will probably be for somewhere between the two and eight projects.
"Design Build has the potential to save taxpayers millions of dollars and shave years off projects," said de Blasio spokesperson Freddi Goldstein, in a statement to Gotham Gazette. "If the State can use it for amusement parks and ski resorts, we should be able to use it to repair emergency rooms and build NYPD training facilities."
Indeed, Cuomo has repeatedly touted the state's use of design-build to save time and money, but he has not shepherded through city permission.
In the end, much, if not all, of de Blasio's priorities rely on Cuomo, his antagonist and rival-in-chief. "[T]he Governor, when he puts his mind to something, he can be very, very effective," de Blasio said Monday.