Ben Max, left, of Gotham Gazette, and Jarrett Murphy, right, of City Limits
---
Max & Murphy is a podcast focused on New York City politics and policy hosted by Ben Max of Gotham Gazette and Jarrett Murphy of City Limits. Past episodes of the podcast can be found here and can be dowloaded from iTunes and other podcast networks. The podcast began with a focus on housing in early 2016, but has expanded into other areas, now turning to the 2017 city elections, especially the race for Mayor. We've recently talked with Democratic mayoral candidate Bob Gangi and Republican candidate Paul Massey. On June 26, we spoke with Democratic candidate Sal Albanese.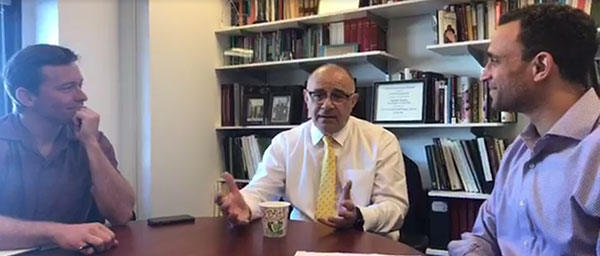 Sal Albanese has secured the Reform Party nomination for Mayor and is competing for the Democratic nomination. This is Albanese's third mayoral run and he's running as "an insurgent" with a focus on "reforming our political system" in order to rid city politics and government of unethical practices. Albanese has put campaign finance reform at the top of his agenda, featuring a push for "democracy vouchers," but he's also talking about transit policy -- "I want to be the mass transit Mayor" he told us -- and more. Like other candidates in the race, he's running a fairly substantive campaign while also attacking incumbent Mayor Bill de Blasio on a host of issues.
"If he's a macro guy he should run for the U.S. Senate," Albanese told us about de Blasio being a big thinker as opposed to a city manager. Albanese says he would have a much better relationship with Governor Andrew Cuomo than de Blasio does.
Citing an "enthusiasm gap," Albanese says de Blasio's support is "paper thin" and that there's enough disatisfaction with the incumbent that his insurgent campaign can take off. Albanese acknowledges that he needs to gain steam soon in order to make a real challenger to de Blasio, but said he was encouraged by a recent spike in interest in his campaign, both in terms of volunteers and donations. Listen to the full conversatio and let us know what you think -- we're on Twitter @TweetBenMax and @jarrettmurphy, and Albanese is @SalAlbaneseNYC:
June 26, 2017