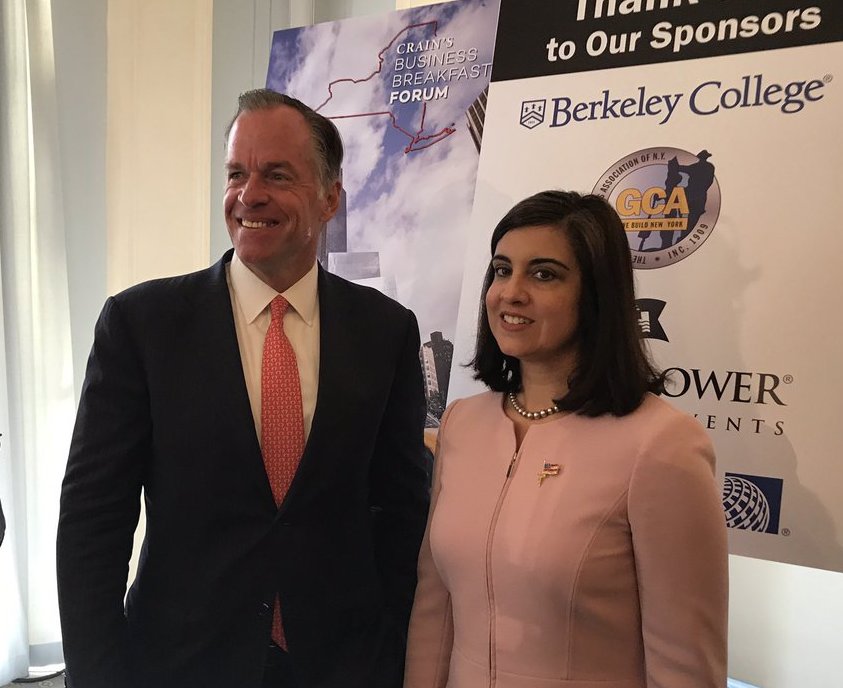 Massey & Malliotakis (photo via Crain's New York Business)
---
In a move that sent shockwaves throughout the New York political world, Paul Massey, a real estate executive running for the Republican nomination for mayor, abruptly dropped out of the race just hours after a debate with his primary rival, Staten Island Assemblymember Nicole Malliotakis. The move leaves Malliotakis as the clear frontrunner for the GOP nomination.
In a statement released to the press, Massey stated that his reason for dropping out was financial.
"Unfortunately, the cost of running for office is extraordinary," Massey said, "and I do not see a path to raising the necessary funds to beat an incumbent mayor. I am forever indebted to my family, team and my friends for their support."
As of the last filing period, Massey had raised $5.75 million for his campaign, more than any other mayoral candidate this cycle, even incumbent Democrat Bill de Blasio; but $2.72 million of it was loans from Massey's own coffers, much of which he has recouped from his campaign. Massey has also raised eyebrows with his spending, hiring a dizzying array of consultants and campaign hands, depleting his account as fast as he could add to it.
Massey regularly stated that his campaign would never suffer from a lack of funds, so it is not immediately clear what other factors led him to drop from the campaign. He had struggled to gain momentum, often showing his lack of experience in running a political campaign and lack of knowledge about city government and policy. He attempted to sell himself as a "non-political" "independent-minded" businessman in the Michael Bloomberg mold.
Malliotakis, who has been endorsed by the Conservative Party, now appears a lock to receive the Republican ballot line for November and take on de Blasio in the general election. Private investigator Bo Dietl, running as an independent, also appears like he will make noise in the general, given his outsized personality and ability to raise money. There will also be other smaller party nominees.
De Blasio is a heavy favorite the Democratic primary, where his main competition is from Sal Albanese, a former City Council member, and Bob Gangi, a police reform advocate. The mayor would also enter the general election as a heavy favorite. (Albanese has won the Reform Party line and will appear on the November ballot no matter the outcome of the Democratic primary).
Even before Massey's departure from the race, Malliotakis had racked up a variety of endorsements, including from most of her fellow Staten Island elected officials, who trend Republican in this largely Democratic city, and from 2013 Republican mayoral nominee Joe Lhota, among others.
Massey had won the endorsement of the Independence Party; it is unclear what the party will do for November. Frank MacKay, the Chair of the Independence Party, did not respond to a request for comment.
Massey had released several policy papers on transportation, infrastructure, public safety, and education, although he often showed discomfort with discussing policy on the campaign trail. Malliotakis, who entered the race much later than Massey, has not produced any policy papers, but, as an experienced politician, has appeared more comfortable campaigning and, as an elected official, has shown more command of the issues.
At the debate that took place just hours before Massey dropped out, the candidate claimed that much of the "rank-and-file" of the NYPD don't believe that crime is at historic lows. He then claimed, without any evidence, that "some of our city's greatest authorities on public safety are saying the numbers are being fudged."
The unsubstantiated accusation dominated a press gaggle with Massey afterwards. When Gotham Gazette asked for evidence to back up the claim, Massey avoided specifics, referring to his source for this information as "people on the street."
"The people I've talked to out there are saying the numbers might be fudged," he said. "They are concerned about the fact that our rank and file don't feel safe themselves, that our rank and file don't believe in the policies of the police."
Malliotakis referred to the claim as "irresponsible" and "offensive."
Greg David of Crain's New York Business, the debate moderator, asked Massey and Malliotakis to present campaign slogans. Massey's slogan was "New York Proud Again," which received a chilly reception, perhaps due to its similarity to President Donald Trump's "Make America Great Again." Trump is widely unpopular in the city; a recent Quinnipiac poll showed Trump having a 74% disapproval rating within the five boroughs.
"Again is a very interesting word that's been used recently," he said, "but it paints the picture that we have been proud before, we have been a great city." Both Massey and Malliotakis have been unwaveringly critical of de Blasio, saying that he has been a terrible leader for the city and has it headed for doom.
Malliotakis' slogan, "Get New York City out of the hole, so vote for Nicole," elicited laughter from the audience.
Malliotakis said at the debate that her campaign is focused on quality of life issues in the city. She repeatedly railed against de Blasio for a lack of leadership, especially with regard to the meltdown of the city's subway system. She also talked about lowering property taxes, raising the speed limit on some roads, reducing the city budget, and other more typically conservative stances on policy.
Malliotakis was asked by reporters about her support for Trump, whom she said she voted for in the general election after having supported Marco Rubio in the GOP primary. Malliotakis said she did not plan to seek Trump's endorsement and insisted the race is about local issues, criticizing de Blasio for an ambition to be a national progressive leader.
In a statement responding to Massey's departure from the race, Malliotakis recognized the clear path to the GOP nomination she now has.
"Today's decision by Paul Massey clears the field in the race for Mayor," the statement read. "I will now be able to focus all my energies on defeating Bill de Blasio in the November election. Whether it's yesterday's A train derailment, our failing schools or an out of control homeless crisis, I will take these issues to the Mayor. I will challenge him on how he is running New York City into the ground and slowly returning it to the bad old days of the 1970s and 80s."
Malliotakis embraced her status as the presumptive Republican nominee and continued her focus on the incumbent mayor, stating that de Blasio, who dodged questions from reporters on the derailment of an A train in Harlem on Tuesday, "won't be able to run from me."
Malliotakis was gracious towards Massey, calling him "a gentleman... who cares a great deal about" the city. "I wish him well in the future," she said.