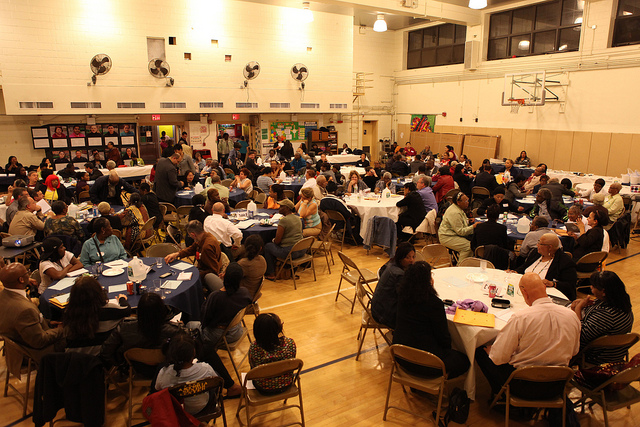 NYCHA community gathering at Queensbridge (Pete Mikoleski/NYCHA flickr)
---
At a recent training session, just over 35 New York City Housing Authority staff members assembled at the authority's downtown offices last Thursday. The course, which included eight topics, was part of the city's ThriveNYC mental health care plan, one piece of which is 2,000 NYCHA employees receiving mental health care training so that they can more carefully and helpfully interact with public housing residents who may be experiencing mental health challenges.
The eight session subjects included first aid, substance abuse, suicide, and eating disorders. Participants told personal stories of dealing with mental illness, discussed circumstances they had encountered in the past in serving NYCHA residents, and asked questions about how best to approach hypothetical scenarios they suspected may occur.
When suffering from mental illness, "people often turn to people they know or agencies they trust, or people they see in their communities," said Dr. Gary Belkin, executive deputy commissioner of mental hygiene for the city, who visited the training. Belkin explained that mental illness and mental health challenges are more prevalent among NYCHA's residents, who number around 500,000, than the population at large.
ThriveNYC was launched by New York City First Lady Chirlane McCray, who was motivated by seeing many around her benefit from receiving aid for mental health ailments. "I heard many stories of triumph that reminded me of a fundamental truth: Mental illness is treatable. When people have access to the resources they need, they can live their lives to the fullest," McCray wrote in a roadmap for ThriveNYC. The $850 million program aims to make mental health care more available and changing norms around the general issue to make receiving care more appealing to New Yorkers, many of whom are unaware of their options or are unwilling to seek assistance.
According to a 2015 report from the city Department of Health, one in five New Yorkers suffers from mental illness, including challenges ranging from acute depression to schizophrenia. Forty-one percent of those with mental illness said they did not receive or were delayed in getting treatment in the past year, according to the ThriveNYC website. One major ThriveNYC goal is training 250,00 New Yorkers in mental health first aid, thus working to combat the larger problem by making New York City communities more aware of both the signs that an individual may be in need of assistance and the resources available to those with mental health challenges.
On the side of the room in which the NYCHA training session was held last week stood signs with contact information for mental health hotlines both nationally and in New York City, for use in connecting residents to care providers.
NYCHA is a particularly important organization in the city's battle against mental illness, Dr. Belkin told the staff members gathered for the training. Just before the lunch break, he spoke to trainees about how their close relationships with New Yorkers are essential to providing help to those suffering with mental health issues.
Dr. Belkin said that NYCHA workers, who forge bonds and establish trust with NYCHA residents, are well-positioned to assist in achieving key ThriveNYC goals. NCYHA employees have a "kind of a familiarity and a closeness" with low-income New Yorkers that others, such as doctors and nurses, don't, Belkin said in an interview with Gotham Gazette following his remarks to the NYCHA staff. "It's a real opportunity to be credible to the people we're trying to reach," he said. "It seems like a natural fit."
NYCHA residents are a particularly important cohort to reach, too, Dr. Belkin explained. "It's not just the proximity and credibility with residents that NYCHA has but also this is a group of New Yorkers we need to reach," he said. "People residing in NYCHA housing or rental assisted housing, or either, are two to three times more likely to have what we call 'serious psychological distress,'" said Dr. Belkin, referencing an umbrella term used in health department community surveys that includes a range of illnesses. NYCHA tenants are a "population we need to make sure is connected and feels like they have a point of entry to mental health that's more familiar and not as stigmatized," Belkin said.
Marina Oteiza, Borough Administrator for Family Partnerships in Manhattan at NYCHA, echoed Dr. Belkin's optimism in regards to non-medical professionals ability to help people on this front. "A lot of lay people can do this," she said of efforts to identify mental illness and direct those in need of assistance to the right place. "You don't necessarily need a social worker," she said of NYCHA employees making connections to services for residents. "If you're meeting with them, you're comfortable talking to them, you have a rapport with them. You can facilitate that a lot quicker than a social worker," she said. "It does not need to be with a trained mental health professional," she continued. "It can be with someone who cares and has an empathetic ear." Good bedside manner, coupled with formal training would create an effective force towards the goal of improving NYCHA residents' health and safety with regard to widespread mental health issues, she argued.
During the session, the instructor placed strong emphasis on destigmatizing mental illness, and making sure employees adopted a sympathetic, non-judgmental posture towards those with acute and chronic mental health issues. These ailments are medically treatable conditions and should be seen as such. The session leaders emphasized that mental health issues come about from no fault of the victim's and did not result from an individual's actions or character nor from weakness. Nobody should be ashamed or embarrassed for requesting medical attention, they stressed.
Helen Reinstein, certified mental health instructor and senior management trainer with the Learning and Development Unit of Human Resources at NYCHA, was in attendance at Thursday's training in NYCHA offices at 250 Broadway. "You wouldn't hesitate to talk to someone with a broken arm about getting their arm set and getting the follow up care they need," Reinstein said of the need to normalize mental health care. "We want people to feel the same way about mental health issues."
Trainees were introduced to frameworks for types of circumstances they may have to handle in the field and were provided with scripted lines to use should these situations arise. The NYCHA staffers -- employees who help run and maintain NYCHA buildings, properties, and programs -- were also instructed on warning signs of mental illness and techniques to reach people that do not make a concerted effort to alert others of their struggles. Look at "body language," said Tajhma Carroll, assistant director of Brooklyn Leased Housing, a NYCHA division. She then listed a few frequent indicators they were informed often suggest someone may be in need of treatment. "Sweats, they mentioned, hands or legs shaking. Those are telltale signs," she said. "It's not only in what they say," Carroll added.
People "isolated and alone in their house" or who engage in hoarding, wherein individuals store an excessive amount of things in their homes, leading to cramped, unhygienic living environments, are also causes for concern, Oteiza said. "If they're not letting you into the apartment, that's going to be a red flag for us," she said.
If signs aren't identified and those suffering from mental health problems are unaware of options available to them or unwilling to access medical attention, people may turn to other means to relieve their pain, Reinstein noticed. "A lot of times, people are using illegal substance in order to try to get to a place of feeling normal and using it as self-medication rather than seeking the care and intervention they really need," she said.
As part of their education, NYCHA workers were instructed to ask some of the toughest questions when evidence warrants them, such as "have you ever considered suicide?" and "do you have a plan to kill yourself?" Those involved acknowledged how hard it can be to ask those questions or to inform someone their condition can only be properly alleviated by receiving a medical evaluation. During the training sessions, NYCHA staff constantly grappled with the challenge of ensuring people are getting the assistance they need, while also lending them enough personal space. "I do think there is a natural reticence to be intrusive, which is a good thing," said Sherman.
Most trainees appeared to buy into the strategy of being active and quick to inquire if they detect signals that something may be amiss for a NYCHA resident. "So far people have been very receptive," Reinstein said. "We're excited about this training," said Sherman. "I think that we're really creating a culture where our staff really has the confidence to be able to interact with people, to de-escalate where it's appropriate, to connect people with resources."