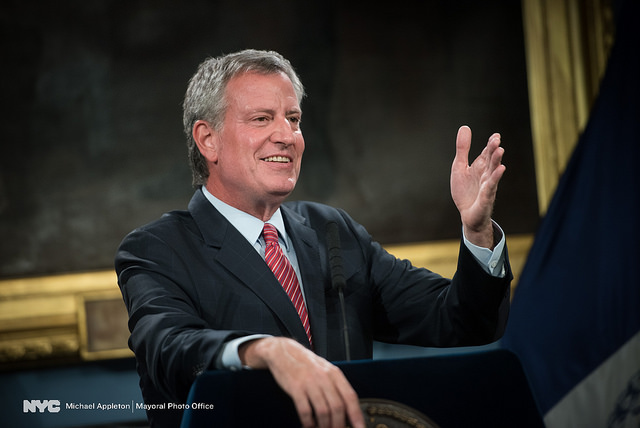 Mayor de Blasio at City Hall, June 29 (photo: Michael Appleton/Mayor's Office)
---
Mayor Bill de Blasio negotiated a deal to extend mayoral control of city schools in exchange for a set of administrative actions benefitting charter schools. When the mayor celebrated the extension of mayoral control -- which was due to expire at the end of June, but was extended June 29 -- he did not release the details of the charter-friendly promises he was making to Republican state Senate Majority Leader John Flanagan, Democratic Governor Andrew Cuomo, and their charter sector allies.
The Democratic mayor said at press conferences on both June 29 and June 30 that the details, all non-legislative, were still being finalized and that when they were ready they would be shared. When Gotham Gazette asked the mayor if he wasn't participating in the type of secretive backroom dealing he's criticized Albany lawmakers for, he said it was different because the details still weren't final.
The Wall Street Journal reported one key detail late Wednesday night and the mayor's press office only released the six-point agenda upon subequent requests from news outlets, many of which, including Gotham Gazette, made that inquiry on Thursday. In other words, there was no formal announcement, no press release emailed widely to reporters and editors and posted to the city's website.
De Blasio also said at the end of June that once the details were public he'd take questions about them, but he left town for Germany Thursday night without doing so. When the mayor called in for his weekly Friday appearance on WNYC's The Brian Lehrer Show, the segment was dominated by the surprise Germany trip, which the mayor took in order to speak at a rally outside the G20 summit of world leaders, the recent killing of an NYPD officer, and homelessness.
In one sense, de Blasio successfully avoided talking about a charter school-friendly agreement that, while expedient to win two more years of mayoral control, he is not excited about. De Blasio is a long-time charter school foe, though tensions have cooled over the past two years, and is closely aligned with teachers unions, which see the largely non-unionized charter sector as an existential threat. The mayor's antipathy toward charter schools has been at the forefront of his challenges to win a long-term extension of mayoral control given the strong support for charters from Cuomo and the Republican-controlled state Senate. The third major entity involved in the Albany decision-making, Assembly Democrats, are even more anti-charter than de Blasio.
The charter school package de Blasio agreed to includes changes around rent reimbursements from the city to charter schools and school space utilization for charters, as well as MetroCard subsidies to some charter students and, most notably, an agreement that about 22 charter schools no longer operating can be replaced without an increase in the current cap on charters in the city. That cap was the key point of contention in negotiations among stakeholders in Albany, with Assembly Speaker Carl Heastie refusing to accept any increase in the cap. Instead, de Blasio agreed to a de facto increase.
According to City Hall, the changes will cost about $10 million per year, including about $7 million to increase charter school space reimbursement from 20% to 30%, which is already included in the budget, and $3 million for MetroCards for charter students who need transportation before busing begins each school year. It's too early to tell if there will be any additional costs to the city related to the 20-plus "zombie" charters that are non-operational and now available to replacement through the charter authorization process, a City Hall spokesperson said.
It's no surprise that City Hall did not send out a press release announcing the details of the deal or that the mayor didn't make himself available to discuss them. At the same time, given de Blasio's challenges in Albany, especially with regard to Senate Republicans and Cuomo, who both receive significant funding from wealthy charter school supporters, the mayor has sought to avoid charter-related conflict over the last two years. In 2014, de Blasio received a major setback through state legislation guaranteeing charter schools either space in public school buildings or rent reimbursements, some of which the city would have to pay.
In a statement, de Blasio spokesperson Freddi Goldstein said, "The charter sector is an important partner in our mission to deliver an excellent education to every child in New York City. Through the debate over mayoral control, we identified a few common-sense areas where we could better work together to ensure all 1.1 million school children have a chance to succeed."
There are currently 216 charter schools operating in New York City, with 23 slots left under the existing cap, according to the New York City Charter School Center, and 22 defunct charters would be open to replacement under the new agreement. Meaning, without a change to the law in Albany, there is room for 45 new charter schools in New York City.
When a deal extending mayoral control of city schools was voted through a special session of the state Legislature on June 29, de Blasio called a City Hall press conference to celebrate. "Well, we have very good news for the children of New York City and for the parents of New York City," de Blasio said. "Mayoral control of education has been extended for the next two years. This is a hugely important moment."
In the question-and-answer session that followed the mayor's brief remarks, Gotham Gazette asked how raising the charter school cap had been dropped from the negotiations. Senate Republicans had tied extending mayoral control to an increase in the cap. De Blasio credited Heastie, who had been steadfast about not agreeing to raise the cap, and said "eventually I think that logic pervaded in many ways." He did not mention his side deal.
Asked then by Gotham Gazette if it was simply that Senate Republicans backed down, de Blasio said, "I won't speak for any of the parties." He said that he had had a lot of productive conversation with Sen. Flanagan and, among other points, added, "I think we found some real common ground in terms of the ability to work together on specific ideas."
When a reporter from The New York Times later followed up, asking if there were any side agreements related to charter schools, de Blasio finally admitted there was. "There were a lot of conversations about a set of issues related to charters, that we believe could be handled administratively," he said. "Those ideas are being crystallized into a final form. There's still some finishing touches to put on. There will be an upcoming announcement on that."
Asked to elaborate, de Blasio said he wasn't ready "to go into the specifics, because I want to respect that all the parties have to finish the final touches, as I said, but again, very productive conversations about things where we could work together."
He added: "I thought a number of the issues that were raised were perfectly fair, you know, were respectful of what the city was trying to do overall, in terms of education, were not onerous. There were ways we could work together, and that was part of what I think energized this process, was the more we talked about actual substance. When I said, 'Well, wait a minute. We could work together on that. Let's see if we can solve that.' The speaker was very clear about not wanting to address those issues legislatively, which I, again, think was a fair approach, given the sanctity of mayoral control of education. That didn't mean we couldn't look at other ways to address the issue, so again, I believe you'll see, very soon, some final outcomes on that."
The next day, during another press conference exchange, de Blasio told Gotham Gazette, "Of course I'll explain them when everything is finished, which I think will be quite soon. Again, there's a lot of parties to this process, and I'm being very transparent about the fact that we talked about some real important issues related to charters. We came to some specific understandings, details still being worked out. Of course it'll be published. And then, you'll have at it. You'll have every opportunity to make questions. But I have to emphasize, and this was important to what Speaker Heastie said in the beginning: It is not a legislative action, it was not something that had to be approved by the Senate and the Assembly formally. This is me deciding, as Mayor of New York City, with my administrative capacity, that there were some things we could do that would address some outstanding concerns of charters and I thought they were fair. But as soon as it's cooked, as soon as it's finalized, yes, everything will be public and then we'll happily take questions on it."
It is apparent that Heastie's ability to say he did not give in legislatively on any benefits for charter schools is important to the speaker and many of his members, who are closely aligned with and funded by the teachers unions.
In statements following the release of the charter-related promises from the city, Flanagan celebrated and Heastie distanced.
According to Flanagan, whose office emailed his statement to its entire press list, the "announcement by Mayor de Blasio is an important step forward for charter school students and for their families, as well as for the 50,000 children now on waiting lists for a seat inside a charter school. They are clamoring for a chance at success, and together we have provided them with a better opportunity to achieve their goals, to succeed and to get ahead. I thank the Mayor for his openness in addressing this important issue and for demonstrating his support for both children who are currently in a charter school and those who would like to be."
The statement from Heastie's office, on the other hand, emphasized that the Assembly had not given an inch on charter schools. "As for charter schools, the Speaker was not an active participant in any discussions or negotiations," said a Heastie spokesperson. "He said from the beginning the Assembly Majority would not trade anything regarding charter schools for mayoral control. Mayor de Blasio and the city's Department of Education have the right to make decisions of their choosing in regards to the administration of charter schools that do not require any legislative action."
When Gotham Gazette asked de Blasio's office when the mayor had meant when on June 29 he said "as soon as it's finalized, yes, everything will be public and then we'll happily take questions on it," his spokesperson emailed back to say, "At his next public event, same as always."