Ben Max, left, of Gotham Gazette, and Jarrett Murphy, right, of City Limits
---
Max & Murphy is a podcast focused on New York City politics and policy hosted by Ben Max of Gotham Gazette and Jarrett Murphy of City Limits. Recent episodes of the podcast can be found here and can be dowloaded from iTunes and other podcast networks. The podcast began with a focus on housing in early 2016, but has expanded into other areas, now turning to the 2017 city elections, especially the race for Mayor.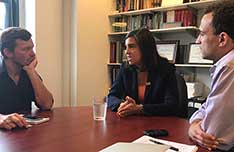 Assemblymember and mayoral candidate Nicole Malliotakis joined the Max & Murphy podcast to discuss her candidacy and attempt to unseat incumbent Mayor Bill de Blasio, a Democrat seeking reelection this fall. Malliotakis is now the presumptive Republican nominee after her main competitor, Paul Massey, recently dropped from the race. She will also appear on the Conservative Party line in November.
Asked on the podcast about her political philosophy, Malliotakis labeled herself a "no nonsense" Republican who is "moderate." "It depends on the issue," she said, but no matter what it is, she takes a "rational, common sense" approach and works to find "consensus."
Malliotakis is centering her campaign on "quality of life" issues like transit, trash, and traffic. She's running on a claim that quality of life in the city has deteriorated under de Blasio, evidence for which she provides as rising homelessness, litter, and disregard for basic decency and the law. She criticizes de Blasio for "ineffective leadership," for spending too much, for creating too much dependency on government, for not focusing enough on local, neighborhood issues, and for being reactive instead of proactive. Listen to the full conversation through the embeded audio below, or download Max & Murphy wherever you get your podcasts.
July 14, 2017: