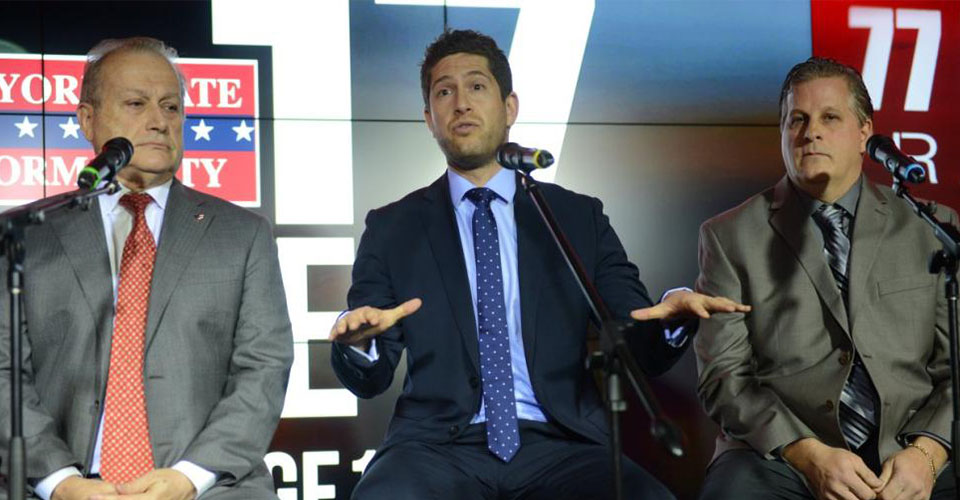 Michael Tolkin (center) at a Reform Party forum (photo: Tolkinformayor.com)
---
Michael Tolkin, a 32-year-old tech entrepreneur who is among over a dozen long-shot candidates running to unseat New York City Mayor Bill de Blasio, appears to have outspent every other contender in the race, including the mayor, with a $5 million in-kind contribution to his own campaign.
An in-kind contribution is one in which goods or services instead of cash are given to a campaign, and in this case the entire contribution is also listed as an expenditure towards "campaign literature and assets," according to the latest filings with the New York City Campaign Finance Board (CFB). As such, they require an estimate of the goods' or services' worth.
Mayor de Blasio himself has so far raised over $4.7 million in cash, with only $570 worth of in-kind contributions, and spent over $2.2 million of it. GOP contender Assemblymember Nicole Malliotakis, who represents parts of Brooklyn and Staten Island, has raised just over $340,000, with $5,117 in in-kind contributions, and spent over $69,000.
Tolkin, who is seeking the Democratic nomination, explained in a phone interview that the contribution would manifest in the coming weeks through "a bunch of content and programming that will be self evident" and which would leverage existing assets he controls. Tolkin, a New York native and graduate of the University of Pennsylvania's Wharton School, has launched several startups and also advises companies based in New York, such as virtual-room showcase website Rooms.com, which he founded.
He referenced one of the potential projects that would form part of his purported $5 million expenditure, a "human rights council" that he would convene in New York. He declined to provide further details about the spending.
Asked how this would relate to his campaign for mayor, Tolkin said that the programs would help promote his candidacy as well as a "better vision for New York." He also said that he expected some of the programs to be revenue-generating, and that the revenue would be put back into the program to help develop that vision once he is elected mayor. Tolkin's website describes his campaign as "non-ideological and apolitical," and outlines an agenda centered on applying design and technology concepts to city governance; a campaign video refers to protecting small businesses, investing in emerging industries, and upgrading subway infrastructure, among other items.
Tolkin was similarly cryptic about the eye-popping value of his contribution, saying simply that he comes from the "startup world" and that the $5 million is a "ballpark" figure based on startup-type valuation models. Essentially, the contribution estimate appears to be based on the revenue that he expects his upcoming projects to generate.
"I've never heard of a campaign asset generating revenue," said Matt Sollars, a spokesperson for the CFB, though he could not recall any specific prohibition against that. At this point, the figures on file with the agency are self-reported, and have not been audited by the CFB.
Sarah Steiner, an attorney specializing in election law, said that she had never heard of anyone making an in-kind contribution of the type Tolkin was making to himself, but that might be the point; she said Tolkin's supposed campaign initiatives could be a preview of the programs he'd want to promote as mayor.
As for the scheme's legality, Steiner said that as long as the programs were run with "his own money, and he's not a campaign finance [public matching funds system] participant, and as long as he's doing this as his campaign, he's not breaking any campaign finance laws." In terms of the presumptive revenue from the programs, those would generally be acceptable, depending on what was done with them.
"If you thought of it as, 'We're going to buy a silk screen machine, we're going to print t-shirts, we're going to sell them, and it's going to create revenue,' that would be okay," she said.
A potential advantage of Tolkin's massive contribution is that he may be able to qualify for the CFB's official debates ahead of the September 12 primary election. Since Tolkin is not participating in the city's public matching funds program, he would have to raise and spend at least $175,000 to qualify for the debates, a threshold that many of the candidates have struggled to meet. Even an in-kind contribution to himself might count towards this threshold.
Steiner had her doubts about that argument, saying that the threshold was "$175,000 in real money." Debate organizers could decide to count it "but I don't think the system is intended for that threshold to be met by Silicon Valley valuation techniques for apps, basically," she said. The Democratic primary debates are scheduled for August 23 and September 6.
In any case, Tolkin appears to have more immediate issues: a city Board of Elections document on "campaign enrollment issues" reviewed by Gotham Gazette says that Tolkin is "not enrolled in the identified party on the petition," the Democratic party. When presented with a copy of the document, Tolkin said in a text message, "That's incorrect and currently being resolved." Calls to a BOE spokesperson went unanswered.