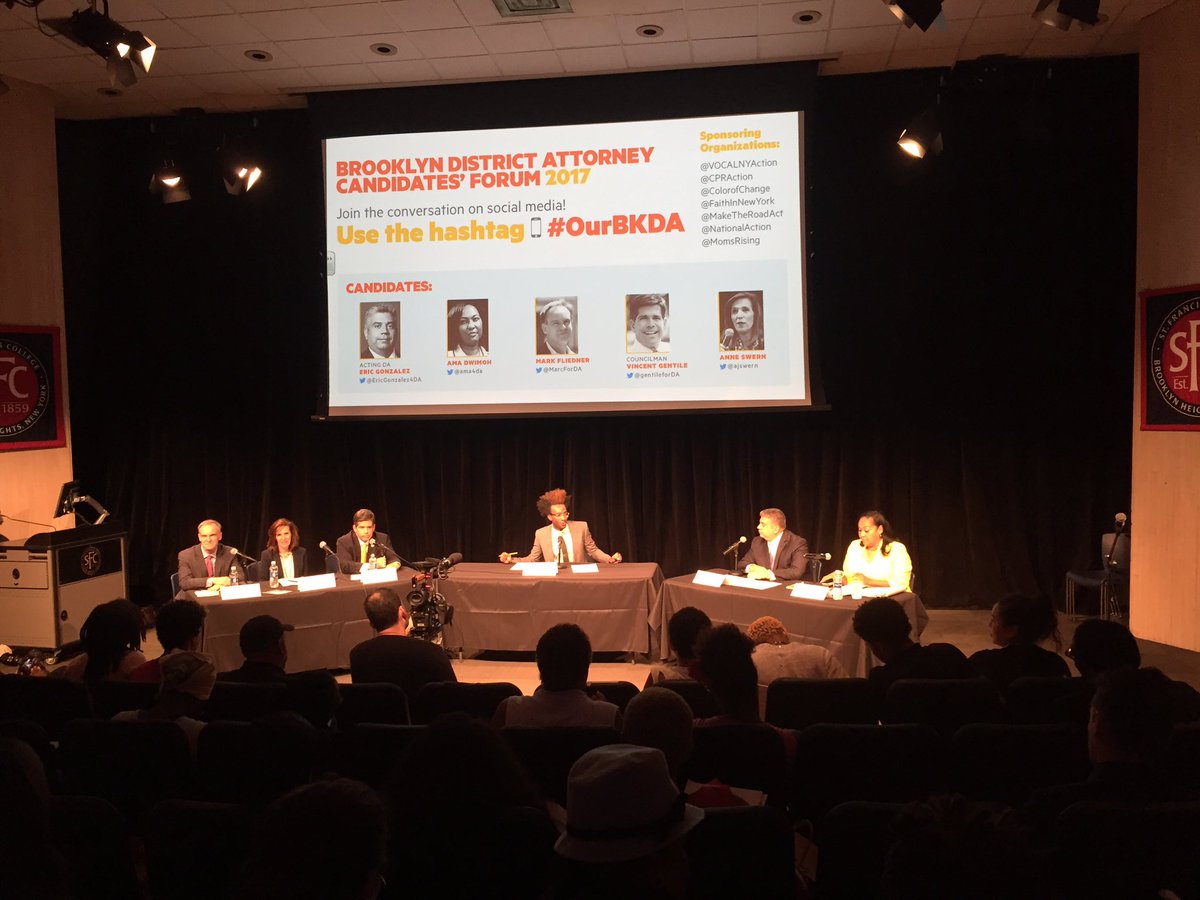 Brooklyn DA candidates at Thursday's forum (photo: @FaithinNewYork)
---
The candidates for the Brooklyn District Attorney race gathered at St. Francis College in Brooklyn on Thursday for a forum hosted by criminal justice and civil rights advocacy groups, focusing on contentious issues revolving around criminal justice in the borough. Five candidates offered their takes to an audience of community advocates and Brooklynites concerned about mass incarceration, police abuse, bail, and other contentious issues.
The candidates present were Acting DA Eric Gonzalez, City Council Member Vincent Gentile, Ama Dwimoh, Marc Fliedner, and Anne Swern. Candidate Patricia Gatling, who attended a previous debate in June, was not present.
The presence of former DA Ken Thompson, who died in 2016 after a bout with cancer and for whom Gonzalez stepped in, hung above the forum throughout the night. Thompson had widely been praised as a reformer after replacing the controversial longtime DA Charles Hynes. Gonzalez, in his opening statement, framed himself as a continuation of Thompson's legacy.
"I stand with all of you to say that I believe that we can end mass incarceration while continuing to keep our city and our borough safe," Gonzalez said. "In 2014, Ken Thompson chose me to help him run that DA's office, and I stand with all organizations who want to see a continuation of the policies that started in Brooklyn and the expansion of those policies, because I believe we can send less people to prison than we're currently doing, and make sure that Brooklyn continues to be safe."
Fliedner was formerly chief of the Civil Rights Bureau under Thompson; he left after a dispute over the handling of the Peter Liang case, in which an NYPD officer received no jail time despite being convicted of manslaughter in the shooting death of Akai Gurley, an unarmed black man. Fleidner jumped out of the gate with stinging criticisms of Gonzalez.
"You cannot vote for acting District Attorney Eric Gonzalez into office," Fliedner said, eliciting both claps and boos. "In the short time that he was in charge of that office, he's committed more acts exhibiting a disregard for the rule of law, a lack of respect for victims, and out and out acts of corruption." Audience members frequently and freely engaged with the candidates throughout the night, loudly calling them out on answers they deemed unsatisfactory or dishonest.
Dwimoh, a former prosecutor under Hynes, also left the office due to a "difference in values" with the then-DA, she said. She emphasized "proactive justice," meaning a focus on prevention rather than punishment, and "rebuilding trust between the community and law enforcement." But she also erred towards a "tough on crime" mentality in some areas, saying that crime is going up in some neighborhoods and being the only candidate who didn't support ending mandatory minimum sentences for gun possession.
Swern, a former Assistant District Attorney (ADA) under Hynes who also has experience as a defense attorney, claimed her experience as the latter gave her a unique connection and empathy among the candidates for those on the other side of the justice system: the defendants. In her opening statement and throughout the night, she focused her argument on making the DA's office more transparent and the DA him- or her-self more accountable. She said she would hire a statistician for her office to determine how actions and policies undertaken by the DA disproportionately affect people of color.
City Council Member Gentile, who is term-limited from running again for his current position, framed himself as the "only independent person" running in the race. Gentile, who had a career as a prosecutor under the Queens DA rather than the Brooklyn DA, was referring to the fact that he was the only candidate at the forum who was not working at the DA's office in the time period where numerous wrongful convictions occurred under Hynes, which were later uncovered and undone by Thompson.
The candidates were all largely in agreement on many of the major, big picture issues: all candidates supported either diminishing or eliminating reliance on cash bail, which has come under intense scrutiny after young Bronx resident Kalief Browder committed suicide following a two-year stay on Rikers Island after not being able to post bail. All the candidates supported diminishing the use of broken windows policing, though they didn't offer specific solutions, with the exception of Fliedner who noted low-level drug offenses and gravity knife offenses as two crimes that wouldn't be prosecuted under his stewardship.
The candidates also all stated their support for Brooklyn Borough President Eric Adams' call for an independent commission into wrongful convictions, as well as for term limits of two or three terms -- there are currently no term limits for District Attorneys.
[Related: Candidates for Brooklyn District Attorney Seek to Set Themselves Apart]
The shouting matches, interruptions, and audience interjections mainly concerned the candidates' records. The candidates routinely accused Gonzalez of malfeasance and not 'walking the walk,' as well as co-opting the legacy of Ken Thompson.
Hertencia Petersen, the aunt of Akai Gurley, a young black man killed by NYPD officer Peter Liang in an apparently accidental stairwell shooting, rose to ask a question and accused Gonzalez of mishandling the Liang case. Liang was sentenced to five years probation and 800 hours of community service, a move that had been widely criticized by criminal justice reform advocates. Petersen chastised the DA's office, then under Thompson, for failing to adequately communicate with the Gurley family during the legal process and for recommending that Liang serve no jail time, which the family only found out about in press reports.
For Petersen, Gonzalez is a continuation of that kind of leadership; she referred to him as having been a "crony" to Thompson throughout the legal process. Petersen also explicitly admonished Gonzalez for seeming to run as the second Ken Thompson without necessarily presenting his own plan. "Run on your own vision, she said to loud applause. "Give the people of Brooklyn what you want for your family." After the debate, Petersen tweeted, "#ERIC GONZALEZ IS NOT FOR THE PEOPLE OF BROOKLYN."
Defending himself, Gonzalez pointed to the fact that Liang had been convicted, and denied that the office had maintained inadequate contact with the Gurley family.
"She's upset because Ken Thompson recommended a no jail plea on Peter Liang," he said. An audience member shouted to Gonzalez, pointing out that he had been Thompson's "chief advisor" (Gonzalez was Chief Assistant District Attorney under Thompson).
Gonzalez also received criticism for continuing to impose punishingly high cash bail despite his stance that its use should be diminished. "$500 is asked for bail for a homeless person who steals cheese, and the Assistant District Attorney responds to the defense attorney, 'well, it was expensive cheese,'" said Swern. "We will never close Rikers Island," she said, referring to the fact that many held at the jails there are pre-trial detainees unable to post bail.
Fliedner said that if he is elected, his office would not seek bail "on cases where we're not seeking jail," and further reprimanded Gonzalez on his supposed failure on bail reform, citing a case where bail was set at $1,000 for a turnstile jumper.
Gonzalez was also singled out on the issue of wrongful convictions -- since he worked for the DA's office under Hynes -- despite the fact that all candidates with the exception of Gentile had worked at the Brooklyn DA office under Hynes in some capacity.
In this regard, Gentile seized the opportunity to paint himself as the only candidate separate from the failures of the Hynes era. Concerning the spate of wrongful convictions, Gentile said this "all happened under the tutelage of Charles Hynes...and Eric Gonzalez is a creation of Charles Hynes. He spent most of his years as prosecutor under Charles Hynes and only three years under Ken Thompson." He proceeded to say that he has "never gotten the answer" to his inquiries into the policies that led to the Hynes-era wrongful convictions.
Nonetheless, Gonzalez resolved to defend his record, touting for example a "Young Adult Court" diversionary program for young offenders created by Thompson's office (Swern insisted that it was created in 2012, prior to Thompson's ascendancy to the office). He also said that he has "done more work on wrongful convictions than all the other candidates put together."
Note: This article has been updated.