Ben Max, left, of Gotham Gazette, and Jarrett Murphy, right, of City Limits
---
Max & Murphy is a podcast focused on New York City politics and policy hosted by Ben Max of Gotham Gazette and Jarrett Murphy of City Limits. Recent episodes of the podcast can be found here and can be dowloaded from iTunes and other podcast networks. The podcast began with a focus on housing in early 2016, but has expanded into other areas, now turning to the 2017 city elections, especially the race for Mayor.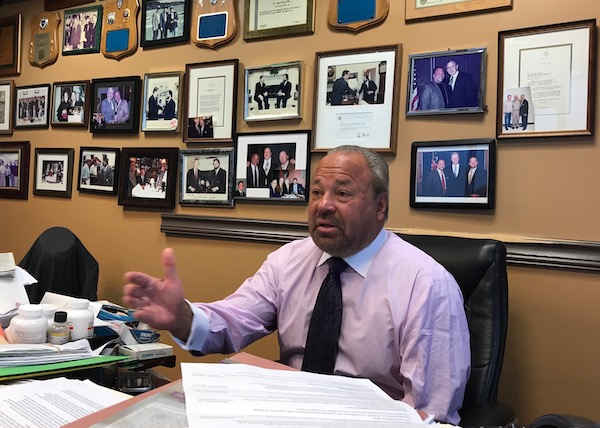 Bo Dietl talks fast, often switching topics multiple times in what seems like one long sentence that can last two or three minutes, or until he is interrupted. Dietl, a former NYPD detective now running for Mayor of New York City, is not always polite or politically correct. He can be crass and insensitive, he lets curse words and insults fly, but he's also running for office on his compassion, he explained during a discussion on the Max & Murphy podcast held at his office at 1 Penn Plaza. Dietl said he has evolved from being a lifelong Republican to a Democrat, in large part because he has a more inclusive view of the world when it comes to people of various races, ethnicities, and sexual orientations.
After problems with his registration paperwork and negotiations with political party leaders, Dietl is ultimately running as an independent for the November mayoral election. In the podcast interview, he went through some of the confusiong details, explaining that Republican Party bosses have had mixed feelings about him, but asserting that they made a major mistake in not letting him compete in the primary against the presumptive GOP nominee, Assemblymember Nicole Malliotakis. Dietl said he even offered to drop out of the race completely if he lost the Republican primary, but GOP leaders still would not grant him the waiver (known as a Wilson-Pakula) to appear on the ballot.
Now, he says his focus is on unseating Mayor Bill de Blasio, whom he disparagingly refers to as "Big Bird" becuase of de Blasio's height. Dietl is sure that New Yorkers will choose him ahead of Malliotakis and believes he can beat de Blasio, asserting that the incumbent Democrat is corrupt, lazy, and a bad manager. Dietl's campaign policy platform isn't always clear, but he gave a few points when asked -- he'd institute zero balance budgeting, he said, in order to reduce the city budget; reinstitute the so-called cell phone ban for students at city schools; and work more closely with the Trump administration to secure federal funding for infrastructure, affordable housing, and more.
In some ways, Dietl is making a similar argument that Donald Trump made -- he's running as a non-politician who can "drain the swamp" and make good deals for his constituents. Dietl doesn't particularly like comparisons to Trump, though, which he made clear during the podcast conversation. Listen to the full conversation through the embeded audio below, or download Max & Murphy wherever you get your podcasts.
July 24, 2017: