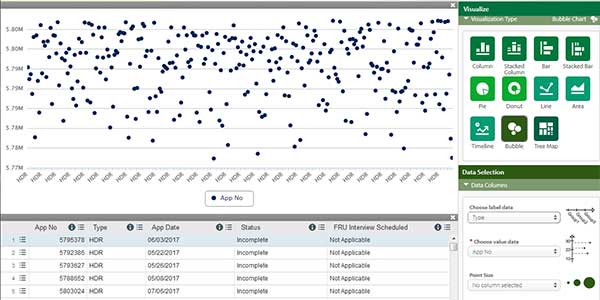 (screenshot from Open Data Portal)
---
The city released its annual update to its Open Data plan on July 15, detailing the progress by city agencies to release all of their public data by 2018. The initiative, originally launched in 2012 under former Mayor Michael Bloomberg, was expanded by the de Blasio administration two years ago under its Open Data for All plan, which aimed to make the data more accessible to everyday New Yorkers. City agencies periodically add data sets to the portal for public access.
In a statement, Mayor Bill de Blasio lauded the transparency efforts intrinsic to the open data plan. "Transparency is vital for a healthy government and flourishing democracy," he said. "That's why Open Data for All is delivering more data, in more ways, to more New Yorkers than ever before."
Under the Open Data plan, information from 92 participating agencies is compiled by the Mayor's Office of Data Analytics and the Department of Information Technology and Telecommunications, and released online in datasets. According to the city, the portal has been visited 3 million times and is home to 1,700 data sets, 165 of which were added in the past year. The city also redesigned the portal in March, which it says led to a 367 percent increase in data inquiries from the public. According to Miguel Gamiño, New York City's Chief Technology Officer, the portal is visited by 140,000 users each month, including 50,000 new users.
The new datasets released in the update include NYPD complaint data on felonies, misdemeanors and violent crimes reported between 2006 and 2016; details of City Council participatory budgeting projects from 2012 onwards; data on the programs, benefits and resources for 40 health and human services available to New Yorkers; and a Department of City Planning database of more than 35,000 records on public and private facilities from 50 sources. Other new aspects of the program include legal mandates for compliance with FOIL requests and on timing of responses to data requests.
Though FOIL requests involving data are being streamlined, City Council Member Ben Kallos, a longtime advocate of open data, thinks that it can be improved further by passing his "Open FOIL" bill, which would create "one searchable database of Freedom of Information Law requests sent to city agencies." Kallos also believes that the city could do more outreach about the existence of the open data initiative.
"The City is getting better and better at getting the word out about Open Data," Kallos told Gotham Gazette. "I for one want to see Open Data classes taught at our city libraries so anyone can learn how to use the data sets, not just techies." Indeed, while many data sets are available, they aren't always easy to digest or utilize to find patterns or other takeaways.
Hundreds of datasets are currently scheduled for release. While some of these datasets are collected and released monthly, others involve large studies that will be aggregated on the portal for the first time, including a study on poverty in New York City that augments national spending to reflect the high cost of living in the city. The mayor's office will also release an "inventory" of greenhouse gas emissions in the city in the ten-year period covering 2005 to 2015 on September 30. Large amounts of wage data from the comptroller's office will be aggregated on the portal come November 3, along with other data from the comptroller's office such as an updated quarterly measure of the city's debt limit. Participation data in the Supplemental Nutrition Assistance Program (SNAP) or food stamps from the Human Resource Administration will be aggregated on the portal in December.
The continually increasing number of datasets has been praised by elected officials and good government groups.
"Open Data is a fantastic resource for civic organizations, local businesses, and City residents," said City Council Member James Vacca, chair of the City Council's Committee on Technology, in a statement accompanying the recent release. "I'm very happy to see that the number of datasets continues increasing and that the Open Data Portal is being made even more accessible to New Yorkers. I congratulate the City's Open Data team on these promising results."
However, the process is not without its criticisms. John Kaehny, co-chair of the NYC Transparency Working Group and Executive Director of Reinvent Albany, a good government group, has praised the open data law but says that many city agencies are kicking the can down the road in releasing some datasets. Many datasets are scheduled for release in December 2018, when the law expires. He recommended that the mayor and City Council prod agencies to get the data out on time.
"It's like a teacher telling a kid that they can turn all their homework in on the last day of school," Kaehny told Gotham Gazette in an interview, "but gives them the entire year to do the homework. And then the kid's like 'great, I'm gonna turn in all my homework on the last day of school.' Well, you believe that, you know. They're gonna finish all their assignments and turn it in on the last day? That's not credible."