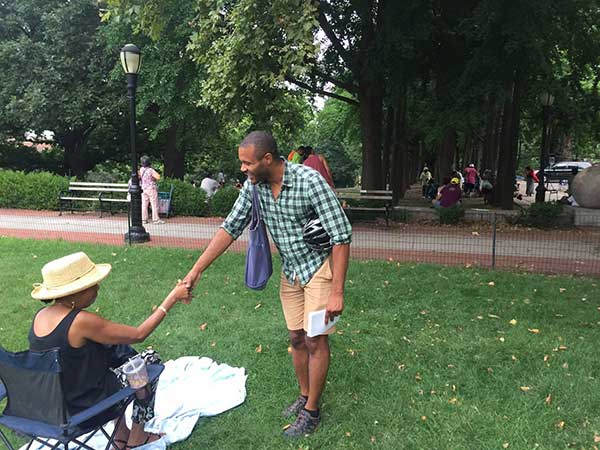 (Credit via @Jabari2017)
---
Despite laying claim to less than one percent of party affiliated registered voters within New York City, the Green Party has two candidates competing in a rare primary this year.
Candidates Jabari Brisport and Scott Hutchins are facing each other for the chance to run against the winner of the Democratic primary between incumbent Laurie Cumbo and Ede Fox, as well as Republican candidate Christine Parker, in the 35th City Council District, which includes central Brooklyn neighborhoods like Clinton Hill, Prospect Heights, and parts of Crown Heights.
"It's very rare that there are two Greens in a race, that is true," said Gloria Mattera, the secretary of the Green Party of Brooklyn, in a brief interview with Gotham Gazette. "All candidates are encouraged to run."
Mattera said that the Green Party wasn't backing Brisport or Hutchins, but that there might be an endorsement meeting soon.
In a subsequent interview, Mattera said the party saw an "uptick in people, either back or joining the Green Party" who had been active in Bernie Sanders' campaign during the 2016 presidential election that were disappointed with the Democratic Party.
"Both, of course, with how the DNC process went, and for many, Sanders himself in terms of the decisions he made around his campaign," said Mattera. "So I think our party has been, I would say, growing in the last year and a half."
Of just under 5 million registered voters in New York City (4,996,975) as of April 1, there were 8,621 registered with the Green Party, according to the state Board of Elections. In Brooklyn, those numbers are 1,544,238 registered voters, with 3,172 in the Green Party. It's not clear how many Greens live in Council District 35, and there is still time to register to vote for the September 12 primary -- according to the city's website, new voters must submit their voter registration a minimum of 25 days prior to the election date. (The deadline to switch one's party registration in order to vote in a particular primary has passed, though.)
The Green Party is fielding candidates in a handful of other City Council races, as well as a full slate in the three citywide races for Mayor, Comptroller, and Public Advocate.
It's not clear yet whether both Brisport and Hutchins will be on the September primary ballot, as petition signatures are being vetted by the Board of Elections. Brisport appears to be running a much more active campaign. He has reported raising about $15,000 for his campaign, and spending about $5,000 of it, while Hutchins has not yet filed any financial disclosures with the Campaign Finance Board. Cumbo, meanwhile, has raised about $108,000 and Fox about $74,000, all as of mid-July. Parker has reported raising just under $4,500 -- like Hutchins, she does not appear to be running a particularly active campaign.
Hutchins was not present at either of two recent candidate forums for the race, those put on by the Flatbush Tenants or the Washington Avenue Botanic Block Association. Brisport showed up to debate the two candidates of the more popular Democratic Party, Cumbo and Fox, and raise awareness of his campaign.
"If anybody here is in the Green Party, I do have a primary challenger…he didn't show up, so don't vote for him, vote for me," said Brisport at the WABBA forum on July 25. "I do plan to win the primary soundly, for those of you who are not [Green Party Members]," Brisport added, in referencing to the subsequent general election.
Brisport, like both Democratic candidates, is running a housing-centric campaign, stressing that affordable housing is the most important issue in the district. He is also running on police reform, economic justice, climate justice, and an end to high stakes testing in schools.
Hutchins did not make himself available for comment for this story -- he said via Facebook that his phone was not working, but promised to call Gotham Gazette and did not do so by publication time.
Though, according to Mattera, District 35 is the only City Council race with two Green Party candidates, the mayoral race in Albany will be holding a Green Party primary in September between 22-year-old Bryan Jimenez,and Sheridan Hollow, 28. According to The Albany Times Union, there hasn't been such a primary in Albany for mayor since in the last 16 years.