A Michael Tolkin tradmarked brand
---
Michael Tolkin, a 32-year-old entrepreneur and mayoral candidate who reported giving his own campaign a $5 million in-kind contribution – goods and services instead of cash – has provided an estimated breakdown of the highly unusual contribution's components. Tolkin outlined what he is giving to his campaign on Tuesday, the same day he won approval from the city Board of Elections (BOE) to appear on the September 12 Democratic mayoral primary ballot.
The in-kind donation of $5 million includes, according to Tolkin, the use of two trademarked brands and logos – "NY Hearts You" and "NYC" – that are each valued at just over $1 million, estimated to bring in a collective $2.25 million in profits over a five-month period from sales of merchandise through his NYHeartsYou.com site that would be reintroduced into campaign-related initiatives. It also includes over $700,000 in estimated value of services that he's providing to his own campaign -- described as "campaign strategy, policy & platform development, design & collateral development, marketing strategy, media strategy, press & communications, etc."
After a dispute with the BOE over his party registration, Tolkin will run in the Democratic primary against incumbent Mayor Bill de Blasio, former City Council Member Sal Albanese, police reform activist Bob Gangi, and a few others. Tolkin faces an uphill battle. It is six weeks till primary day and he does not appear to have built much name recognition and he has not been included in any public polling. He has participated in several candidate forums, though.
Tolkin also released an animated campaign video in which he attempts to capture the thrust of his bid for the city's highest office, apparently organized around the idea of "applying the principles of innovation and design to city hall." The minute-and-a-half video uses animations to talk about having a "smarter" transit system and garbage collection, among other government functions. "Smarter everything," the video declares as the end goal of a Tolkin administration.
In a conversation outside the BOE hearing room Tuesday, Tolkin said that part of his strategy with the brands and initiatives was to pilot a new model of government more heavily focused on public-private partnerships and cooperation. He also said he would "definitely run in the general election," whether he won the Democratic primary or not. Though he said he's working on creating a new party, he will have to run as an independent on a self-named ballot line, and he has until August 22 to present the necessary 7,500 signatures for an independent nominating petition.
The document with the in-kind contribution estimates explains that the two brand logos were valued based on "comparable brand development exercises with comparable scopes of work," and lists the redesign of the Pepsi logo, valued at $1 million, the redesign of the BBC logo ($1.8 million), and the designs of the London Olympics and City of Melbourne logos ($625,000 each) as among comparable undertakings.
(Public reports point to the research and design of the Melbourne logo adding up to about $240,000, and for the other three the costs may include branding packages beyond the simple design and trademarking of the brand.)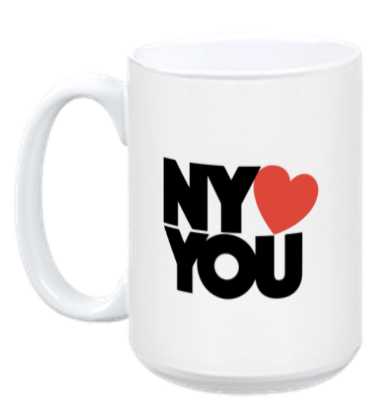 Tolkin's profit estimates are tied to the two trademarked logos, with branded products sold in two lines corresponding to each brand. Tolkin said these would include tangible items like t-shirts and mugs. Each line is estimated to have a net profit margin of 45% on monthly revenues of $2.5 million over five months, discounted by 80% in total to account for risk, leading to a $1.125 million estimated profit for each brand. The revenue estimate seems to be based on news reports that the famous Milton Glaser-designed "I Love New York" logo, often stylized with a heart replacing the word "love," generates $30 million for all merchandise sales, or $2.5 million per month.
The merchandise already listed on the site includes shirts with Tolkin's name on them, shirts with his campaign slogan "It's a New Day," shirts and mugs with his trademarked "NY Hearts You" logo, and shirts that say "legalize happiness," most of which appear to not specifically relate to his campaign.
Tolkin, who grew up in Long Island, graduated with a B.S.E. from the University of Pennsylvania's Wharton school and has inhabited the startup world, founding and advising several small companies. He moved to California at the start of last year before returning to New York early this year, setting off his dispute with the BOE.
Finally, the estimate of over $700,000 in various campaign functions performed by Tolkin is based on the amounts that de Blasio paid various consultants and service providers over the course of the 2013 campaign cycle, during a period starting in April of 2010 and continuing through mid-2013. The Tolkin campaign document states that the "the quality of our output is comparable to that of a very expensive campaign. Michael Tolkin has contributed a variety of creative and professional services for which other campaigns must pay cash."
Note- This article has been updated to reflect that Tolkin received a B.S.E. from the University of Pennslyvania, not a B.A.