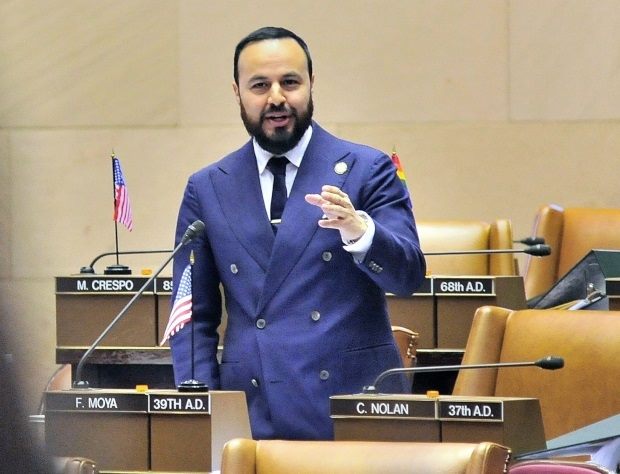 Francisco Moya (photo via Moya's Facebook)
---
Julissa Ferreras-Copeland, City Council Member for District 21 in Queens and chair of the powerful finance committee, shook up city politics in June when she announced she would not be running for re-election. Now, with her seat up for grabs and several potential candidates removed from the ballot by the Board of Elections, there is a dramatic head-to-head Democratic primary matchup to fill the City Council seat.
The contest is between State Assemblymember Francisco Moya and Hiram Monserrate, a former City Council member and state senator who spent time in prison after being convicted on fraud charges. This, after he was expelled from the Senate after slashing his girlfriend's face.
Moya has quickly secured the backing of the Queens Democratic Party establishment and many labor unions and advocacy groups, but Monserrate has strong name recognition in the district, which includes Corona, Elmhurst, East Elmhurst, and Jackson Heights.
Key issues in the race include Monserrate's history, as well as Moya's work in Albany, and district issues like affordable housing, development -- especially in Willets Point, education, small businesses, and opportunities and protections for immigrant communities.
"For the last seven years, I have worked tirelessly in Albany to stand up for working families in Corona, Elmhurst, Jackson Heights and across this city," Moya said in a campaign statement. "I have seen the challenges we face in providing a quality public school education to our children, encouraging the small businesses that drive economic growth in Queens, and standing up for the rights of immigrants, women and members of the LGBTQ community at a time of mass deportations, fear and Donald Trump."
Moya has unsuccessfully pushed the Dream Act in Albany, legislation that would expand state college tuition assistance to undocumented immigrants and their children. The Council district has a very large immigrant population and many Spanish speakers.
As of the mid-July campaign finance filings, Moya had raised $111,473 for his campaign. He has received endorsements from unions including 32BJ SEIU, 1199 SEIU, the Hotel Trades Council (NYHTC AFL-CIO), and the Retail, Wholesale and Department Store Union (RWDSU). He has also been endorsed by Public Advocate Letitia James and the Queens Democratic Party, led by Congressional Rep. Joe Crowley.
In comparison, Monserrate had raised only about $30,000. Bertha Lewis, the president of the Black Institute and the Black Leadership Action Coalition (BLAC), a non-profit organization that works to shape public policy, recently endorsed Monserrate, reportedly due to his policy position on Willets Point, which he wants to transform into affordable housing (he attempted to move a deal on Willets Point the last time he was in the Council, according to the Village Voice).

Willets Point is an area known for its industrial sites that has been undergoing redevelopment since 2011. Many of the auto-shops and small businesses in the area have been shut down and are to be replaced by a hotel, a convention center, a large parking lot, a mall, and a number of housing units. The plan has faced criticism and multiple lawsuits for killing local businesses and failing to provide adequate affordable housing. In June, the New York Supreme Court ruled that the proposed construction of the mall could not be built on city parkland. The future of the area is unclear.
Both Monserrate and Moya have expressed opposition against the redevelopment plan and have called for the Willets Point land in question to be turned into affordable housing.
"I look forward to continuing the tremendous efforts of Council Member Ferreras-Copeland, and fighting for the progressive values that define our city," Moya said in his campaign statement. "We know all too well how corruption and a lack of accountability can harm our community, and the last thing we need is to follow Council Member Ferreras-Copeland's tenure with the kind of failed leadership of the past."
His reference to corruption was clearly aimed at Monserrate, who was removed from the state Senate in 2010 for his fraud conviction over misusing city funds for his Senate campaign. There is also video footage of Monserrate dragging his girlfriend by her hair through his apartment building in 2008.
Ferreras-Copeland, the outgoing Council member, served as chief of staff to Monserrate in the past, but came to distance herself from him, and the two became embroiled in controversy as Monserrate appeared to seek revenge. Moya previously defeated Monserrate in the 2010 primary for the District 59 Assembly seat. Monserrate also recently lost a 2016 district leader race.
In a statement to Gotham Gazette regarding why he decided to attempt another comeback in elected politics, Monserrate said, "My decision to run stems from one very simple thing: I love my community and district. My love for my community led me to serve as city councilman and state senator and it compels me to run for City Council once again. Our community faces difficult challenges and these challenges require strong and proven leadership."
When previously asked about the controversy surrounding his assault charges, Monserrate said in a NY1 interview, "My mistakes are now in my past, several years ago. I have moved on."
While Moya has received a variety of endorsements from elected officials and groups, there has not been a large show of force against Monserrate, with elected officials denouncing his candidacy. City Council Speaker Melissa Mark-Viverito said in a statement that Monserrate "has absolutely no business running for City Council" and called him "violent" and "corrupt."
Cristina Furlong, an activist and the founder of a community organization called Make Queens Safer that aims to secure neighborhood streets, attempted to run in the primary as well, but her ballot signatures were ruled invalid on August 1. She had told Gotham Gazette that Monserrate "has an unrealistic platform. He's running on the idea that we can fix Willets Point to make it affordable housing, and I think that people who are committed voters who are going to turn out on September 12 need to understand what's realistic for our district."
Furlong said, "I'm not a career politician" and that an outsider's voice was important. She recognized the challenge of raising money for a competitive race against Moya and Monserrate.
Both Moya and Monserrate have stated they want to bring 100 percent affordable housing to Willets Point. Moya has said 33 percent of the units should be made affordable for low-income individuals making $25,000 or less. He has suggested forming a community advisory council to give residents a say in its development. Moya is also calling for greater funding for renovations at Flushing Meadows-Corona Park, and the creation of a "World's Borough Market" modeled after the Essex Street Market on the Lower East Side and La Marqueta in East Harlem, which he says would support local vendors and businesses. Of all of the businesses in the area, he would like 65 percent of them to be owned by women or minorities.
Monserrate has not put forward a campaign policy agenda. His website touts "a lifetime of service and delivering for our community," and past accomplishments.
Walking around Corona in late July, you would not necessarily know there is a contested election just a few weeks away. Aziz, who has managed Dream Pizza, a local pizzeria, for almost 30 years, spoke with Gotham Gazette about the issues he sees in the community. He said, "Everything is too expensive, especially rent and the taxes. Everybody complains about it. Business is not like it used to be." Aziz said he is also concerned with the availability of good jobs. He didn't indicate he was aware of the City Council election in September until prompted by Gotham Gazette.
Sam, who runs Game Star Communication, Inc., a local video game and electronics store also located in District 21, echoed similar sentiments, and said, "Small businesses are dying now. Internet business has hurt us a lot. The internet prices are sometimes lower than my prices, but they [online businesses] aren't paying rent or property tax. They don't have to pay employees like we do."
Sam then paused, clicked his tongue, and said, "What are we going to do? We have to go vote."
[For more on this contest, read Ross Barkan's story on the race in the Village Voice]